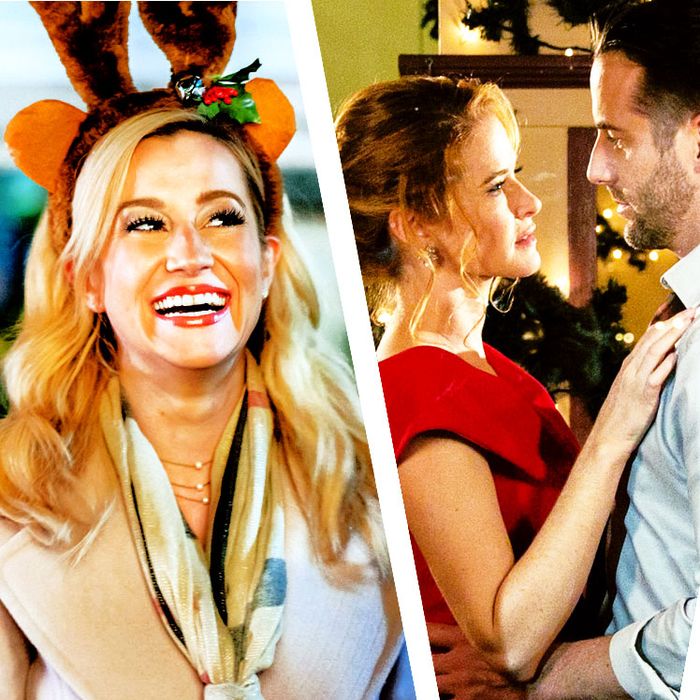 It's time!
Photo: Crown Media United States LLC/Lifetime/Freeform
Halloween is over, which means it is legally now Christmas. And you know what else that means? That's right: The made-for-TV Christmas movies are already upon us. Between the six go-to networks — Hallmark, Hallmark Movies & Mysteries, Lifetime, Freeform, UPtv, and Netflix — there are more than 60 new holiday films premiering between now (Hallmark's Countdown to Christmas actually began on October 27) and the New Year.
That a movie's setting will be a small town that's 50 percent more festive than any place you've ever visited is a safe bet. But exactly how many of 2018's offerings will feature one of the 15 tried-and-true made-for-TV Christmas movie tropes we've come to expect — and cherish — each holiday season? As it turns out, quite a few! After reading through the network synopses for all 64 films, here's our trope-by-trope breakdown of all the movies you'll be watching this holiday season.
Let's fake a relationship that — spoiler alert — turns out to be real.
The Christmas Contract (Lifetime, November 22 at 8 p.m.): Not wanting to face her ex and his new girlfriend alone, Jolie (Hilarie Burton) makes a deal with her lawyer best friend's brother, Jack (Robert Buckley): He'll serve as her buffer in exchange for her designing a website to sell his upcoming novel. While we question Jack's marketing plan, this movie is an excellent use of a One Tree Hill reunion.
Mingle All the Way (Hallmark, Deember 1 at 8 p.m.): Molly (Jen Lilley), the founder of the titular app that matches busy professionals for events without the hassle of romance, gets paired with Jeff (Brant Daugherty) for their upcoming holiday engagements. If that sounds familiar, you're likely thinking of 2016's The Mistletoe Promise starring Jaime King and Luke Macfarlane.
Every girl wants to be a princess … or does she?
The Princess Switch (Netflix, November 16): Margaret, the Duchess of Montenaro (Vanessa Hudgens), somehow trades places with Stacy, a look-alike from Chicago. And wouldn't you know it: Stacy swoons for Margaret's fiancé, Prince Edward (Sam Palladio), while Margaret falls for Stacy's co-worker Kevin (Nick Sagar).
Christmas at the Palace (Hallmark, November 22 at 8 p.m.): Former professional ice-skater Katie (Merritt Patterson) is hired by the king of San Senova (Andrew Cooper) to help his daughter prepare for a Christmas performance. She wins the king's heart, but will his subjects accept a foreign Ice Queen? Additional tropes: "Single parents do Christmas."
A Christmas Prince: The Royal Wedding (Netflix, November 30): The sequel to 2017's much-maligned hit picks up a year later, when the scheduled Christmas nuptials of King Richard (Ben Lamb) and former tabloid journalist Amber (Rose McIver) are threatened by his political crisis and her questioning whether she's really queen material. Don't pretend like you're not going to watch this.
Christmas With a Prince (UPtv, December 9 at 7 p.m.): Pediatric specialist Tasha (Kaitlyn Leeb) ends up caring for a different kind of patient — the spoiled prince (Nick Hounslow) who was her childhood crush — after he breaks his leg on a ski slope. It's based on the Harlequin novel St. Piran's: Prince on the Children's Ward, but we doubt this is on the naughty list.
Oh no, the family business is in trouble!
Christmas in Evergreen: Letters to Santa (Hallmark, November 18 at 8 p.m.): Retail designer Lisa (Jill Wagner) knows what she needs to do when she returns home and sees that Evergreen's historic general store, home of the "Mailbox to Santa," has closed: team up with contractor Kevin (Mark Deklin).
Poinsettias for Christmas (Lifetime, November 23 at 8 p.m.): Ellie (Bethany Joy Lenz) heads home to help her dad (John Schneider) figure out why the poinsettias on the family's poinsettia farm haven't turned red yet. Could a hunky local botanist (Marcus Rosner) provide the answer, if not more? Probably!
Santa's Boots (Lifetime, December 8 at 8 p.m.): Holly (Megan Hilty) had no idea her family's department store was on the brink of foreclosure. Things start to turn around when customers notice the chemistry between the store Santa, Nick (Noah Mills), and Holly, his helper — until Nick disappears. The only clue Holly has to find him: HIS BOOT.
Wait, I'm stranded here?
A Veteran's Christmas (Hallmark Movies & Mysteries, November 11 at 9 p.m.): Returning home without her beloved K9 partner after two tours in Afghanistan, Captain Grace Garland (Eloise Mumford) isn't feeling the Christmas spirit when she gets stuck in the town of River's Crossing. A, um, local judge (Sean Faris) sets out to change that.
A Godwink Christmas (Hallmark Movies & Mysteries, November 18 at 9 p.m.): Paula (Kimberley Sustad), an antiques appraiser from St. Louis, isn't sold on her recent engagement to a workaholic lawyer (Giles Panton), so her aunt (Kathie Lee Gifford) invites her to visit Nantucket. When bad weather strikes, Paula gets stuck on Martha's Vineyard, at a charming inn owned by Gery (Paul Campbell). Oh, poor Paula.
Welcome to Christmas (Hallmark Movies & Mysteries, December 1 at 9 p.m.): Following a fender-bender — a meet-cute with the town sheriff (Eric Mabius), perhaps? — a resort developer (Jennifer Finnigan) gets trapped in a place called Christmas, Colorado, which is vying to be the location for her company's new ski resort.
Time for Me to Come Home for Christmas (Hallmark Movies & Mysteries, December 15 at 9 p.m.): A storm grounds a flight from New York City to Tulsa, leaving two strangers — a country music star (Josh Henderson) and small-town businesswoman (Megan Park) — to find their way to Oklahoma together. Additional tropes: "Oh no, the family business is in trouble!" (Spoiler alert: it's jam); "Let's make a surprise tearjerker."
An event planner didn't plan for THIS.
Christmas Lost and Found (Lifetime, December 7 at 8 p.m.): Event planner Whitney (Tiya Sircar) heads to Chicago to spend Christmas with her grandmother Frances (Diane Ladd) — and accidentally throws out a box of precious family ornaments. Frances devises a scavenger hunt for Whitney to reclaim them, and her Christmas spirit. Sure. Why not.
Christmas Made to Order (Hallmark, December 23 at 8 p.m.): Architect Steven (Jonathan Bennett) is about to host his family for Christmas for the first time, and the only way he can possibly manage is with the help of "holiday coordinator" Gretchen (Alexa PenaVega).
A Midnight Kiss (Hallmark, December 29 at 8 p.m.): A family of party planners gets its biggest gig ever — a New Year's Eve party for a tech entrepreneur — but they only have one week to pull it together. The work falls to Lisa (Adelaide Kane) after her parents opt to take their planned vacation and her brother breaks his leg (brothers!). Cue her sibling's helpful college buddy (Carlos PenaVega). Additional trope: "Will an ambitious woman get her big break?"
No Sleep 'Til Christmas (Freeform, Date and Time TBD): Two insomniacs — bartender Billy (Dave Annable) and engaged event planner Lizzie (Odette Annable) — meet and discover they can fall asleep, but only when they're next to each other.
Christmas is literally magical.
The Holiday Calendar (Netflix, November 2): A photographer (Kat Graham) who's afraid to follow her dreams inherits her grandmother's antique advent calendar, which seems to predict a brighter future every day.
A Christmas Switch (UPtv, November 4 at 7 p.m.): Two moms — a struggling singer (Jackie Seiden) and a wealthy record executive (Ashley Wood) — wake up in each other's bodies the morning after they collide at the mall. Just another reason to shop online.
The Christmas Chronicles (Netflix, November 22): Kurt Russell stars as Santa Claus. That's really all you need to know. But should you require more: a brother (Judah Lewis) and sister (Darby Camp) team up with Santa to save Christmas after their efforts to catch him on film accidentally crash his sleigh. Produced by Chris Columbus, it's guaranteed to have the best visual effects of the season.
Every Day Is Christmas (Lifetime, November 24 at 8 p.m.): Money manager Alexis (Toni Braxton) is the Scrooge in this A Christmas Carol–inspired tale. God bless us, every one.
A Shoe Addict's Christmas (Hallmark, November 25 at 8 p.m.): There's more visiting of Christmases past, present, and future when department-store worker Noelle (Candace Cameron Bure), who's losing confidence in every aspect of her life, gets locked inside after closing on Christmas Eve and meets a quirky woman (Jean Smart!) who claims to be her guardian angel.
A Very Nutty Christmas (Lifetime, November 30 at 8 p.m.): The morning after overworked and freshly dumped bakery owner Kate (Melissa Joan Hart) decorates her Christmas tree, she wakes up to find Chip (Barry Watson) — "a handsome soldier who may or may not be the Nutcracker Prince from Tchaikovsky's The Nutcracker" — in her living room. Could it rival Hart's surprisingly enjoyable/crazy 2007 ABC Family original Holiday in Handcuffs (in which she's a waitress who kidnaps a customer)? Additional trope: "Someone is a baker."
Life-Size 2 (Freeform, December 2 at 9 p.m.): Grace (Francia Raisa) is out of her depth as CEO of Marathon Toys, manufacturer of the Eve doll first introduced in the 2000 ABC TV movie starring Tyra Banks and Lindsay Lohan. But fortunately, Grace's old Eve doll (Banks) "awakens" to help her through her quarterlife crisis. Unfortunately: No Lohan in this one.
The Truth About Christmas (Freeform, Nov. 25 at 9 p.m.): After a run-in with a toy store Santa, political consultant Jillian (Kali Hawk) can no longer spin — in fact, she can't stop telling the truth. It's particularly bad timing, since she's both about to meet her boyfriend's family and plotting his upcoming mayoral campaign.
A creative woman is artistically — and romantically — blocked.
Christmas at Graceland (Hallmark, November 17 at 8 p.m.): Business exec Laurel (Kellie Pickler) is supposed to be in Memphis for an acquisition, but her old flame, music promoter Clay (Wes Brown), wants her to remember when they made beautiful music together as a duo.
Reunited at Christmas (Hallmark Movies & Mysteries, December 16 at 9 p.m.): Samantha (Nikki DeLoach), a novelist with writer's block, gets inspired when she spends Christmas at her late grandmother's house.
Will an ambitious woman get her big break?
Christmas Joy (Hallmark, November 3 at 8 p.m.): Market researcher Joy (Danielle Panabaker) wants to nab her company's top account and the promotion that comes with it, but she drops everything when her Aunt Ruby needs surgery — as well as someone to take over planning of the town's legendary holiday Cookie Crawl.
Christmas Catch (UPtv, December 2 at 7 p.m.): Detective Mackenzie Bennett (Emily Alatalo) puts her plans to spend the holidays with loved ones on hold so she can go undercover for the FBI and investigate the new hunk in town (Franco Lo Presti) — who's a suspect in a diamond heist. Per the release: "She finds herself getting close to a man who might be a criminal — but who also might be the man of her dreams!" Already a classic. (And no, UP, you can't use that as a marketing blurb.)
A Majestic Christmas (Hallmark, Dec. 2 at 8 p.m.): Architect Nell (Jerrika Hinton) scores her first promotion, but it comes with the unenviable task of turning her hometown's historic Majestic Playhouse into a multiplex for new owner Connor (Christian Vincent). Will experiencing the town's 12-day holiday festival convince him to embrace tradition?
Christmas Bells Are Ringing (Hallmark Movies & Mysteries, December 23 at 9 p.m.): Freelance photographer Samantha (Emilie Ullerup) has a lot to deal with: a deadline for a Christmas spread that could boost her career, and returning home for the first time since her mother's death to attend her father's Christmas Eve wedding. Additional trope: "Let's make a surprise tearjerker."
Entertaining Christmas (Hallmark, December 16 at 8 p.m.): To prove that she's a worthy successor to her Martha Stewart–like mother's throne, Kara (Jodie Sweetin) must answer a young girl's call for help welcoming her deployed father home for Christmas. Did we mention that Kara doesn't actually cook or craft? And that the young girl's uncle is a newspaper reporter? Tension!
Jingle Around the Clock (Hallmark, December 22 at 7 p.m.): Elle (Brooke Nevin) has to relaunch a Christmas ad campaign with "fixer" Max (Michael Cassidy) while also juggling a reunion with her college friends. Honestly, those stakes just feel low now.
An ambitious woman inherits property that allows her to slow down enough to fall in love.
My Christmas Inn (Lifetime, November 21 at 8 p.m.): A San Francisco ad exec (Tia Mowry-Hardrict) is planning for a promotion at work — and not to inherit her aunt's inn in Alaska. Good thing the local attorney (Rob Mayes) is there to help her decide what to do next. Additional trope: "Will an ambitious woman get her big break?"
Christmas Everlasting (Hallmark, November 24 at 8 p.m.): New York City attorney Lucy (Tatyana Ali again!) was too busy working toward becoming partner to take the last call she'd ever receive from her older sister with special needs. If she wants to inherit her family's Wisconsin home, she'll have to live there for 30 days over the holidays — or so says her sister's lawyer (Dondre T. Whitfield), who happens to be Lucy's old high-school flame. Additional tropes: "Will an ambitious woman get her big break?"; "High school sweethearts are forced to reunite"; "Let's make a surprise tearjerker."
Northern Lights of Christmas (Hallmark Movies & Mysteries, December 2 at 9 p.m.): Aspiring pilot Zoey (Ashley Williams) gets thrown off course when she inherits a reindeer farm. You read that right — a reindeer farm. Viewers who remember Williams playing a zookeeper who encounters a reindeer and Santa's son in the 2004 ABC Family original Snow may be disappointed that the handsome farmhand is played by Corey Sevier and not Tom Cavanagh.
Memories of Christmas (Hallmark Movies & Mysteries, December 8 at 9 p.m.): Financial consultant Noelle (Christina Milian) inherits her mother's home — and the responsibility of being the town's "queen of Christmas." Something tells us the man (Mark Taylor) her mother had always hired to decorate the home has his work cut out for him.
High-school sweethearts are forced to reunite.
Last Vermont Christmas (Hallmark Movies & Mysteries, November 19 at 9 p.m.): Three sisters reunite every Christmas at their childhood home, but this year their parents are selling the house … to daughter Megan's (Erin Cahill) former love Nash (Justin Bruening). You know she wanted to forget she dated a guy named Nash in her youth.
Jingle Belle (Lifetime, November 25 at 8 p.m.): Isabelle (Tatyana Ali again) returns home to write music for the annual Christmas Eve Pageant, where she used to duet with her high-school beau, Mike (Cornelius Smith Jr.). Surprise: Mike is directing the show this year.
Homegrown Christmas (Hallmark, December 8 at 8 p.m.): After leaving her dream job, Maddie (Lori Loughlin) heads home to reevaluate her life — only to find herself working beside her high-school love, Carter (Victor Webster), to organize a Christmas dance for the school.
Christmas Wonderland (Hallmark, December 9 at 8 p.m.): Another high-school dance, the Christmas SnowBall, is saved when art gallery curator Heidi (Emily Osment) returns to her hometown and is forced to help her former high-school flame Chris (Ryan Rottman) — who's now the teacher in charge of the ball — find a new location and decorate. Additional trope: "A creative woman is artistically — and romantically — blocked."
Christmas Pen Pals (Lifetime, December 15 at 8 p.m.): Hannah (Sarah Drew), creator of the failing dating app Perfect One, can't avoid running into her old high-school boyfriend, Sam (Niall Matter), when they're both home for the holidays. She reluctantly signs up for the town's anonymous holiday pen-pal service, Christmas Cupid, and starts falling for the author of the letters she receives. You've Got Mail alert?
Hometown Christmas (Lifetime, December 16 at 8 p.m.): Noelle (Beverley Mitchell) is determined to resurrect her town's live nativity in her late mother's memory, which proves as difficult as accepting that her father is now attracted to the mother of her high-school ex, Nick (Stephen Colletti), a baseball star who's home to nurse an injury.
Reminder: Your local bookstore still exists.
Hope at Christmas (Hallmark Movies & Mysteries, November 20 at 9 p.m.): Recently divorced Sydney (Scottie Thompson) is ready to celebrate Christmas with her daughter in a house she inherited. Spending time at the local bookstore, she meets a teacher, Mac (Ryan Paevey), who occasionally subs as the town Santa — and wants to make sure she gets whatever she asks for this year. Additional trope: "Single parents do Christmas."
Christmas Around the Corner (Lifetime, December 14 at 8 p.m.): Claire (Alexandra Breckenridge), a venture capitalist from New York City, escapes to Vermont, only to find a flood has dampened the town's festivities and left the Fortenbury Bookstore in need of major repairs. Will she be able to convince owner Andrew (Jamie Spilchuk) that she knows how to turn his business, and the holidays, around? Additional trope: "Let's make a surprise tearjerker."
Single parents do Christmas.
It's Christmas, Eve (Hallmark, November 10 at 8 p.m.): Interim school superintendent Eve (LeAnn Rimes) has to trim the budget in her hometown, which means the music program run by her handsome neighbor, single dad Liam (Tyler Hines), is on the chopping block.
Christmas at Grand Valley (Hallmark, November 21 at 8 p.m.): Burned-out artist Kelly (Danica McKellar) gets to reexperience the joys of her hometown's traditions with single dad Leo (Brennan Elliott), who turns his business trip to a Grand Valley hotel into a family holiday. Additional trope: "A creative woman is artistically — and romantically — blocked."
A Twist of Christmas (Lifetime, December 1 at 8 p.m.): Two single parents — Abby (Vanessa Lachey) and Ryan (Brendon Zub) — mix up their toys at a department store and have to help each other save their holidays. Sounds like One Fine Christmas.
Someone is a baker.
Christmas in Love (Hallmark, November 11 at 8 p.m.): When a big-city CEO (Daniel Lissing) arrives at a small-town bakery with plans to modernize it, it's up to Ellie (Brooke D'Orsay) to show him that it's the people who make the famed Christmas Kringles so special.
A Christmas in Tennessee (Lifetime, December 9 at 8 p.m.): Hallmark's king of rom-coms, Andrew Walker, jumps networks again to star as a real-estate developer interested in turning the small town of White Pines into a corporate ski resort. But he'll have to get past single mom Allison (Rachel Boston), who runs a bakery with her mother (Patricia Richardson). Additional trope: "Single parents do Christmas."
A Gingerbread Romance (Hallmark, December 15 at 8 p.m.): Architect Taylor (Tia Mowry-Hardrict again!) is up for a promotion that would require her to leave Philadelphia, but first, her firm wants her to win a contest involving life-size gingerbread houses. Will working with baker/single dad Adam (Duane Henry) finally make Philly feel like home? Additional tropes: "Will an ambitious woman get her big break?"; "Single parents do Christmas."
Let's make a surprise tearjerker.
Road to Christmas (Hallmark, November 4 at 8 p.m.): Under pressure to increase the ratings for Julia Wise Lifestyle, TV producer Maggie (Jessy Schram) has the brilliant idea to make the annual Christmas Eve special live this year — and is forced to work with Julia's former producer, her son Danny (Chad Michael Murray), to pull it off. Maggie's secret plan: to reunite Julia with all three of her sons on air, even though they haven't spent the holidays with her in years. What could possibly go wrong?
Marrying Father Christmas (Hallmark Movies & Mysteries, November 4 at 9 p.m.): In the third film in the Father Christmas trilogy, Miranda (Erin Krakow) prepares for her Christmas wedding to Ian (Niall Matter again!) — and to officially join a family, something she's never had. But then a man shows up claiming to have ties to her late parents, and she's not sure who to trust.
Return to Christmas Creek (Hallmark Movies & Mysteries, November 17 at 9 p.m.): An app developer, Amelia (Tori Anderson), returns home and reconnects with her best friend Mike (Stephen Huszar) … but also with her estranged uncle, Harry (Steven Weber), who had a mysterious rift with her father.
Christmas on Honeysuckle Lane (Hallmark Movies & Mysteries, November 24 at 9 p.m.): After their parents' recent passing — dark! — a group of siblings (led by Alicia Witt) reluctantly agree to sell their childhood home. A hidden surprise among their mother's possessions proves to be an unexpected gift.
Once Upon a Christmas Miracle (Hallmark Movies & Mysteries, December 9 at 9 p.m.): Heather (Aimee Teegarden) is running out of time — she needs a liver transplant — but then stranger Chris (Brett Dalton) proves to be a perfect match. Based on a true love story.
Christmas on Holly Lane (UPtv, December 16 at 7 p.m.): Three lifelong friends (Sarah Lancaster, Karen Holness, and Gina Holden), each at a crossroads, come together for what could be their final Christmas in the house they all love before it's sold.
When Calls the Heart Christmas (Hallmark, December 25 at 8 p.m.): The popular Hallmark series investigates the arrival of stranded orphans and their caretakers in Hope Valley, which is the perfect time for teacher Elizabeth (Erin Krakow again!) to impart a lesson to her students about being selfless.
A very Jane Austen Christmas
Christmas at Pemberley Manor (Hallmark, repeats November 2 at 8 p.m.): New York City event planner Elizabeth Bennett (Jessica Lowndes) has been assigned to organize a small town's holiday festival. Slight problem: The billionaire owner of the estate where she wants to host it, William Darcy (Michael Rady), isn't exactly feeling festive since he's planning on selling the property. Additional tropes: "An event planner didn't plan for THIS"; "Will an ambitious woman get her big break?"
Pride, Prejudice & Mistletoe (Hallmark, November 23 at 8 p.m.): This gender-swap, based on a Melissa de la Cruz novel, stars Lacey Chabert as Darcy Fitzwilliam, who returns home to Pemberley, Ohio, to assist her mother with a Christmas gala — and soon finds herself working alongside an old rival, restaurant owner Luke Bennett (Brendan Penny).
And we'll just have to wait to see which tropes these use…
Chandler Christmas Getaway (UPtv, November 11 at 7 p.m.): UP's favorite family is back, and this time they're headed to a cabin to revisit old feuds and create new ones, as is the holiday way.
The Christmas Pact (Lifetime, December 2 at 8 p.m.): Childhood friends Sadie (Kyla Pratt) and Ben (Jarod Joseph) planted a tree behind their church when they were 8 years old and promised to return to it every year to recite their special Christmas poem and read aloud what they want for Christmas. As adults, can they grow a romance?
Small Town Christmas (Hallmark Movies & Mysteries, December 22 at 9 p.m.): First-time author Nell (Ashley Newbrough) has a surprise best-seller inspired by a former colleague (Kristoffer Polaha) and his anecdotes about his hometown. When her holiday book tour takes her there, maybe she'll finally find out why he left New York and ghosted her.
Hometown Holiday (UPtv, December 23 at 7 p.m.): Big-city music executive Ryan (Bradley Hamilton) agrees to attend a wedding in the country — how brave! — so he can try to sign an internet sensation. Bigger news: He falls for a local (Sarah Troyer), who thinks Ryan's a real cowboy. Based on the Harlequin novel The Maverick's Holiday Masquerade.