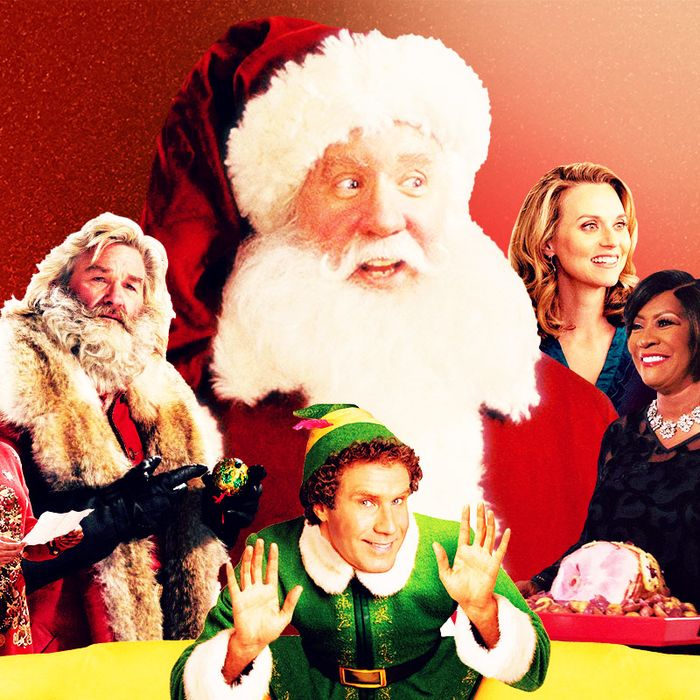 Photo: Vulture and Photos by Netflix, Lifetime, Hallmark, Freeform and AMC
Some conservatives (including a cast member of Home Alone 2) are fond of complaining that politically correct corporate America has abandoned Christmas celebrations. They've clearly never turned on a TV set around this time of year. Far from fleeing Christmas, programmers are raising the Santa stakes and devoting more resources than ever to Yuletide stunts. The reason: As much as modern audiences love streaming shows on demand, Nielsen data suggests live viewing — no DVRs, no on-demand — spikes dramatically for holiday-themed programming, as friends and families gather in front of the electronic hearth for a dose of carefully curated small-screen cheer. And as the battle for those Christmas viewers grows ever more competitive, networks are responding with ever more extensive holiday offerings.
On the broadcast side of the TV business, holiday-themed episodes of scripted series and reruns of chestnuts such as A Charlie Brown Christmas and Rudolph the Red-Nosed Reindeer are being supplemented with more original specials. NBC this week has its Legendary Christmas hour starring John Legend and Chrissy Teigen, while next month will bring Yuletide-themed editions of reality and game shows such as America's Got Talent, Deal or No Deal, Hollywood Game Night, Little Big Shots, and Ellen's Game of Games. ABC, meanwhile, is bringing back The Great Christmas Light Fight and its holiday edition of The Great American Baking Show, while also reviving the Victoria's Secret Fashion Show as a holiday special. Hulu isn't offering much in terms of original Christmas content, but it'll highlight all the holiday fare its network partners produce, as well its acquired holiday movie offerings, in a special "holiday hub" vertical.
The real reindeer games, however, are being played by four big cable networks and, to a lesser degree, Netflix. Hallmark Channel and Lifetime are increasing production of their patented Christmas rom-coms, premiering dozens of new titles over the space of a few months. Freeform and AMC, meanwhile, are focusing on Christmas classics, offering endless opportunities to watch holiday standards such as Elf or The Santa Clause (though Freeform does have a few high-profile originals in its stocking). And then there's Netflix, whose something-for-everyone offering hews closely to its overall strategy of appealing to the masses. Vulture checked in with the biggest players in this year's Santa smackdown to find out what they'll be offering and which kinds of viewers they're targeting. Jolly Old Saint Nick's not the only one who can make a list:
Hallmark Channel
The brand: Countdown to Christmas
How long they've been doing it: The Countdown banner was first introduced in 2009, though the network has been doing seasonal movies since its 2001 launch.
The pitch: Feel-good fare in the form of rom-com fantasies, it's hot cocoa in TV form.
Programming mix: Made-for-Hallmark Yuletide films, focused almost exclusively on folks finding love and the meaning of the season, plus a handful of specials (including one featuring Christian-music pop icon Amy Grant) and holiday-themed editions of the channel's regularly scheduled daytime talk show Home and Family.
The target audience: Women aged 25 to 54 (particularly those who already watch Hallmark Channel movies the rest of the year), plus anyone who's dreamed of living inside a Norman Rockwell painting.
Familiar faces: Hallmark calls its four most frequently featured actors — Candace Cameron Bure, Lori Loughlin, Lacey Chabert, and Danica McKellar — its "Queens of Christmas," and all are back with new titles this season. (The foursome combined have starred in 25 holiday films for the channel.) Joining the network's roster in 2018: LeAnn Rimes, Kellie Pickler, and Emily Osment. And after facing justifiable criticism over how white its Christmas offerings have often been, Hallmark says 23 percent of this year's originals will have at least one person of color. What's more, the network is making an effort to add diversity in its leading roles by putting actors such as Tatyana Ali, Christina Milian, Jerrika Hinton, and Tia Mowry-Hardrict front and center in separate movies.
How big: A whopping 22 brand-new original movies will air during the channel's ten-week event, which this year began the weekend before Halloween (no, really). The network will fill out the rest of its all-Christmas lineup by drawing on its extensive library of past films, which, as of this year, will boast a jaw-dropping 173 originals.
Synergy and streaming: Sister network Hallmark Movies & Mysteries boasts its own lineup of 15 holiday originals this year, while also rerunning past holiday titles around-the-clock in November and December. HM&M's schedule — branded Miracles of Christmas — focuses more on Christmas dramas, though romance is still part of the equation in most movies. If you want on-demand Hallmark Christmas content, you'll need to subscribe to the company's Hallmark Movies Now streaming service ($6 per month or $60 annually, with a seven-day free trial available). But don't expect to catch this year's offerings on streaming: The service consists of holiday fare not found on Hallmark's linear channels.
Much the way department stores seem to start putting up decorations earlier each year, Hallmark has exponentially expanded its seasonal efforts almost every year since launching Countdown to Christmas a decade ago. And with good reason: It works. The more movies it makes, the more audiences flock to the network every November and December, with more than 80 million people watching at least a few minutes of Hallmark and Hallmark Movies & Mysteries Christmas movies last year.  It helps that the company's holiday fare is an extension of its year-round branding as a destination for feel-good TV movies (and series). That sets it apart from rival nets such as Lifetime and Freeform, which undergo pretty dramatic content transformations when they switch to Christmas programming.
Hallmark's success has spurred other networks to increase their original offerings to keep up. And yet despite the intense competition, Hallmark continues to do phenomenally well in the war for Christmas viewers. It's regularly the No. 1 cable network in total viewers and women aged 25–54 during holiday weekends, while Hallmark Movies & Mysteries often ends up a top-ten network during the same time frame (despite not being available in as many homes as some of the bigger cable channels). And while Hallmark gets plenty of viewers to tune in live for Countdown to Christmas presentations, its biggest premieres will see their ratings jump by as much as 80 percent once DVR replays are tallied.
Freeform
The brand: 25 Days of Christmas
How long they've been doing it: Since 1996, back when Freeform was known as the Family Channel.
The pitch: Lighthearted holiday fun, heavy on old-school faves and Christmas-themed comedies.
Programming mix: Modern classic films and specials (many from the Disney library), plus a decent dose of animation and a few high-profile original premieres.
The target audience: Girls and women aged 12–34 (and their families).
Familiar faces: Tyra Banks, Francia Raisa, Dave and Odette Annable in new projects; Tim Allen, Jim Carrey, Mickey Mouse, and Paddington Bear in library titles.
How big: Much of the network's lineup switched to family-friendly "holiday adjacent" specials and movies (Titanic, Mrs. Doubtfire) on November 1 under the Kickoff to Christmas banner. Things go full Yuletide on December 1.
Synergy and streaming: Since last year, Freeform has been sharing the 25 Days branding with sister nets ABC and Disney Channel. ABC's lineup isn't exclusively holiday during December, but does include seasonal episodes of its big series; a Christmas Eve showing of Beauty and the Beast; and the beloved A Charlie Brown Christmas. A big chunk of the network's movies and specials stream on demand via the Freeform app and website.
For folks under 50, Freeform's Christmas stunt has long been the must-see TV of the holiday season. If Hallmark and Lifetime focus on Christmas rom-coms (and tugging on heartstrings), 25 Days has historically gone broader by de-emphasizing the "rom" part of the equation. "We have some stuff that's heartwarming, but the place where we see the biggest numbers is where Christmas meets comedy," Freeform chief Tom Ascheim told Vulture three years ago. That means a steady diet of titles like The Santa Clause, the Jim Carrey version of Dr. Seuss' How the Grinch Stole Christmas and Christmas With the Kranks, along with familiar Disney movies like Toy Story, Finding Nemo, and The Lion King which, while not exactly holiday-themed, fit with the spirit of the season.
This year, Freeform is facing a test of its Yuletide supremacy. In addition to dramatically beefed-up original movie slates on Hallmark and Lifetime, AMC has pulled a Grinch and stolen some of the Disney-owned network's most popular theatrical titles, including Elf and National Lampoon's Christmas Vacation. Freeform is fighting back by investing in more original programming, including what could be its new secret weapon: Life-Size 2, a long-in-the-works sequel to the 2000 Tyra Banks–Lindsay Lohan TV movie. Freeform plans to air the original and the update at least a dozen times in December. It's also debuting the feel-good Pop Up Santa Holiday Special, in which celebrities surprise civilians with family reunions, baby showers, and a home giveaway. And while rom-coms are relatively rare on 25 Days, the network is unveiling a new one this year with No Sleep 'Til Christmas, starring former Brothers & Sisters stars Dave and Odette Annable. Freeform is also bulking up its marketing efforts, bringing on former Old Spice guy (and current Shadowhunters regular) Isaiah Mustafa as "Freeform Santa," who'll appear as the network's 25 Days ambassador in promos and on social media.
Lifetime
The brand: It's a Wonderful Lifetime
How long they've been doing it: The current branding goes back to 2013, but the network has been doing holiday stunts off and on for most of its 35-year history.
The pitch: Holiday rom-coms with diverse casts and lots of millennial/Gen-X TV nostalgia.
Programming mix: Almost exclusively made-for-TV Yuletide movies.
The target audience: Women aged 25 to 54.
Familiar faces: Toni Braxton, Tia Mowry-Hardrict, Jackeé Harry, Melissa Joan Hart, Vanessa Lachey, Cheryl Ladd, Sarah Drew.
How big: Encore Christmas movies have been airing since November 12, but the channel switches to all holiday movies for six weeks starting November 21 (except for Tuesdays, which will continue to feature Married at First Sight: Honeymoon Island). Most new films will premiere on Friday, Saturday, and Sunday nights, with a whopping nine unspooled during Thanksgiving week.
Synergy and streaming: Lifetime Movie Network joins the festivities with movie reruns on Monday and Tuesday nights through December 23. A collection of titles will also be offered on subscription streaming app Lifetime Movie Club, which costs $4 per month or $40 annually.
Lifetime's been making Christmas movies since the 1990s, perfecting the Yuletide cable rom-com even before Hallmark Channel got in the game. But a few years ago, as the network started putting a greater emphasis on weekly series and biopics, it dramatically pared back its slate of originals. The low point for Lifetime holiday-movie lovers came in 2016, when the channel premiered just a single new title, Heaven Sent, which wasn't even produced specifically for the network. Thankfully, they're saying "Merry Christmas" again at Lifetime: There were nine first-run films on the network's slate last year, 14 originals are premiering this winter, and insiders tell Vulture the number will likely go up again in 2019. Perhaps inspired by the massive success Hallmark's been having in recent years, Lifetime execs have clearly decided to return to the network's holiday roots in a big way.
While there are plenty of similarities between Hallmark and Lifetime Christmas movies — lots of folks falling in love, discovering the spirit of the season, donning glam (and cozy) apparel — Lifetime leans into nostalgia and racial diversity with its slate. This year's titles include a movie featuring a quasi-reunion of the One Tree Hill cast, while actors from A Different World, 7th Heaven, The Cosby Show, and Sister, Sister pop up in others. What's more, six of Lifetime's 14 originals are headlined by nonwhite actors (including Braxton, Tia Mowry-Hardrict, Kyla Pratt, and Tatyana Ali) while movies such as Every Day Is Christmas, Jingle Belle, and The Christmas Pact feature casts made up predominantly of nonwhite actors. And behind the camera, Lifetime says women wrote nearly three-quarters of its holiday originals and directed nearly half of them.
AMC
The brand: Best Christmas Ever
How long they've been doing it: This is the first year for AMC's turbocharged lineup, though holiday movies have always had a home on the network.
The pitch: Santa's Greatest Hits, from blockbuster movies to animated specials.
Programming mix: Big Christmas comedies (Elf, Christmas Vacation, Gremlins), black-and-white classics (White Christmas, Miracle on 34th Street), family films (Willy Wonka & the Chocolate Factory, Polar Express), and Rankin/Bass specials (The Year Without a Santa Claus). No originals, though — unless you count a new-to-TV Mariah Carey special released on DVD last year.
The target audience: Gen-X viewers seeking a nostalgia fix, plus anyone who used to watch Elf on Freeform/ABC Family.
Familiar faces: Chevy Chase, Will Ferrell, Arnold Schwarzenegger, Sinbad, Rudolph the Red-Nosed Reindeer, Frosty the Snowman.
How big: It begins November 26 and runs through Christmas, with roughly 600 hours of holiday films and TV specials.
Synergy and streaming: Many titles will be available, with commercials, via cable/satellite on-demand platforms and AMC's website and app. A much smaller selection will also pop up on AMC Premiere, the network's premium (and ad-free) subscription service.
What AMC's Christmas calendar lacks in first-run fare is more than made up for in the breadth of its lineup: It's the Golden Corral of holiday stunts, serving up something for just about every kind of viewer. The tentpole titles it snatched from Freeform — Elf, Christmas Vacation, Polar Express — are the big anchors of the monthlong event, and just as Freeform did, expect to see those movies pop up as many as a dozen times between now and Santa's big night. But AMC is also offering a couple of stunts-within-a-stunt during Best Christmas Ever, including a weekend (December 1 and 2) heavy on those Rankin/Bass specials and movies-only marathons ten days and 48 hours before Christmas. Right after Christmas, the network will devote full days to all the National Lampoon's Vacation movies (December 26) and all three Godfather films (December 27). While most of the year AMC's lineup is filled with gritty, violent fare such as The Walking Dead or Preacher, execs want Best Christmas Ever to be a destination for family viewing (not unlike Freeform's 25 Days). As Tom Halleen, AMC's executive vice-president of programming and scheduling, told Vulture in September, "I want viewers to know they can put us on, and they can keep us on, all month long,"
Netflix
The brand: It's Beginning to Look a Lot Like Netflix
How long they've been doing it: This is the first year for IBTLALLN, but Netflix has offered some original Yuletide content since at least 2014's BoJack Horseman Christmas Special.
The pitch: It's Netflix, but for Christmas.
Programming mix: Four new holiday films, including the big-budget, visual-effects-filled The Christmas Chronicles and the much-anticipated sequel to last year's surprise success A Christmas Prince. There are also holiday episodes/seasons of Chilling Adventures of Sabrina, The Great British Baking Show, Nailed It!, Neo Yokio, and Fuller House, plus a kiddie-targeted special featuring characters from the Netflix animated series Super Monsters. And because it's Netflix, there's a healthy assortment of library content, including holiday movies (the Bad Santa films, How the Grinch Stole Christmas, Love Actually), specials (A Very Murray Christmas, Mariah Carey's Merriest Christmas), and Yuletide-themed episodes of a zillion different TV shows.
The target audience: Anyone with a Netflix subscription (though Netflix's original holiday films seem aimed right at the audience currently watching Lifetime and Hallmark Channel movies).
Familiar faces: Kurt Russell, Kat Graham, Vanessa Hudgens, Sam Palladio, Bill Murray, BoJack Horseman, and all the stars from those zillion movies and TV shows already on Netflix
How big: Holiday content is streaming year-round on Netflix, but the company says streaming of Christmasy stuff really starts taking off around mid-November.
Synergy and streaming: It's Netflix, so …
No doubt spurred by last year's success of A Christmas Prince — and keeping with its overall programming explosion — Netflix has definitely upped its holiday originals game this season. Christmas Chronicles is an attempt to create a family-friendly Yuletide perennial, and the various holiday rom-coms debuting this year underscore again how there's no programming niche Netflix won't try to fill (or linear network it won't try to crush). Mindful of Hallmark Channel's phenomenal seasonal success, Netflix recruited one of that network's top producers (Brad Krevoy) to make A Christmas Prince and Christmas Inheritance last year. Krevoy has two more holiday pics premiering this year on the streamer, and another set for 2019. (A Netflix rep declined comment when asked about persistent rumors the service has been trying to sign North Pole heavyweight Kris Kringle to an overall deal.)
Still, somewhat surprisingly, Netflix isn't going overboard with holiday fare. Given how much first-run content it now produces in general, there's a case to be made that the platform's Yuletide lineup is relatively limited this year. And the streamer's interface still makes it far easier to find a new season of Narcos than your favorite holiday episode of The Office or Friends. That might be because Netflix would rather have you spend most of your holiday downtime downing its regular movies and TV shows. Given just how many non-holiday originals it plans to release before year's end — new specials featuring Bruce Springsteen and Ellen DeGeneres; Oscar-bait original films such as Roma and Bird Box — it's not much of a stretch to imagine that's exactly what many of its subscribers will do.