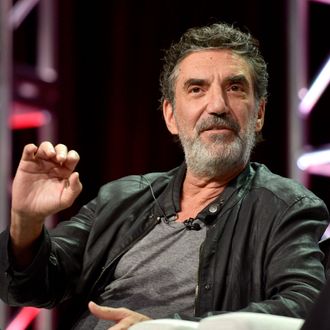 Photo: Matt Winkelmeyer/Getty Images for Netflix
Chuck Lorre, co-creator and executive producer of The Big Bang Theory, Young Sheldon and Mom, is already worshipped at CBS. But what if, one day, Lorre-a-mania extends far beyond the couches of America, and into our very souls? Lorre dropped his 600th wordy vanity card (a two-parter!) across his current CBS shows. 600A aired after The Big Bang Theory, and 600B aired after Young Sheldon and Mom. Lorre has been using his production shingle to pen little missives to the pause button freaks of the world for more than 20 years. The cards have been spread across Lorre innumerable IP's: The Big Bang Theory, Two and a Half Men, Mom, Young Sheldon, Mike & Molly, and Dharma & Greg.
600B imagines a world where Lorre's cards are pored over as sacred texts, imbued with meaning far greater than any the Two and a Half Men creator could imagine: "Generation after generation of completely misguided wisdom seekers would write treatises on pointless essays that I wrote in a hurry (like this one.)" Who hasn't kinda sorta hoped they would start a religion, and even be the cause of future holy wars? It's grounded and relatable storytelling like this that has kept Big Bangers glued to their TVs for 12 years.