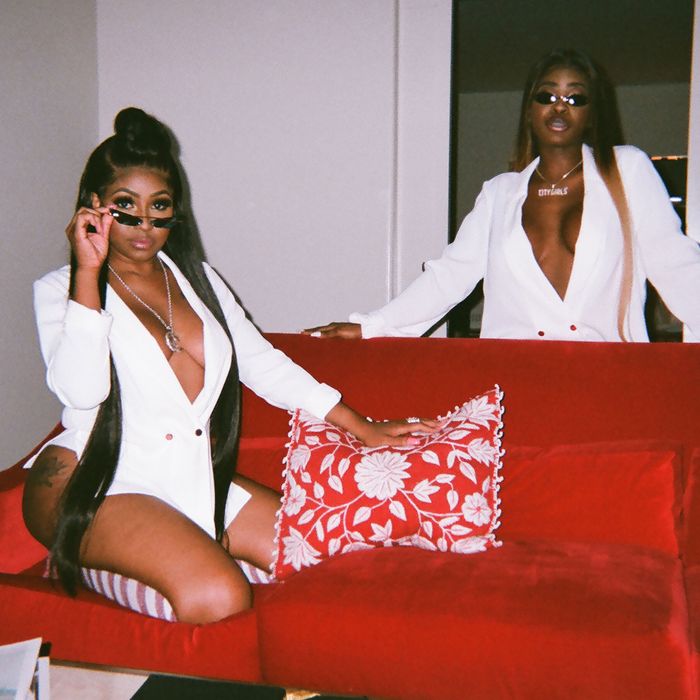 City Girls (Yung Miami, left; JT, right).
Photo: Edras Thelusma
In the year of the grifter, the Miami rap duo City Girls have written the manual on how it's done. Before last year, one half of the group had never even thought to rap. Twenty-four-year-old Caresha Brownlee was getting by just fine with an Instagram hustle promoting her own fashion line, when one day her best friend since middle school, Jatavia Johnson, hit her up with a spontaneous directive: "Hey, let's rap." Brownlee cackled at the idea, but still believably faked her way through it. Fast-forward a year, and Brownlee and Johnson have a whole new career and lifestyle, performing as Yung Miami and JT, respectively, and appearing as featured artists on the biggest song of the year: Drake's "In My Feelings," which topped the charts for ten weeks.
"I need that black card and the code to the safe," JT raps on her verse, and she's not bluffing. The day "In My Feelings" was released, she turned herself in to begin a two-year sentence for credit-card fraud. (Miami appears in the song's video alone, wearing a #FreeJT jacket with her image on it.) City Girls are not the sort of scammers who merely talk about it, they do it, too: They've slickly maneuvered their way into music straight to the heart of the game. They've released two albums in six months; their latest, Girl Code, dropped this month while JT remains behind bars in federal prison. For any other group, losing a member to the Feds might curtail their whole operation. But City Girls are no amateurs. "Bitch, we made it," Yung Miami smirks in her thick, raspy Opa-Locka accent, at the Capitol Records office in midtown Manhattan. She talked to Vulture about achieving success while down a member, working with Drake, Grammy hopes, and the day JT went to prison.
Is it fair to say y'all finessed a rap career?
No, I swear to God, listen. Me and JT say that all the time. We be like, "We scammed our way into the music industry." We're the biggest scammers of all time. Honestly, I had never been in the studio before. JT had grown up rapping with her father. So she seriously just one day called me — imagine this is one of your friends — like, "Hey, let's rap."
[Chuckles.]
Exactly. That was my reaction. I was like, "Whaaat?" She was like, "Caresha, for real." She said my personality — blonde, dingy, and just don't care — was why she called me to do the song. She wanted to make it fun. So we went into the studio, did this song ["Fuck Dat Nigga"], and put it on SoundCloud. It took off and we ended up linking up with Coach K [Kevin Lee, co-founder of Quality Control] and getting signed to Quality Control.
Back up. So you enter the studio, but you'd never even written a rap or attempted to spit before. How'd you do it?
I didn't even know the process of having an engineer or producer. I never knew the behind the scenes of music. And we didn't have a producer, we just had an engineer, who was my cousin. She sent me the beat and the song was just trash-talking — "F that nigga" — and I just always used to call myself Yung Miami and used to tell JT, "Girl, I don't play with these niggas." So when I heard the beat, it was more of me just play talking and putting it into a verse. Looking back on it, it was so childish, like one, two, three [starts rapping], "It's Yung Miami and I don't play with niggas." It's fun.
So now when you go to the studio —
It takes me a long time. Like "Swerve," which is on Girl Code, took me a day to write that song. I woke up in the morning, like at 8 o'clock, and I finished it at probably 12 that night. You know, I have the beats and I just flow with it and flow with it until I feel like I have it ready to go, and then I lay it down [on a track].
Do you tend to write whenever inspiration strikes, or is it strictly when there's a project to be made and a deadline?
Say I'm sitting here right now and I think of something like, "I'm a bad bitch," I just write it in my notes. Or sometimes if I say something, I'll voice-record it like, "Yuh, it's Yung Miami and …" I put it all together.
It comes more naturally now that you've developed your flow.
Yeah, it's more like a freestyle. I don't really write. Sometimes I just go in there, put on my headphones, and start saying stuff. And then we'll just make it.
I think there's some misconception that Drake discovered you, when really you both were already signed to Quality Control, which is home to Migos and manages Cardi B. Can you tell me a bit more about how you got discovered?
I would say Drake gave us a bigger fan base. He helped us get noticed by his fan base. And he heard about City Girls through someone and they played Period, our [debut] album, and he was like, "Whoa. These girls gotta be from Miami." 'Cause he said we reminded him of Trina. He said he loved Miami music. So when he looked us up, he saw that we were Quality Control, and he had a relationship with them through Migos and Lil Baby, and he said it was up his alley and wanted to work with us. He called Pee [Pierre Thomas, QC co-founder] and said he had a record for us. We was like, "Stop playin' with us. Bitch, we made it."
But how we got discovered by Coach K was when we dropped that song on SoundCloud, we started getting booked through Florida — like Tallahassee, Orlando, Tampa, we were doing shows. And we were putting them up on the internet because we had a little cameraman to make the videos. Our manager in Miami, Stan [Gabart], he called Coach and was like, "These girls from Miami, I think you should look into them." Coach went on our Instagram and saw that we were packing out all these clubs and was like, "I see a vision for them." He came to Miami and we met up.
It's incredible that he still decided to sign you despite JT having already caught her case.
Right! That was another thing, too. We were scared about that because once we met him, he told us that he wanted to sign us. But we were like, "We got a situation." Prior to going into that meeting, we were talking like, "Damn, they're prolly gonna be like, 'Nah, this girl gotta go to jail.'" But that's what made him love us more. Because in our song she's like, "I need a nigga that's gonna swipe me a Visa," and he was like, "These girls are authentic. This is real what they're rapping about. This is a story." And they always say people love when you have a story to tell. They feel like they can relate to you.
I love that line on "I'll Take Your Man" where you just eviscerate any rumors that you or JT fucked your way into a deal.
You know, we're self-made and people just honestly don't believe that our label reached out to us. When people wanna trash-talk and discredit you for something because you're a woman, you have to do that. I think that was the perfect way to address it on a song. Period.
Knowing that JT would be going to prison, you must've been recording like crazy up until July.
Our schedule was crazy because in between recording, we had videos and press. Listen, we'd have a show Monday, a video shoot Tuesday, then have to be in New York for press on Wednesday. Every day it was something. We did all these videos in a week, every day waking up and doing hair and makeup. And if the video was from 12 to 8, at 8 it was time for studio. It was a roller coaster because on top of all this work, this girl is going through this case and had to turn herself in. At some moments it was just like, "I'm not in the mood."
I was told you both were in the studio up until 10 a.m., two hours before JT had to surrender. Can you tell me about that day?
We wanted to wake up and have the whole day be just about us and do a full day. But the day came and it wasn't that. She was sad and crying. But we did go eat and had our last meal, and after we ate, she went to the studio. I went with her, but she ended up staying until 10 a.m. the next day 'cause she had to turn herself in at 12.
This is the longest you've been apart?
Yeah. You know, I have my days, but overall I'm just happy that I'm able to be working still and make sure that when she comes home, we're still afloat. It won't be like, "City Girls were here, but Yung Miami couldn't balance it." I'm still doing what I gotta do. I'm making sure it's #FreeJT and making a movement, so when she gets out, we'll be bigger than what we are already.
Were you able to involve her in the process of releasing this album? I know her parts were already recorded, but has she had creative input since being locked up.
I talk to her every day through email. Right before I came in here, we were on the phone. When we were recording, we didn't know it was gonna be an album. We thought it would be another mixtape, but Pee thought it was great enough to call it an album. And we still got songs. If we wanted to do another album, we can. We worked our asses off. So it was finished, but we picked the songs through the video chat when I was in the studio. She was very involved. That's also how she was able to do the intro. She called [from prison] and I recorded her. But it was [JT] who said we should do "Give It a Try," which I didn't think we should. She was very hands-on. But I think this is a good process. It goes to show what I can do and what I can bring to the group.
Has it dawned on you yet that you'll probably end up Grammy-nominated for "In My Feelings"?
Listen. I'll be surprised. You know what, I never thought about it. You got me excited and inspired. I'm about to get on my knees and pray.
This interview had been edited and condensed for clarity.