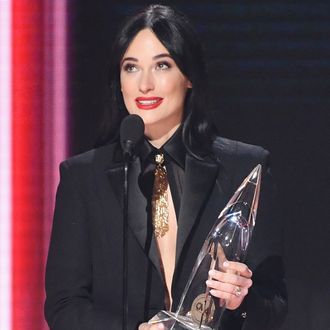 Musgraves.
Photo: Jason Davis/FilmMagic
Last night's Country Music Association Awards (the CMAs) saw a mixed bag of both the usual and the totally unpredictable for what's regarded as the Grammys of country music. Once again, Brad Paisley and Carrie Underwood were your hosts, and, once again, Paisley fully leaned into being as corny as humanly possible. You better believe there was a A Star Is Born — excuse me, A Star Is Bored — parody and a Yodeling Boy cameo. But the biggest talk of the night was the surprise winners. Though a critical smash, Kacey Musgraves went into the night the underdog as the only woman nominated for Album of the Year in a category assumed to be Chris Stapleton's for the taking. Surprise, surprise — she won!
Little Big Town's Karen Fairchild dedicated the award to "all the little girls writing songs out there," as she announced Golden Hour's win. In her speech, Musgraves pointed out that it was ten years to the day that she moved to Nashville to pursue music. Musgraves becomes the first woman in four years to take AOTY, and only the seventh in the show's history; Miranda Lambert previously won it in 2014. This year, Lambert lost out to Carrie Underwood for Female Vocalist of the Year, a category Lambert has mostly dominated for the last eight years.
Another plot twist: Keith Urban (????) is your Entertainer of the Year (????). And no one is more stunned about it than Keith Urban, who joined Musgraves in stealing a category thought to be a shoo-in for Stapleton. For the first time since 2005, Urban received the night's biggest award and cried through his whole speech. All of it. "I'm shocked, beyond shocked," he said. Don't cry for Stapleton though; he still took home three awards, including Single of the Year, the most of any artist that night.