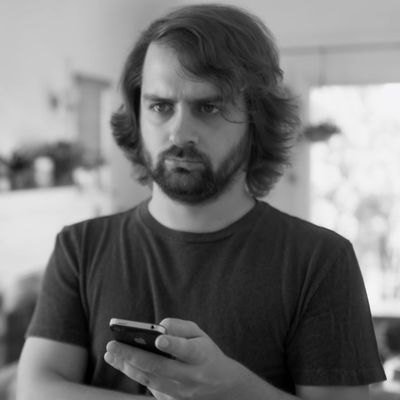 Joe Kwaczala.
Photo: YouTube
It's not easy to get noticed for your comedy videos these days considering there's so much competition out there, so Los Angeles–based comedian and ClickHole contributor Joe Kwaczala decided to approach things a little differently. When Kwaczala turned 31 earlier this year, he decided to start working on 31 videos alongside director Daniel J. Clark and producer Liz Maupin, and rather than releasing them one at a time over the course of the past six months, he had a better idea: Why not release all 31 videos in one day?
That's exactly what happened on Kwaczala's Twitter feed, YouTube channel, and personal website all throughout the day today in a project called "31 for 31." Every 15 minutes, Kwaczala released a new video, and even more impressively, he produced all of the videos with no budget. It's got a little bit of everything: footage from live shows, a unique take on NBC's 2015 miniseries The Slap, an Oliver Platt–themed ASMR video, a retro MTV bumper, a terrible podcast featuring stand-up Beth Stelling, an expired jar of salsa voiced by Tim Robinson, a very serious show about stand-up comedians, a Pittsburgh translation of Call Me by Your Name, and tons more. Here are just some of the videos Kwaczala released today:
The Slap Remake
Charlie - Official Theatrical Trailer
Call Me By Your Name: Pittsburgh Translation
Joe Kwaczala: Radio Contest Winner
A Comedian's Process: Jay Christopher
Joe's One-Bedroom: The Fridge
The Mix-Up Podcast w/ Beth Stelling
ASMR | In the Garden with Nonu
NPR Itty Bitty Bathroom Concert - Cheat the Heathens
Downtown LA
1992 MTV Bumper
MB Trivia App
The Man Who Lives in the Trash
Chocolate!
Impressive, right? Perhaps you have the urge to congratulate Kwaczala on his extraordinary accomplishment — thankfully, he's gone and done the work for you by creating the perfect video you can send to him:
Check out Kwaczala's Twitter thread for the full collection of videos.