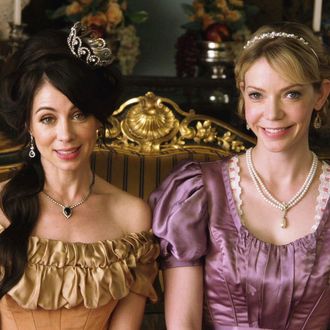 Another Period.
Photo: Comedy Central
Natasha Leggero and Riki Lindhome's Comedy Central series Another Period has seen its last day. The network has confirmed that the show, a Keeping Up With the Kardashians–style parody set in early 20th-century Rhode Island, will not return for another season. The show originally debuted back in 2015, wrapped up its third season back in March, and featured a long list of comedy stars, including Michael Ian Black, Jason Ritter, Beth Dover, David Koechner, David Wain, Christina Hendricks, Brett Gelman, and more.
Lindhome currently has another television project in the works with some help from Amy Poehler, which was announced back in October. Titled Tails, the potential series would star Lindhome as a woman in her 30s named Erika who "refuses to settle in any area of her life." Poehler is credited on the project as an executive producer.