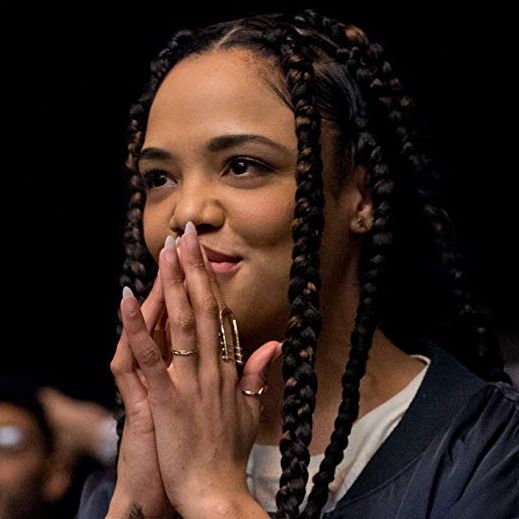 Photo: Barry Wetcher/©Metro-Goldwyn-Mayer Pictures and Warner Bros. Entertainment
In 2015's Creed, viewers were introduced to Tessa Thompson's character, Bianca, the Philly-based love interest of Michael B. Jordan's heavyweight champ Adonis Creed. She is, to be sure, a ringside cheerleader for the up-and-coming boxer in the hit Rocky franchise spinoff, but also self-possessed in a way that elevates her from the stock movie girlfriend: an experimental R&B singer-songwriter pursuing her own dreams of pop stardom.
So when it came to updating the character for Creed II (which hits theaters November 21), both Thompson and director Steven Caple Jr. made a concerted push to continue resisting cliché. That involved showcasing Bianca as a performer this time around — the Thor: Ragnarok actress is seen performing two songs in the movie. One is a downtempo nu-soul number that conjures the phrasing of Jill Scott (it also features the rapper Gunna), the other, an anthemic banger that provides Adonis's walk-out music for his climactic title bout against Viktor Drago (son of Ivan Drago who, famously, killed Adonis's champion boxer father Apollo Creed during a championship fight in Rocky IV).
Turns out that Thompson has a real-life side hustle, recording music as a singer-songwriter in the hip-hop/soul/EDM duo Caught a Ghost. She co-wrote and recorded the new film's songs in Los Angeles with Moses Sumney, an acclaimed performer–producer–multi-instrumentalist with whom she duets on the song "Shed You" from the first Creed (although she is not seen performing the song on screen).
"She sang her own songs — she's legit," Caple tells Vulture. "And she had a lot of input on writing her songs too. Moses came in to help make a hook. But lyrically, she's a poet. I'm jealous, man. She can do it all!"
SPOILERS TO FOLLOW: In Creed II, Bianca and Adonis get married and she becomes pregnant. But during the film's script development stage, Thompson made clear she wouldn't accept having the character give up her musical aspirations to become a long-suffering housewife. "I talked to Tessa about her concerns. She was like, 'I don't want to be pregnant, walking around making him sandwiches and singing to him,'" Caple recalls. "It was a joke. But I put that in the script. Here's a woman who doesn't want to be on the back burner for someone else's career. She still has dreams and goals."
Embarking from her character's "underground-esque" musical style in the first film (developed under the supervision of Creed composer Ludwig Göranson), the operative idea was to establish Bianca as a singer in the vein of FKA Twigs or SZA, a just-left-of-mainstream musician on her way up in the industry rather than an established pop star. But when it came to her rousing ring-walk song — at a Russian sporting arena strewn with neon and lit by laser lights like some vintage Janet Jackson video — the production drew inspiration from a certain Trump-hating, Barbados-born superstar.
"When she's singing for Adonis on that exit song, we weren't thinking FKA Twigs anymore," Caple says. "We needed a song that says, 'Hey, what's up? I'm ready for war.' So we were thinking Rihanna — not Beyoncé — because Rihanna has that edge to her. We wanted to make sure that even with Tessa's character's transition and growth that she still maintained that edge."