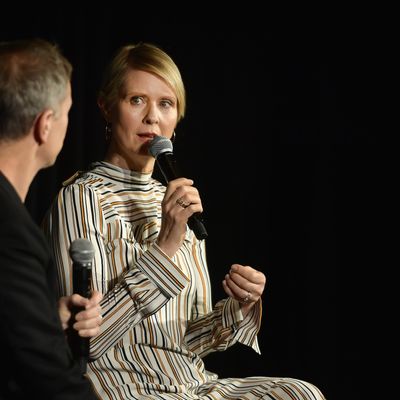 Cynthia Nixon in conversation with
New York
Editor-in-Chief Adam Moss at Vulture Festival L.A.
Photo: Matt Winkelmeyer/Getty Images for New York Magazi
In a conversation with New York magazine Editor-in-Chief Adam Moss at Vulture Festival Los Angeles, Cynthia Nixon was asked whether she ever really thought she would win in her Democratic primary race for governor of New York against Andrew Cuomo. Nixon paused to consider for a moment, as Moss asked her whether "in her heart," she thought she might "at any point" win the election. "No," she said. "I hoped I would win," Nixon continued. "I tried to win. I'm proud of how much money [Cuomo] had to spend." But Nixon said that because Cuomo outspent her ten-to-one, ultimately spending $25 million on his primary battle against her, she knew it would be too much of an uphill battle. "It's a big, big, big mountain to climb," Nixon said.
Still, Nixon said, she agreed with a New York headline from during her campaign that suggested even running meant she'd already won. "Just being able to get out there and say, 'we could do so much better in New York state, and here's how,' and actually having that message really fly because of how much coverage we got, I think that was a victory.'"
Because of her familiarity with both politicians, Nixon was asked about why she thought there's so much rancor in the relationship between Andrew Cuomo and New York Mayor Bill de Blasio. "I think Andrew Cuomo doesn't like other Democrats," Nixon said. Although de Blasio "owns [this rivalry] too," Nixon assigned most of the blame to what she sees as Cuomo's dislike of any Dems of "equal or comparable stature" who give the lie to Cuomo's position as a real progressive. Plus, she added, "[Cuomo] doesn't like to pay for things. It's why he won't fund schools or rescue the subway."
Nixon also commented on the current debate about whether Nancy Pelosi should be elected as speaker of the House after he recent midterm elections. She said she was encouraged by Pelosi's efforts in the last week to reach out to the progressive caucus. "I think that's vitally important, and if she hadn't done that, I would be saying something different." But Pelosi's "got to evolve," Nixon continued. "She's got to understand that people like Alexandria [Ocasio-Cortez] are not her enemy, they're actually the people who are going to save the Democratic party … and she must not see them as adversaries."
Although Nixon was reticent to talk about her political plans for the future, she did describe the kind of candidate she wants to see as the Democratic nominee for president in 2020. "We can't have somebody who is trying to have it all," Nixon said, before clarifying, "we can't have a centrist." "And if that's a white guy?" Moss asked. "If it's a white guy …," she said, "[then] it's a white guy."