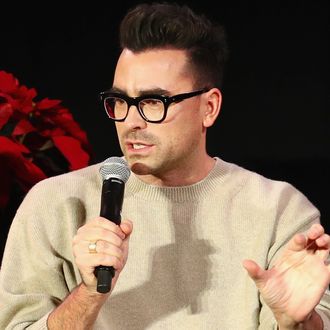 Dan Levy.
Photo: Joe Scarnici/Getty Images for New York Magazine
One of the most delightful relationships in recent television history has been the courtship of David (Dan Levy) and Patrick (Noah Reed) in Schitt's Creek, thanks in part to their random acts of serenades and shenanigans at Rose Apothecary. Given that David is a pansexual character in a rural, and just plain eccentric, suburb in Canada, it's been a bit surprising for some viewers that their relationship hasn't been, say, met with any obstacles from close-minded townsfolk. But as Levy explained at this year's Vulture Festival in Los Angeles, that's been a firm decision: No storylines about homophobia will ever happen in Schitt's Creek.
"I have no patience for homophobia," he explained. "As a result, it's been amazing to take that into the show. We show love and tolerance. If you put something like that out of the equation, you're saying that doesn't exist and shouldn't exist." As a sign of validation, Levy, who created the sitcom with his father, Eugene Levy, received many letters from viewers who specifically mentioned how the lack of prejudice against the couple made them do some self-reflection. "The letters we've been receiving are from people who realized their beliefs were biased or homophobic or bigoted, and we created a space where love and acceptance is paramount," he said. "We've watched the growth and comfort of people who outwardly live their lives and aren't being feared of being targeted. And it has a ripple effect into people's homes."
Hopefully that ripple effect has also included wigs, wig walls, and even more wigs.