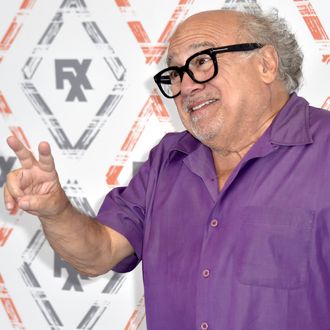 Photo: Frazer Harrison/Getty Images
Earlier this week, college students at New York's SUNY Purchase went into a hole in a bathroom wall (like you do) and discovered a garbage shrine dedicated to Danny DeVito, or, more accurately, DeVito's iconic It's Always Sunny In Philadelphia character, Frank Reynolds. After the hidden memorial went viral, Vice reportedly sussed out the student who constructed the altar, sophomore Phillip Hosang, who allegedly tracked down the hidey-hole in a men's restroom in the campus's visual arts building after hearing rumors about it.
"I walked in there, and I thought that this would be just a really great place to put some weird thing that people could find. And from there I was just trying to figure out what I should do with it," he told Vice. "Because of all the trash — if you know Always Sunny, you know that Danny DeVito is known as like the trash man — I was like, 'This is just the perfect person to go with. He's just weird enough that people would accept that this was a thing.'"
Sadly, the college has since closed off the room for "safety reasons," but at least the Trash God smiles down on this mortal endeavor. DeVito, dubbed the Trash Man after Frank's ill-conceived wrestling character in the show's seventh episode of season 5 ("The Gang Wrestles for the Troops"), retweeted news of the shrine on Friday. "Your shrine honors me," he said in part. "My heart is filled with love and garbage." The troops are gonna be very happy to see that.