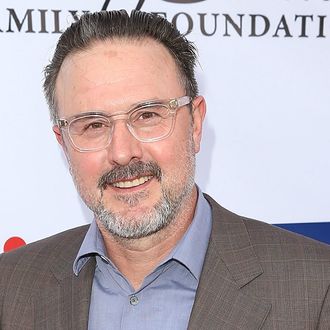 David Arquette.
Photo: Jesse Grant/Getty Images
In case it wasn't obvious from the title above, do not watch the video in this post if you do not want to see Scream star David Arquette bleeding profusely after a florescent tube is broken over his head during a wrestling match Friday night. It seems Arquette has been a part of the indie pro wrestling scene for a little while now. It also seems like indie pro wrestling is not the choreographed dance you expect from, say, the WWE, as evidenced by The Wrestler-level injuries Arquette walked away with after his "death match" with opponent Nick Gage held by Game Changer Wrestling at Joey Janela's L.A. Confidential in Los Angeles.
Twitter user @GIFSkull posted video of the match "due to questions being asked by the wrestling community." No wonder they have them, because Jesus Christ. The video is, of course, NSFW and again, do not watch it if you do not want to see blood.
After the bulb exploded on his head, Arquette temporarily exited the ring bleeding from his face and neck before going back into the ring to finish the match, which ended with him being pinned. Despite all that neck blood, the actor returned to Twitter Saturday to reassure fans, wrestling and otherwise, that he is okay. Also, maybe that was his death match swan song for the time being.