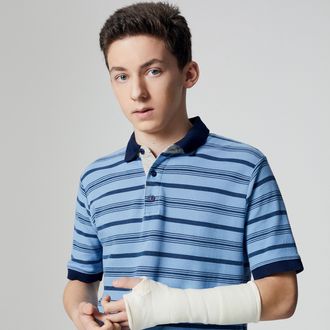 Teens playing teens!
Photo: Nathan Johnson via Twitter
Those who read No. 1 theater teen competition fan site Vulture dot com might be familiar with Andrew Barth Feldman (winner of the Best Actor award at the Jimmy Awards this year) and will be able to react to this news correctly by shouting, "Called it!" Feldman will make good on all that wide-eyed promise by starring in Dear Evan Hansen next year. The production announced today that Feldman, who is 16 years old and still a junior in high school, will replace current star Taylor Trensch starting January 30, 2019 (Michael Lee Brown will stay on as the alternate). Like many people who watched Feldman sing "Catch Me If You Can" during the competition, producer Stacey Mindich said she immediately knew Feldman was right for Evan Hansen (YouTube commenter Alanna Tremblay and 108 other users agree). "During the show, I texted our casting director, Tara Rubin, who was a judge for the Jimmys, and Andrew was in the casting office auditioning for the role within days of winning the award," Mindich said. "It was clear very quickly that we'd found our next Evan." This is all very exciting, though it may end up becoming dangerous to give so many impressionable theater teens so much hope.