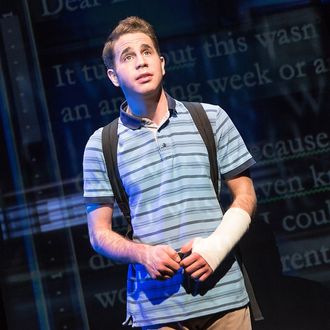 Like. Share. Retweet. This is important.
Photo: Matthew Murphy
That trademark blue polo shirt might soon be seen on the big screen. According to Deadline, Tony-winning Best Musical Dear Evan Hansen, which follows an awkward high schooler who attempts to get close to the family of a classmate who dies by suicide, is being developed into a movie. Marc Platt, father of Ben, who won a Tony starring in the musical, and Adam Siegel are producing the adaptation. Songwriters Benj Pasek and Justin Paul would executive-produce alongside book writer Steven Levenson, who would also write the script for the film. Stephen Chbosky, who directed last year's Wonder and wrote The Perks of Being a Wallflower (and directed its movie adaptation), is in talks to direct the movie. Deadline claims it's still uncertain whether Ben Platt would appear in the movie, though of course they should move fairly quickly if they still want him and want him to look like a teen in it, or at least more quickly than it has taken to (not even yet) make a Wicked movie.