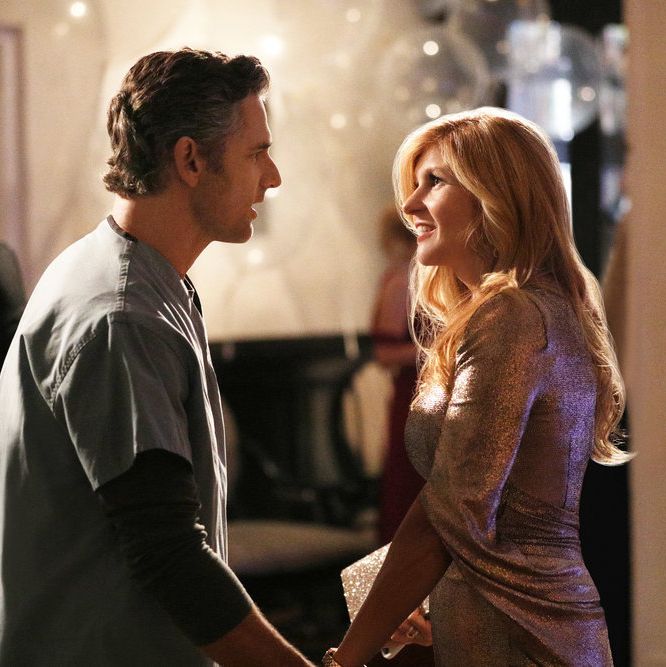 Eric Bana and Connie Britton in
Dirty John
.
Photo: Jordin Althaus/Bravo
Dirty John is billed as true crime, but it would be more accurate to describe it as relationship horror. A dramatization of a Los Angeles Times investigation, which in turn became a buzzed-about podcast, the Bravo series recounts the cautionary tale of Debra Newell (Connie Britton), a fabulously successful Los Angeles–based interior designer who crashed and burned through four marriages but decided to reenter the dating pool at 50. Even if you don't know the details of the real-life case, you'll be yelling at the screen and yanking your own hair out at the bad decisions that draw Debra deeper into a potentially fatal morass. It's like watching a Halloween movie, except instead of a serial killer with a butcher knife, the looming threat is a guy with a great chin and zero body fat who knows just what to say and doesn't have an authentic cell in his body. He's definitely a spirit killer, and he could be worse than that.
Things start out awkward but not overtly alarming. Debra joins a service that matches up older singles and goes on a series of boring dates before clicking with John Meehan (Eric Bana), a silver fox who represents himself as a physician who's done work in war zones for Doctors Without Borders, but might possibly be an anesthesiologist. John is a great-looking guy who can be butter-smooth when he's trying to make a good impression, and if you'd only been out with him once or twice, you might mistake him for a good listener and a sweet man. But right off the bat, he gives off what Debra's two adult daughters, Veronica (Juno Temple) and Terra (Julia Garner), instantly identify as danger signs.
For one thing, John has no sense of boundaries or decorum: On their very first dinner date, he shows up at Debra's apartment dressed in shorts and a polo shirt (an ensemble that makes Veronica mistake him for a UPS guy) and strolls in through the propped-open door while the daughter goes to fetch her mother, sizing the place up like he's already picturing how he'll redecorate it. When Debra invites him back to her place, he heads straight for the bed and pouts when she asks him to relocate to the living room before storming out. Later, he shows up wearing surgical scrubs to a formal event that is important to Debra. He speaks to her in therapeutic language that makes it sound as if he's identifying his own faults and pledging to work through them, but a weird blankness in his eyes makes it seem as if he's just telling Debra what she needs to hear in order to shelve her second thoughts and invite him back into her life.
Then there's the issue of John's employment. It's not clear that he's actually a anesthesiologist or even a doctor. And when Debra's daughters do a bit of worried snooping and uncover physical evidence that proves he's a shady character, Debra doesn't want to hear about it. And less than two months into their relationship, reader, she marries him.
This sounds like a setup for a Lifetime movie, and it definitely plays that way at lot of the time. The minutely observed exchanges between Debra and John, and Debra and her kids, betray a more sensitive and discerning touch, but Dirty John still falls squarely into the "men are trash who might kill you" subgenre of true-crime potboiler, which has become fantastically popular because of the alarming number of men who are trash and might kill you. But it's pitched realistically and never veers into camp. It could have been titled Anatomy of a Delusion. The focus is not so much on the shock of finding out that John is dirty — there is no shock; he trips the viewer's creep alarms instantly, and he's supposed to — but the frustration at watching Debra look past the danger signs, then deliberately choose to ignore them.
So what we have here is a psychological detective story about a woman refusing to see through a man's lies to her, and her own lies to herself, while her adult children do everything they can to illuminate the danger she's in. The big question for Bravo is whether a series like this can sustain viewer interest, given that things can only get worse for Debra and her family as the tale unfolds, and considering that all the information about the real-life case is readily available in newspaper investigations and a hit podcast. But the excellence of the ensemble is reason enough to revisit the story: Britton once again proves herself one of the subtlest, realest leading actresses on TV, Bana is perfect as a no-good hunk who smiles his way out of trouble, and Temple is a hoot as a human steamroller who says things like, "I don't deal with people, I make people deal with me." And then there's that horror-movie factor: There's satisfaction in being able to identify danger in a narrative even though the characters are blind to it, and get closer to the abyss with every oblivious step they take.