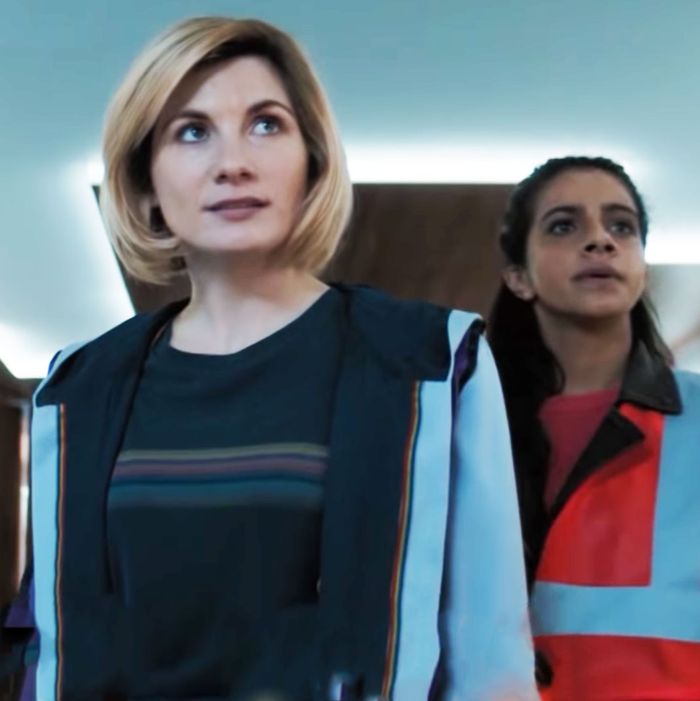 An episode title like "Kerblam!" offers no insight to the viewer about what to expect, and as such it's perhaps the most intriguing title of the season. Within seconds, it seems clear the show is delivering a satire on corporate retail giants, specifically Amazon. But as it moves forward, that isn't quite what "Kerblam!" turns out to be, so some credit must be given to a story that ends up going in a much different direction than the initial setup seemed to indicate.
After receiving a presumably very delayed delivery of a fez from Kerblam, "the biggest retailer in this galaxy," the Doctor notices that the packing invoice pleads, "Help me." The TARDIS speeds off to the moon of Kandoka, which houses a massive warehouse that delivers packages to the home planet and beyond. The goal is to land jobs, infiltrate the corporation, and get to the bottom of the plea for help. Judy Maddox, Head of People (Julie Hesmondhalgh, who was so haunting on the final season of Broadchurch and is also very good here), is easily bamboozled by some psychic paper and sleight-of-sonic, and the group are in like Flynn.
Soulless, monotone androids are all over the place at Kerblam, yet it maintains a 10 percent "organic" workforce due to public outcry. Jobs are clearly scarce in this future, and the people who work at Kerblam feel fortunate to be able to do so. The workers are good people with hopes and dreams and fears and loves — good people lost in a corporate-technological horror show. The Doctor tells Kira (Claudia Jessie), "You have a great approach to life." The young woman replies, "Nobody's ever said something that nice to me," which might be the most melancholy moment in an episode loaded with them.
Later on, the affable Dan (comedian Lee Mack) explains life to Yaz: "Suppose we've only got ourselves to blame. Whilst we were busy staring at our phones, technology went and nicked our jobs." Soon after, he's murdered, and Team TARDIS tries to figure out what's going on. There's a red herring in the form of warehouse executive Jarva Slade (Callum Dixon), but he's absent from enough of the story that his being the "final boss" never seems plausible. You keep waiting for some corporate big-bad or evil computer to show up, but he, she, or it never does (even though, admittedly, that would probably run antithetical to much of what this season has been about).
Indeed, eventually it is revealed that Kerblam itself sent the plea for help to the Doctor. To be fair, it's a plot point that makes sense, because Kerblam would most surely go out of business if the evil plan were to continue, so it was an act of self-preservation, and what else would you expect from a corporation?
Which bring us, of course, to Charlie (Leo Flanagan), the maintenance man/revolutionary/terrorist behind the dastardly plot to deliver explosive Bubble Wrap into countless customers' homes to undermine confidence in Kerblam. For starters, it's a peculiar plan, predicated on the assumption that the first thing someone would do upon opening a package and seeing Bubble Wrap would be to pop it. (If you've been an Amazon customer for any length of time, it loses its novelty pretty quickly). Some people might, but word would get out very quickly, I'd imagine.
Beyond that conjecture, there's the idea that Charlie is doing what he's doing for the good of the people, and he talks of his generation wanting change. These are noble goals, and when compounded with his unrequited love for Kira, who, according to the Doctor, was killed by Kerblam to teach Charlie a lesson in pain, it paints yet another sympathetic villain in a season that's been full of them. Thing is, the framework this story is draped in runs against that. Is Doctor Who really presenting us with a story in which we're supposed to feel for the corporation while the millennial kid with dreams of making things right is the bad guy? (The corporation that killed the girl to teach the boy a lesson?) Or is the twist actually its brilliance and I'm just not getting it?
The problem with "Kerblam!" is that this is a vision of a future with very little hope (even though there's an attempt to tack a bit of it on at the end, I didn't buy it), and Doctor Who must always have hope. In the reality that I live in, corporations are more often than not the bad guys, and the little people trying to affect change are the heroes. That's my reality, and by no means do I speak for anyone else. Maybe there are folks out there for whom this tale will resonate. It's not bad Doctor Who, but I felt unmoved by most of the goings-on.
With all of that said, the action sequence with Ryan, Yaz, and Charlie speeding through the inner workings of Kerblam was a highpoint and a big moment of triumph for Ryan and his dyspraxia. Little things like Twirly the delivery bot and even the basic idea of killer bubble wrap are imaginative flourishes. But it didn't all come together with enough poetry.
At the top, I mentioned that "Kerblam!" felt like satire coming out of the gate. Old school fans were no doubt nudged in that direction because the opening moments recall the 1988 story "The Greatest Show in the Galaxy," a wicked satire itself. The delivery directly into the TARDIS was reminiscent of the junk mail the Doctor received that kicked off that adventure, and the Kerblam Men look and sound an awful lot like the deadly conductor robot from "Galaxy." The Doctor calls her friends "Khan and Sinclair, the greatest detectives in the galaxy." Further, this isn't even the first time this season elements have reminded me of that story. Problem is, all of this really made me want to go watch "The Greatest Show in the Galaxy" rather than keep watching "Kerblam!"