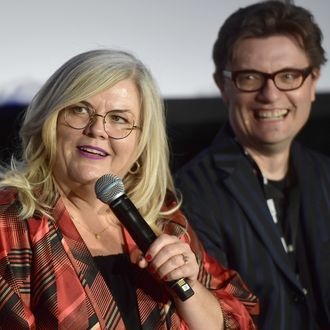 Paula Pell and James Urbaniak.
Photo: Matt Winkelmeyer/Getty Images for New York Magazi
In the upcoming third season of Documentary Now!, fans can look forward a loving homage to the D.A. Pennebaker documentary Original Cast Album: Company. That 1970 film chronicled the intense, creatively charged, and cigarette-filled slog of the Company cast recording its official album, complete with meltdowns from Elaine Stritch and extremely specific notes from composer Stephen Sondheim. Thanks to the Now! team, its legacy will be honored with the episode "Original Cast Album: Co-op." Series directors Rhys Thomas and Alex Buono joined cast members Taran Killam, Paula Pell, and James Urbaniak at Vulture Festival in Los Angeles on Sunday to talk about the show, where they announced that IFC will be releasing a vinyl pressing of the six full original songs from the episode, which includes a "Ladies Who Lunch"-esque song called "I Gotta Go" and a number about doing excessive amounts of cocaine at a holiday party.
John Mulaney, who also stars in the episode as a Co-op composer, wrote all the lyrics with Seth Meyers, and they worked with composer Eli Bolin and orchestrator Mike Pettry to tease out the soul of Sondheim in the numbers. "The orchestration and everything gives you 100 percent that little achey stomach feeling of Sondheim songs," said Pell. "I had so many moments in it when we got a couple days in when I forgot it was a comedy. I was like, 'I gotta work on that build at that one part!' And they wanted me to do something with glasses and I was like, 'Should I wear the glasses? I want to really connect the sadness of her and the despair.' It's a fucking comedy, Paula." The third season of Documentary Now! returns next February, which leaves a little more than two months for someone to write the full-length musical comedy for Paula Pell that she deserves.