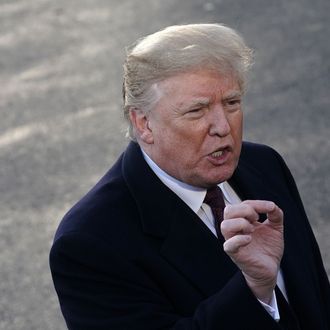 Photo: Alex Wong/Getty Images
It's customary for presidents to share their reading lists, especially near the end of the year. Barack Obama made yearly book and music recommendations. And according to Karl Rove, George W. Bush read two books a week. Today, Trump recommended a half-dozen books with a common theme: the presidency of Donald J. Trump. Trump tweeted out his support of books by Sebastian Gorka, Steve Scalise, Dan Bongino, Gregg Jarrett, and Jeanine Pirro, not to mention one book simply titled Trumponomics. And if you believe him, they are all hugely, tremendously successful. And although the books he claimed to be number-one bestsellers did indeed top charts at one point or another, none of them are more successful that … ohhhh … to pick a bestselling book totally at random … let's say Bob Woodward's Fear.
In another tweet, Trump said that Moore and Laffer had "really done a great job in capturing my long-held views and ideas," but according to The Intelligencer's Jonathan Chait, Trumponomics is more an exposé of Trump's crimes than a paean to his politics. The other books Trump recommended mostly have to do with the allegedly conspiracies libs are brewing against him. Dan Bongino's Spygate, Gregg Jarrett's The Russia Hoax, and Jeanine Pirro's Liars, Leakers, and Liberals all pose Trump as the plucky hero of his very own YA dystopia. They do say that people like to see themselves in what they read.