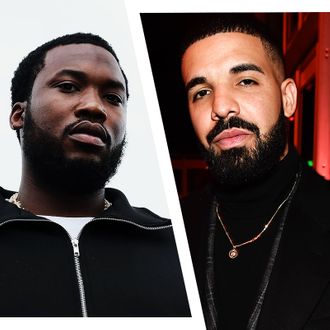 Look who decided to be adults.
Photo: Getty Images
Sneaky, sneaky. Meek Mill recently hinted to Vulture that he'd be open to reuniting on a song with his frenemy Drake, and it turns out they already have. Meek has shared the full track list for his new album Championships, featuring none other than Drake. (And Jay-Z and Rick Ross on the same track!) Meek and Drake famously beefed in 2015 after Meek accused Drake of using a ghostwriter for their last collaboration, "R.I.C.O." The claim then escalated into a full-on feud that played out over multiple diss tracks and subliminals, making things real awkward for Nicki Minaj at the time. (We, like everyone, declared Meek the loser in the end.)
"I was just out of control at that point in my life. Getting high and doing whatever I wanted how I wanted to do it. In front of the world, not behind the scenes," Meek reflected on it to Vulture. "I don't know his writing situation or how he really carried it. I just jumped out of anger and what I thought was the truth at the time." The two recently let bygones be bygones and performed together onstage at Drake's tour after being in communication for the last year. Meek said of their inevitable reunion to Vulture: "I think that's possible. What we did was genuine. We didn't just do it for the love of the people 'cause we could've been done that. We waited until we were ready and did that." You know what this is? Growth.