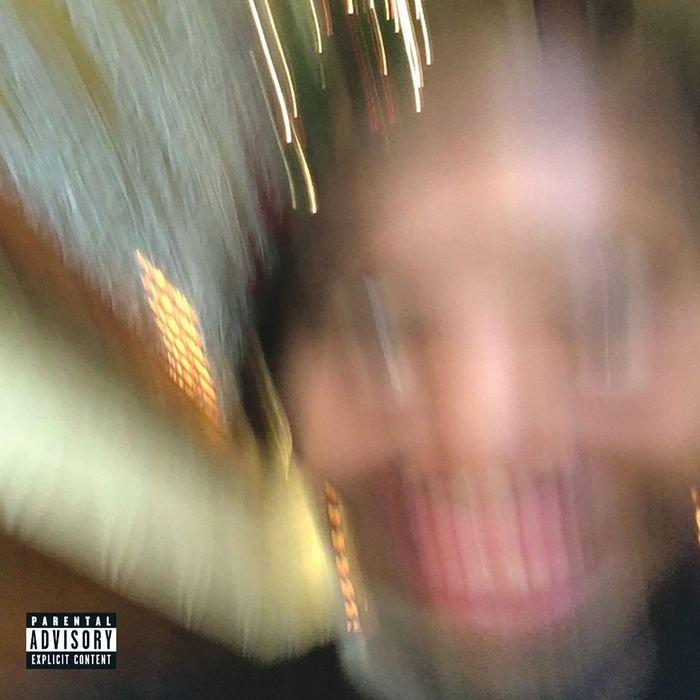 Earl "The Blur" Sweatshirt
Photo: The Artist
The cover for Some Rap Songs, the next full-length album from Earl Sweatshirt, is a photo of Earl himself, his face motion blurred, like someone slapped his hand down mid-selfie. The effect is startling: his teeth are suddenly piled on top of each other, like he has at least one extra set. His eyes are doubled. It's possible that the photo was a mistake, but it feels like the kind of mistake that says more about the truth than something intentional ever could.
The image also says a lot about the sound of Some Rap Songs. Thus far, two songs have been released. First "Nowhere2go" and then, today, "The Mint." Both tracks are lo-fi, warbled cassette dispatches from — it's fun to imagine — a blunt-smoke choked kitchen, with a rotating cast of friends and producers coming through to contribute to what will likely be the most insular rap album of the year.
It is not usually a good idea to predict the sound of an album, especially when basing it on two songs that, combined, barely clock in at five minutes, but Earl has made a habit of making music for hermits or people who are living a solitary lifestyle while they work out their shit.
Undoubtedly, the talking point for Some Rap Songs will be one that is referenced in the press release for the record:
… Some Rap Songs references one of the most severe growing pains of life as we know it, the passing of a parent. Earl's father, South African poet laureate Keorapetse Kgositsile passed in January of 2018. Earl's parents split when he was young and for the majority of his life, communication with his father had been sparse. When he passed, the rapper was roughly a month out from from a reunion that would facilitate a long-anticipated conversation.




"Me and my dad had a relationship that's not uncommon for people to have with their fathers, which is a non-perfect one," Earl says. "Talking to him is symbolic and non-symbolic, but it's literally closure for my childhood. Not getting to have that moment left me to figure out a lot with my damn self."
Even when Earl is not obviously rapping about his father, the concept of loss, of being an old man in a young person's body, permeates his music. It isn't nostalgia, really. Instead, it's a perpetual search for clarity. "The Mint" sounds like it's about to fall apart, even as Earl and guest rapper Navy Blue rap about loss, karma, and trust, and "Nowhere2go"is possibly Earl's most difficult song, constructed from a stuttered sample and faint drums that are virtually smeared across the track's sonic landscape.
Both of these songs are a continuation of Earl's 2015 track, "Grief," which found Earl in aggressive mode, shadowboxing with a beat that appears to be constructed from destroyed, glitched-out drum samples, downloaded at some ungodly hour from a shady torrent site.
But the other beauty of Earl's discography, and these two new songs in particular, is the way that he is able to coax universal themes from specific moments. The sonic elements of these songs, from his voice down to every sample used, seem etched into the mercurial, unreliable, and ever-changing history of rap music as a whole. Hearing these songs, I'm brought back to my teenage years at the turn of the century, trading data CDs packed with sixth-generation underground-rap cassette dubs, blasted through shitty car stereos with little to no consideration for audio quality. That Earl has been able to capture this sound, drag it out of the underground, and re-create it for a younger audience is no small feat. If the rest of Some Rap Songs sounds like the two singles already released, then Earl will have succeeded at creating a sunbaked world where time doesn't exist and the only thing that matters is coming to terms with your regrets.