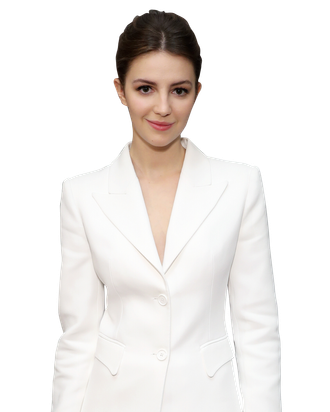 Ella Hunt.
Photo: Cindy Ord/Getty Images
When Ella Hunt auditioned for Anna and the Apocalypse, a Christmassy musical-zombie-horror comedy that's been picking up awards and great reviews throughout its festival-circuit run, one of the scenes she had to read was the movie's emotional climax between the titular character and her dad. It takes place in a school gym filled with gnashing undead and festooned with decorations for a holiday pageant. Hunt was working her way through it when the casting director intervened.
"Okay, I'm going to stop you there," Hunt recalls Sophie Holland telling her. "You will get this part if you do it again and you play it for real and you cry and you're honest, and you treat this as the real moment that it is." Hunt was always the favorite to play Anna, but the filmmakers were worried their wild romp of a story would crumble if the blood-soaked, Sondheimian silliness didn't have a strong emotional core. So Hunt grounded herself in the moment, went again, and got the call the next day saying she secured the role.
"It's a film that glorifies friendship as opposed to teenage romance," Hunt tells Vulture. "Anna was never asked to be this sexy heroine who rides off into the sunset with a man and gratify the audience in that way. She discovers her inner strength, and her need for her friends, and that she doesn't have it all figured out."
A 20-year-old Brit who grew up near the U.K.'s southwestern coast, Hunt, who received a Scottish BAFTA nomination for her performance, is a young actress to get acquainted with. She's already been working her way through the business for half her life, but Anna and the Apocalypse has pushed her further into the spotlight than ever before, and it was recently announced that she'll be starring alongside Hailee Steinfeld in the upcoming Apple series Dickinson. She's under strict rules not to divulge any information about the show other than what you might have read in brief news breaks. (Her character, Sue, is the best friend of Steinfeld's Emily Dickinson.) For now, though, there's plenty to say about the Apocalypse, so Vulture got on the phone with Hunt to talk about the rapid spike in her public profile, and the origin story of this darling little zombie revue.
A few months ago, I saw you post a tweet that just listed all these things going on in your life, like moving to New York, starting work on a new series for Apple, and beginning the press push for Anna and the Apocalypse. How are you holding up?
As a kid I grew up in a very rural countryside village about 20 minutes away from the beach, and I surfed. I've always sort of thought of my career as a bit like going out surfing, and at the moment I feel like I've just got up from my board and I'm riding a wave into the shore. I've kind of got my balance. I'm kind of getting used to the feel of the wave. I'm just trying to navigate it as smoothly as possible, but I feel very well-supported. I'm hoping that this wave will end in January or February when the film is out, and I'll swim out again and pick up something else.
And this isn't exactly overnight success. You've been working for about a decade already.
Thank you for respecting that I've been doing this for ten years. It's very nice when somebody actually notices. But anyway, I had a couple of things — like, I did a film when I was 15 called Robot Overlords with Gillian [Anderson] and Ben [Kingsley], and then I did a British TV show called Cold Feet. Cold Feet did really well, but especially with Robot Overlords, I had some expectations for where it would go, and I thought about a wave that I might catch that I didn't. I think, actually, I'm really grateful to have had some of those experiences throughout my younger teens, so now that I'm on this one, I feel quite well-prepared for riding it. But yeah, it's weird and it's all so much, but it's exciting. And thank God I'm loving it!
So the process of releasing Anna really does feel distinct from those previous experiences where you've almost launched?
It does feel completely different to all the other times. It's a funny conjunction between luck, hard work, and being prepared, all of those things coming together and knowing that it's so often doesn't. I feel ready to not be cynical about it and be grateful for it, but also know that I'm terribly lucky. I have a great teacher in my mom, and she's always been big on teaching me how to enjoy all parts of the process. The greatest joy of Anna being the project that is kind of launching me in a sense is that when I got the movie I had no expectations for it other than I would go and make a movie with a group of relatively unknown creatives who I believed in, on a script that I thought was awesome, and that I'd have some fun. I didn't expect it to come out in cinemas. I didn't expect anyone to see. I expected my friends to laugh at me that I was doing it. So that this is the film the audiences are loving, that has been bought by a studio, and that we're getting to press the fuck out of — oh, sorry! Language.
Ella, please speak freely.
Well then, it's fucking awesome! It's such a relief! It's a relief to be pressing the fuck out of something that I loved making. It feels good to be talking to audiences who've loved watching it about how much I love making it and not feeling like I'm having to lie. I'm actually being genuine when I say that this was the greatest joy to make.
And you've walked into a very welcoming atmosphere. Genre fans are extremely passionate.
So passionate!
So how was it playing at Fantastic Fest?
My favorite moment of Fantastic Fest was after the screening; there's this massive applause and we've done this hilarious Q&A where Tommy [Reilly], our music writer, had talked about his love of Christmas, and everyone had been in hysterics. We'd come out and there had been lots of people wanting to chat to us, and these two girls came up to me and I think it was Sarah [Swire], who plays Steph, and they were like, "We write a lesbian horror blog, and we just want to say that this film has made us so happy." And Sarah and I looked to each other, and then we looked at them, and we were like, "You know, I didn't know until this point, but this film was made for you." It's made for anybody weird and wonderful who dares to push boundaries, and having made this film, I want to make more films like that. Not necessarily horror films or musicals — I mean, anything and everything that breaks the mold. That's what this film has inspired me to do the most, and what genre audiences inspired me to do. It's such a wonderful feeling to have people coming up to me and going, "I feel seen," or "I feel empowered."
Speaking of young proprietors of lesbian horror blogs, I've read multiple times that you really want to read and play roles that accurately represent young people. What does that mean to you?
So honestly, throughout my teens I was reading teenage-girl parts, which were on the majority — I want to say 85 percent of them, maybe 90 percent — girls in skimpy skirts and shorts, attached to their phones or the equivalent thereof, and bolshie. They didn't want to speak to their families, didn't have relationships with them. I watched those and was like, "There is so much more to us," and it never felt true. Yeah, there are films that don't do that, and I'm so grateful to have had those. And I want to be part of the chorus of those films, not the chorus of teenage girls stuck behind their phones.
Cold Feet was a great opportunity. I hadn't really worked much before then, and I took the role hoping that the part would grow, but she was very much that bolshie character on the surface. Sadly, I don't think we ever got to explore beyond that, and that's why when they went to doing season three I said that I didn't want to do the next season. I wanted to work on other things, because I felt like I got to a point where we were doing teenagers a disservice. And I don't want to sound like I know everything, or like I know what I'm doing, because I don't. I'm 20 and I've got so much to learn, but I just want to feel like I'm doing things that feel honest. Anna right from the beginning felt honest.
This movie has a very funny but also very sad origin story, too.
Yeah, Ryan [McHenry] was on the phone with his friends and he was like, "I'm watching High School Musical. It's a bit shit. It would be great if Zac Efron was eaten by zombies!" I think the conversation went something like that. I mean, I wasn't there. So they made a short film called Zombie Musical that won the best short film BAFTA. From there, Ryan and a couple of his closest friends who produced the short with him got the funding for the full-length feature. They were in their last year of university, so they came out and started making this thing, and Ryan became Vine famous for these videos of "Ryan Gosling won't eat his cereal."
I absolutely remember those.
So he had this amazing brain and he was encouraging all his friends to go into careers in filmmaking, and then he was very sadly diagnosed with a rare form of bone cancer, and his friends asked if what they really didn't want to happen did happen, did he still want them to make film? And he said yes.
Very sadly, he passed away, and his friends came together in his memory and honor to make the movie, and to make it as best as they possibly could. They were so dedicated throughout the process, and we had Ryan's parents on set a lot of the days. One of Ryan's best friends is our second AD and Naysun [Alae-Carew], our producer, was Ryan's best friend. When Alan [McDonald] wrote the draft straight after Ryan passed away, he wrote a very, very dark draft, and then there was this happy draft, and they took bits from each. So I think it's been a healing process in a lot of ways, and although I didn't ever get to meet Ryan, I felt throughout the process of playing his Anna that I got to know him. As well as Anna being an awesome character, that was something that drew me to it, this opportunity to tell a story that was going to be peppy and fun and hopefully have people come out of the cinema singing, but is also about a loss of innocence. I feel very lucky to be part of that group of young people.