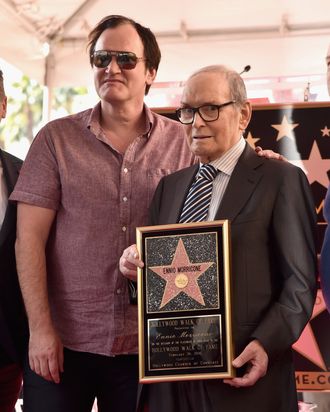 Quentin Tarantino and Ennio Morricone.
Photo: Alberto E. Rodriguez/Getty Images
Ennio Morricone, the legendary composer of spaghetti Westerns, has some unkind words for Quentin Tarantino. And they're all in German! Morricon worked with Tarantino on his Western, The Hateful Eight, and apparently the collaboration was not a happy one. In the new issue of Playboy Germany, Morricone calls Tarantino "ein Kretin" (a cretin), "nichts originell," (not original) and "kein Regisseur" (not a real director). According to Morricone, Tarantino would call the composer in the middle of the night, and demanded a completed score in a matter of days.
Morricone seems basically over Hollywood, its directors, and its ceremonies. He won an Oscar for The Hateful Eight and truly hated the experience. Now, he has "no more desire to travel to this dreadful America with these pompous pomposities, these embarrassments like the Oscars and the whole frippery."
Update, November 11: In a new statement, Morricone is not only denying that he said such insults about Tarantino, but he's also saying he never gave an interview to Playboy Germany at all. Twist! "This is totally false. I have not given an interview to Playboy Germany and even more, I have never called Tarantino a cretin and certainly do not consider his films garbage. I have given a mandate to my lawyer in Italy to take civil and penal action," he said, in part, per Indiewire. "I consider Tarantino a great director. I am very fond of my collaboration with him and the relationship we have developed during the time we have spent together."
Update, November 13: Playboy Germany initially said it stood by its in interview with composer Ennio Morricone, but now the magazine seems less certain. In a new statement, it apologized to the famed composer and blamed the writer, Marcel Anders. "Up to now, we have considered the freelancer who conducted the Ennio Morricone interview on our behalf to be a renowned print and radio journalist," Playboy Germany editor-in-chief Florian Boitin said in a statement, per Variety. "In the past, we have had no reason to doubt his journalistic integrity and skills. Based on the information now at our disposal, we must unfortunately assume that the words spoken in the interview have, in part, been reproduced incorrectly."
Playboy Germany didn't specify which parts of Morricone's reported statements — calling Quentin Tarantino a "cretin," and his movies "trash" — might have been "reproduced incorrectly." Anders, a freelance music journalist, has previously interviewed Leonard Cohen, Robert Plant, Iggy Pop, and others, in various German publications. Maybe next he'll get an interview with Drew Barrymore?
Update, November 14: Playboy Germany would very much like to be excluded from this narrative. On Wednesday, the magazine released a statement on its questionable Ennio Morricone interview. "To our dismay, we have now established that sections of the interview published by us do not accurately reflect the words spoken by Mr. Morricone," the magazine's editor-in-chief Florian Boitin wrote, per the Los Angeles Times. Apparently the freelancer Marcel Anders admitted to taking liberties with the interview: "Mr. Anders has now addressed the accusations himself, and admits to making 'terrible mistakes.' In a letter made available to the editorial team, he apologizes to Mr. Morricone for his failure to adhere to the statements given when writing the interview for Playboy and for adding statements made at other times and in other media."
Boitin's statement said the magazine plans to file a criminal complaint against the reporter. "We will do everything we can to ensure that German Playboy will never again be tarnished by such a deplorable episode," Boitin concluded. Case closed!