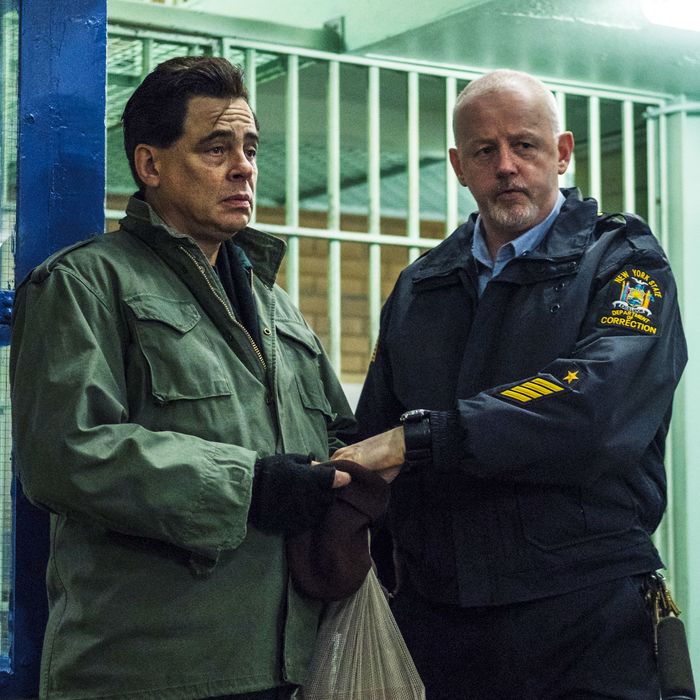 Photo: Christopher Saunders/SHOWTIME
Clinton Correctional Facility had been in operation for a century and a half when inmates Richard Matt and David Sweat escaped its grounds in June 2015, setting off a several-weeks-long manhunt that ended with both men shot and one of them (Matt) dead. It was the breach that no one and everyone could see coming. As depicted in the pilot for Escape at Dannemora, director Ben Stiller's dramatization of the events, Clinton Correctional had been running on a kind of autopilot for some time. Prisoners were kept under lock and key, cage upon cage upon cage, lights on and lights off in their routine fashion, with assorted back-scratching between felons and COs being brokered amid the shadows.
As played by Paul Dano with a deceptively hangdog disposition (we witness his bark while he's on the pay phone with his mom), David is prone to taking things at face value and finding pragmatic solutions to his problems. It befits his mechanical expertise, put to use as a helping hand to CCF tailor-shop supervisor Joyce "Tilly" Mitchell (played by Patricia Arquette). He also helps himself to her body during brief, spasmodic sexual encounters in the shop's back room, trysts that align with the grand tradition of hard-to-watch staff-on-resident liaisons in prison shows from Oz to Orange is the New Black.
Tilly isn't quite as comfy in the power position as, say, Oz's Claire Howell (but who is?), but in one particular scene — after David blows up at Tilly but soon realizes he needs her on his side and makes amends by sewing her tiny doll pants with scrap materials — she forces the convicted murdered to partake in some intense oedipal role play. (For those who noticed Tilly's sporting of a proud "Air Force Mom" sweatshirt earlier in the episode, it's worth noting that her son was arrested on, and cleared of, domestic assault charges not long after his mom's own sentencing in the Matt/Sweat fiasco.)
But there's another back room, one meant exclusively for CCF personnel, that plays a key role in Dannemora. CO Gene Palmer (the always well-cast David Morse) is more than cozy with Matt (Benicio Del Toro) in what appears to be a genuine friendship of sorts, albeit one predicated on an unusual but no less illicit bartering of Matt's gallery-worthy oil paintings in exchange for being hooked up with scarce amenities and the like. Palmer, who somewhat deludedly fancies himself more discreet than Tilly, even cautions Matt of an imminent shakedown, helping him hustle his art supplies into a bucket before hiding him in a corridor behind his office. That corridor, besides offering one of many perspectives of just how cordoned-in the thousands of CCF occupants are, gives Matt his first glimpse of what an escape might look like. He later double-checks with Sweat to make sure the "ginger fuck" guard Lambert (Jeremy Bobb) didn't poke around his bed during the shakedown. Matt is brewing something even sweeter than his customary hot toddies, and Sweat knows it. He just doesn't know what, exactly.
Poor Angel (Joshua Rivera) has no idea how instrumental or not he may be in whatever Matt's got cooking. All he wants is a friend on the inside and someone who can help with nagging issues like amp fuses. He's even generous with shave gel when the commissary sticks Matt with a can of powder. Matt starts warming up to the young fish after they play nice in the yard, and it's highly likely he'll find some use for him as he and Sweat dig their way out. Palmer should be even more pliable, enamored as he is with notions of how his inmate BFF appears rehabilitated and ready to conquer a cynical world with his hand-crafted canvases.
So far, Dannemora is doing what a first chapter does, i.e., drawing character outlines yet to be shaded and establishing time and place in the broadest sense before upcoming episodes tighten the noose. (The construct of using Mitchell's interview with Inspector General Catherine Scott to hold things in place is cliché but compelling, and Bonnie Hunt is appealingly steely.) Tilly's husband Lyle (Eric Lange), dopey as he is, is kind of our stand-in until we get further inside the story. We're all just innocent bystanders to this unraveling, sensational crime and its aftermath, and perhaps we'll be left to ask ourselves whether getting too comfortable in any routine makes us vulnerable and dull, and susceptible to taking for granted as we go through the motions that, as Palmer reminds Matt, "Everybody's got a personality."
Apart From All That:
• What, you thought employee-inmate relationships at CCF would suddenly stop?
• Contrasting the wider-world news of the Charlie Hebdo shooting with small-town Malone was a nice touch.
• Ditto the back-and-forth between '70s prison break-evoking soundtrack cuts and the urgency of modern pop.
• Makes sense that Jerry Stahl, who Stiller memorably played in Permanent Midnight, would be a useful consulting producer on this.
• Bobby's Lounge is real, and yes, Stiller visited.
• I love Lyle, but I'm not sure the "British were the Nazis of their day."
• Who, one wonders, is in the portrait hung up in Matt's cell?
• IG Scott is one busy lady.
• No idea what the hell a "Price Wacker" is, but any upstate NY regular knows Tilly shopped at regional powerhouse Price Chopper.
• The Man Who Got Away, eh, Sweat? On the nose, much?
Correction: An earlier version of this article incorrectly stated that Sweat died instead of Matt. We regret the error.