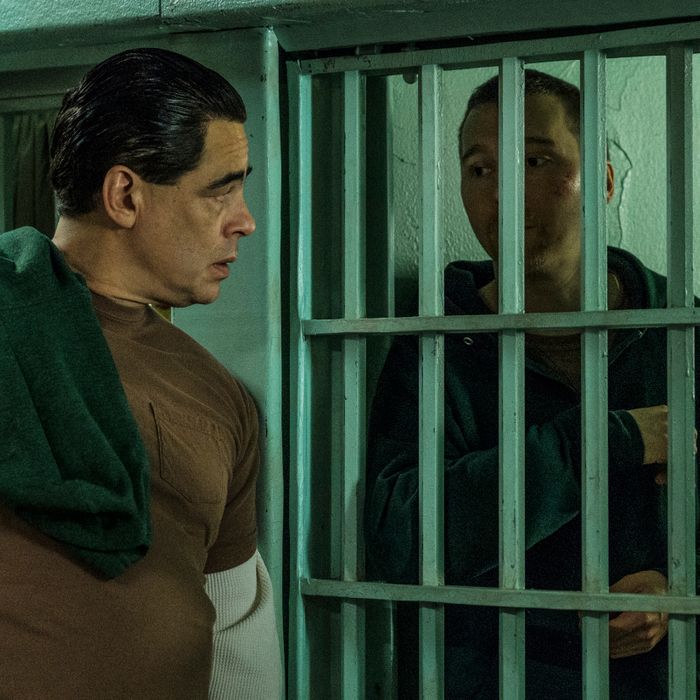 Photo: Christopher Saunders/Showtime
"Time and patience, man." That's what Matt tells Scary Gary, aka the standoffish commissary clerk from "Part 1," when Gary asks how he renders his oil paintings. Gary doesn't care much for the subject, Hillary Clinton (though Matt may not either, as he was merely committing it to canvas for a friend), but he appreciates the handiwork. Matt, however, isn't thrilled that Gary is his new cell-block neighbor, now that Sweat's been bumped off the honor row. (Up until their escape, the two had been relatively model lifers.)
Tilly and Sweat's affair was going to catch up with them eventually, and when it does, the blowback is harsh and swift. Despite Tilly's profane torrent of protestations, her bosses fire Sweat and stick Tilly with the charmingly nicknamed inmate Murder as the new shop supervisor. "You had your fun," Lambert offers by way of consolation, though Tilly's not amused. She's also unsure of how to handle things at the homestead with Lyle, who's aware of the note but remains in denial. He even tolerates Tilly's antics as she projects her guilt onto him with accusations that he'd been "making eyes" with a new female guard. But what's clear by episode's end is that he rarely fixes his gaze on his wife these days, opening the door for her to gradually fall under Matt's spell.
That's the biggest development in "Part 2," witnessing Matt work his magic on Tilly, who's initially hung up on Sweat, writing him love letters and doing god knows what in her bathtub with the little doll-man slacks he sewed for her. But with Sweat languishing in his new block, swearing off any contact with Tilly, and wanting nothing to do with Matt's nascent escape plans, Matt connives his way into her heart. Emphasis on connives. Contrary to the picture he portrays of himself as a sentimental father of two daughters, one of whom lives with her mother in Mexico, Matt had actually conceived one daughter and one son from two different woman, both in rural New York State. Nor does he need hacksaw blades to help him perfect more picture-perfect canvases of her beloved dogs, or—as is made clear by his specific sexual advance—possess a passion for taking in the finer features of her face. Matt sees past everything two feet in front of him and out onto the horizon, where he apparently wants to ride horses and hang out on Main Street, but it's unclear.
Sweat, meanwhile, has had it with Reggie spoiling The Call of the Wild and everyone else on the floor making it hard for him to focus on his own burgeoning artistic inclinations. Patience is not his strongest suit, and it dooms him in both his relationships with most inmates and with his family on the outside, dimming any hope of a transfer. So, alas, he declares he's game for Matt's plan, a gesture Matt only accepts after Sweat mutters some nonsense about abetting his elder mentor's dream. (This thing of people making other people say things out loud and obediently is a Dannemora motif.) Sweat may or may not know about Matt's advances on Tilly at this point, but in the immortal words of our present-day Commander-in-Chief regarding the murder of an innocent journalist, "it is what it is."
"Part 2" is, as one would expect, narrower in its storytelling scope and a bit less cinematic in its direction (and abundant variety of music licenses) than "Part 1," though it suffers from the same lackluster pace. But the continued perspective shots of bars upon bars from different angles and commitment to the slow-moving malaise of prison life prior to the impending turn of events indicate Dannemora will find its place in the prison-drama canon. Prison life at Clinton Correctional is routine at best for those jailed and employed there alike, and over time a volatile blur of bureaucracy and humanity. Not to mention cockroaches, lots of cockroaches. And after so many trips to the War of 1812 museum in Tilly's case, and a cycle of petty abuse and displacement in Sweat's, who wouldn't want to be a bit player in Richard Matt's dream?
Apart From All That:
• Perhaps Happy Gilmore was a nod to Ben Stiller's recent Meyerowitz Stories (also partly filmed in upstate NY) co-star Adam Sandler?
• Matt presumably earned his "Hacksaw" nickname after dismembering his first murder victim, unless he was a big WWE fan.
• How long do you think it took Paul Dano to grow out his goatee?
• I really just want to join Reggie's book club.
• Wanna buy Matt's daughter's book? Here ya are!