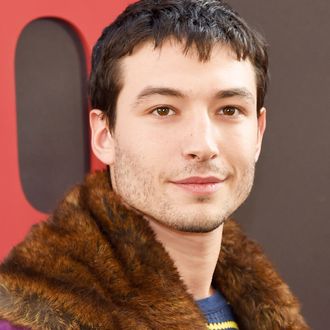 Ezra Miller.
Photo: Jamie McCarthy/Getty Images
Go ahead and let #MeToo'd men drop like flies, Ezra Miller says. "Let's rehabilitate men," Miller told GQ Style of the movement against sexual misconduct and assault in Hollywood. In a profile about his work in Fantastic Beasts: The Crimes of Grindelwald and his farm life (he lives on a Vermont farm with his bandmates from Sons of an Illustrious Father), Miller used his farm's roosters to make a point about gender performance and masculinity. A rooster will sacrifice himself to a predator so none of his offspring are hurt. "That's masculinity," he says. "That's what it's supposed to look like, you know what I mean? I'm going to pretend to be weak, I'm going to pretend to be vulnerable so that you attack me before you'd attack one of the women in my posse. You feel me?"
"Let's drop men like flies," Miller said of the movement, though he didn't discuss abuse allegations against his Fantastic Beasts co-star Johnny Depp. "I'm with it. And then let's rehabilitate them when they're on the ground. This is some Wonder Woman shit right here. What's the Amazonian solution to this?" Maybe the Flash could make an appearance in Wonder Woman 1984 to find out?