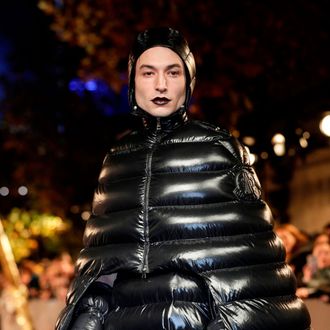 It's called glamour, honey!
Photo: Geoffroy Van Der Hasselt/AFP/Getty Images
When Fashion King Ezra Miller strolled onto the Fantastic Beasts: The Crimes of Grindelwald red carpet, it wasn't about looking cute, it was about looking cozy. (He did look cute, however — come through, black matte lip!) For the movie's Paris premiere on Thursday, Miller wore a Pierpaolo Piccioli x Moncler look: a double floor-length puffer (one part cape, one part skirt?) with matching hat and gloves. No accessories or jewelry — not even a rosary, though it kind of seems like Miller is ready to read last rites! — the puffer makes enough of a statement on its own. It's a little bit like Lizzie McGuire's igloo dress met Missy Elliott in "Supa Dupa Fly" at a bar and they decided to have a night on the town. Accio, fashion statement!
In the Fantastic Beasts sequel, Miller plays American wizard Credence Barebone, but on the carpet he looked more like the most fashionable Dementor to ever float slightly above this Earth. The devil wore Prada, but Ezra Miller is a dementor wearing Pierpaolo Piccioli. Open invitation to relieve us of our souls!