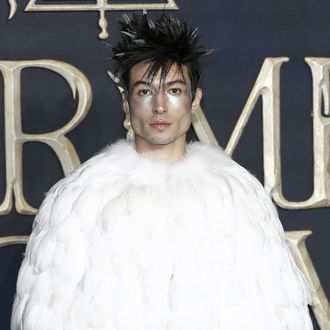 Ezra Miller.
Photo: John Phillips/Getty Images
"Slay, Ezra," you'll scream, as you're instantly and painlessly killed by a magic curse. The actor has been going all-in on his fantastical red carpet looks, as evidenced by last week's shiny black Dementor coat in Paris, and Ezra Miller's outfit at the London premiere of Fantastic Beasts: The Crimes of Grindelwald is no exception.
While the rest of his costume is very Hedwig-the-owl turned '80s-baby rocker angel, the actor took the time to write out one of the Harry Potter universe's three Unforgivable Curses on his palms: "Avada Kedavra." Hear it and die! And then finish your outfit with a perfectly hemmed white trouser and a flat iron. It's a look so fun, you'll barely notice Ezra is also reinventing the thumb ring in the second photo below.