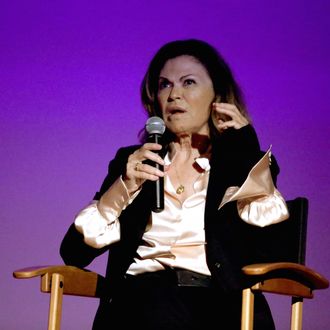 Photo: Jesse Grant/Getty Images for New York Magazi
After a special screening of Fantastic Beasts: The Crimes of Grindelwald at Vulture Festival L.A., four time Academy Award-winning costume designer Colleen Atwood chatted with Vulture's Chris Lee about her ornate costume designs for the film. Atwood's work is always richly detailed, and this film is no exception. The principal characters are dressed in rich fabrics, jeweled tones, and sumptuous materials one would find in fashion-forward 1920s Paris.
Atwood and her team had to source, create, and reuse a staggering 4,000 pieces of clothing throughout the film's production. "Luckily for me, in that period, the coats were already amazing coats, especially the menswear," Atwood said, going on to explain how each coat in the film has its own story. "I took the significance of the silhouette of the period and I created an iconic shape by lengthening them and used fabrics that were lighter weight so they had more movement to them, like Johnny's [Depp] coat. Jude's [Law] coat was inspired by the coziness of a corduroy fabric — it still had the wizarding silhouette. It was a nice marriage of reality and fantasy together."
Atwood also shared what she and Law discussed for Dumbledore's look. "Jude being a Brit, and knowing all the levels of society and dressing in Britain,  we wanted to give it a sort of comfortable aristocracy, education but approachability," she said. "So we used materials that made it seem like he wasn't self-conscious. We wanted to convey that and an approachability to Dumbledore; he was the prof that everyone talked to at school, he was the one who knew the inner workings of everyone's souls and their spirits. In doing that, I used softer materials. I aged them. I made it very cozy so you felt like snuggling up to him and telling him a story."
Moviegoers will also be dazzled by Porpentina Goldstein's (Katherine Waterston) striking blue leather trench coat. Atwood described the thinking behind that look, "We wanted to give Katherine's costume a sense of authority. That coat is a big presence — it's dramatic, it has an amazing silhouette from far away," Atwood explained. "It's like armor. It's a protective thing. She's still vulnerable even though she has power and has risen to a world of strength. It still conveys that, underneath, there are other things going on."
What about Ezra Miller's Credence Barebone? Atwood shared the story behind his seemingly simple outfit — a burgundy shirt and vest. "Ezra felt that he wanted to feel really exposed in this film — he wasn't hiding underneath anything," she said. "It was like a hermit crab without his shell. It was his raw side, not realizing his power until the last second of the movie. In choosing that warm color I chose for him — a warm brown tone — it really separated him from the grays and street colors of Paris." He's one of the only characters who doesn't wear a long coat, but Miller more than made up for it on the carpet.