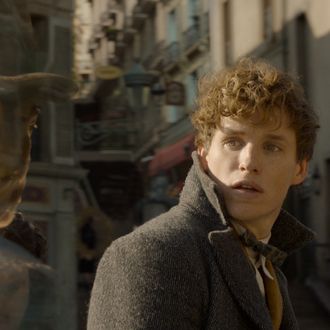 Eddie Redmayne as Newt Scamander in
Fantastic Beasts: The Crimes of Grindelwald.
Photo: Courtesy of Warner Bros. Pictures/© 2018 WARNER BROS. ENTERTAINMENT INC.
Despite less-than-fantastic reviews and backlash over casting an Asian woman as Voldemort's serpent Nagini, Warner Bros.'s Fantastic Beasts: The Crimes of Grindelwald debuted at the top of the weekend box office, bringing in $62.2 million domestically and $191 million abroad. Although these figures are slightly lower than the studio's projected $65 million in ticket sales as well as lower than the $74.4 million debut of Fantastic Beasts and Where to Find Them, the first in the intended five-film franchise, Variety reports that Warner Bros. is more interested in the international performance of the franchise based on J.K. Rowling's wizarding world. Hopefully, this means Ezra Miller will be able to conjure up even more magical red-carpet costumes for the premieres of the next three films.