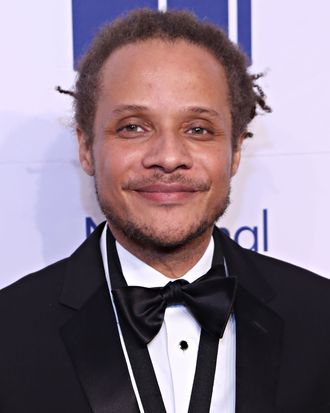 Photo: Manny Carabel/Getty Images
The day after last week's National Book Awards ceremony, the Vulture Insiders Book Club hosted fiction finalist Jamel Brinkley at New York's Strand Bookstore. Brinkley's debut collection, Lucky Man, one of a strong, eclectic list of nominees for this year's award, comprises nine quietly devastating short stories about boys and men of color in Brooklyn and the Bronx, most of whom are coping with absence in various forms — dead or incarcerated parents, lost innocence, gathering places gentrified out of existence. Below is an edited excerpt from Vulture's conversation, in which Brinkley critiqued "safari literature," defended MFA fiction, and discussed the ways in which his theme is and is not "toxic masculinity."
Did you expect to have your first book nominated for a National Book Award?
Definitely not. I was hoping that it wouldn't be completely ignored — that it would find a few readers and maybe get some critical attention. It always feels good to have some affirmation.
The men in a couple of your stories are, let's say, sympathetically creepy. They are wrongly accused of harassing women in circumstances tinged with racism — and yet their behavior is definitely off.
Yeah, both things are true. There is an incident that happens outside of a school in the title story, where the character is accused of doing something that he doesn't do, but that's sort of adjacent to something that he has been doing. The incident doesn't explain everything, and it doesn't mean that he doesn't have agency and that he hasn't made mistakes.
That complicates something people have read into your stories — "toxic masculinity." It's topical: toxic was Oxford Dictionaries' word of 2018. But there's something reductive about calling these characters toxic.
Obviously, masculinity is part of what the book is about. It was published in a moment where we were already having a certain conversation. And it's good to have my stories be part of a larger conversation about masculinity, but there are other things happening too. I never began any of these stories pulling back my bow and arrow and aiming for the target of masculinity. It's really about smaller things: relationships between brothers or between parents and children, intimacy, vulnerability. Personal space. Those kinds of things.
Relationships between brothers or male friends recur a lot. What's the root of that preoccupation?
I have a younger brother, and my relationship with him has led me to think a lot about brotherhood as an idea. I think about how two people can grow up in the same house and have essentially the same experiences, but the results can be radically different. That what you have in common can actually be a source of friction. In terms of friendships that are a brotherhood of a different kind, I think about how those relationships have shaped me as a young man, as an older man, and as a boy. I think about either bending myself toward their conception of masculinity or bending myself away from it.
These stories describe men at various ages: a teen roaming the streets on J'Ouvert; a young man unearthing childhood trauma; a 40-year-old drinking alone. Have you been writing these for 20 years?
The first draft of the oldest story was written in 2011 or '12. Before that, I wrote a horrible novel — really horrific — 700 pages of just trash. I was sort of in love with fancy language, so it was just a bunch of acrobatic sentences that didn't really make sense. It was just this word vomit. I thought, "I'm not good at this, I'm gonna stop." I did stop for a couple of years. But the writing bug came back. At that point I realized I wanted structure and community.
I'd been part of this really nerdy crew of literary black dudes, reading Faulkner and Ralph Ellison and feeling really smart and fancy. Around this time I learned about MFA programs. My friends and I had all scoffed at them: "James Baldwin didn't need an MFA program." We were regurgitating a lot of the straw-man arguments.
The merits of MFA programs are still much debated.
Yes, but the arguments against those programs are about the worst possible versions of them that you could imagine, which I think probably don't exist at all. Writing workshops have by and large been extraordinary and helpful for me.
You once said that you write with an African-American reader in mind. What does that change about the story for you?
I had a teacher who said in a workshop, "You don't want to write tourist literature." Or "safari literature." I tend to think that the root of all storytelling is telling stories to your people — your family, your friends, your neighbors. And there's something intimate about that. That feels true to me. I don't have to over-explain things to you, I don't have to hold your hand. It's a gesture of trust toward readers — of all kinds.
Is part of it about not writing overtly about "issues"?
I've tried to not ignore realities, but not make them the center of the story. It's absolutely true that mass incarceration is a big issue. It's true that police brutality is a big issue. It's true that gentrification is a big issue. But I don't want to write stories about those things. I want to write about people — people who, in many cases, are affected by those things. If you experience racism or sexism, you're not merely a victim of that thing. You're a person who experiences that thing, and you're experiencing all the other things. You got to go get your groceries, you got to deal with the argument you had with your wife or husband or boyfriend or girlfriend. You got to pay the rent.
A lot of recent black fiction seems to be going in absurdist directions — from Paul Beatty's The Sellout to Nana Kwame Adjei-Brenyah's Friday Black, which feels like George Saunders as filtered through Black Lives Matter. You're definitely not doing that sort of writing.
I was at a literary festival and I heard [Adjei-Brenyah] say he thinks that a lot of our language is full of euphemism — that we use polite language to tamp down the horrors of everything that's happening today, and has been happening for many years. So he takes away the euphemism and turns up the dial. In fact, when you look up from his stories about, you know, a man murdering children with a chainsaw, you're like, "Well, the stuff that's going on is actually not too far removed from that." That's not the way I write, and it's okay. It's great that we have this spectrum. I don't need to write the way that he and other writers do, and he doesn't need to write the way that I do.
Your story "Clifton's Place" is about a black-owned bar being rapidly taken over by white people. Was that based on Frank's Cocktail Lounge in Fort Greene?
Everybody thinks it's Frank's. It was actually based on The Tip Top Bar in Bed-Stuy. Probably I'm romanticizing a certain era of the city, but I just remember feeling like things were changing [in the aughts]. My friends and I were living in Crown Heights, and you would notice who was getting on and off the subway at certain stops. I grew up here, in Brooklyn and in public housing in the South Bronx — which apparently is being called SoBro now — and then I went to Columbia and became an Ivy League person, so I see both sides of it. There are some descriptions of gentrification that describe young college graduates of color as the vanguard of it. But I think my fondest memories of New York are definitely from the '90s.
That story fits the mood of the collection, though. There's a lot of absence in your books — of people and of places.
Yeah. It's like a ghost — something that is haunting. The loss of the place is attached to the loss of an identity. It feels true to me that when you lose a place, whether it's a bar or a school or a bookstore or a library, it's not just a loss of resources or a gathering place. Think about the frame of a painting. If you lose the frame, if you lose the thing that holds it all together, it can fly apart. If a space is disappearing, then it has an effect on the people, too.
Vulture Insiders is an exclusive opportunity for engaged readers to receive advanced insight, special event access, giveaways, and unique privilege to interact with Vulture staffers and fellow pop-culture obsessives. Interested in becoming an Insider? Apply here.