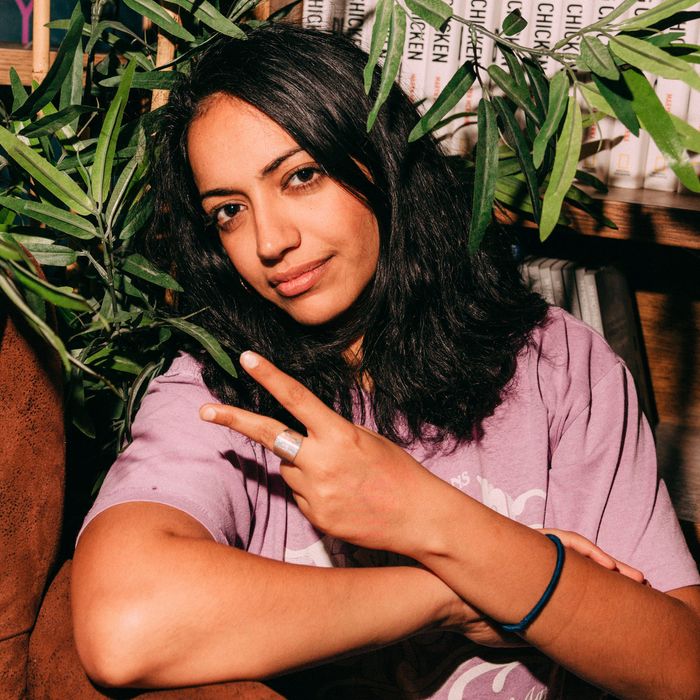 Fareeha Khan.
Photo: Bridget Badore
Fareeha Khan (@fareeeezy) is a comedian based in New York who performs all around the city. She was part of the Riot Comedy Writers Lab last year and has written for MTV and Reductress. You may have caught her two lines as "gardener lady" on a Jimmy Kimmel Live! sponsored-content sketch. Her web series Ronnie Luvs Comedy is available now on the world-famous YouTube.
This week, Khan spoke with me about drawing her jokes, being a chill guy, and punching up instead of down.
I don't know much about basketball, despite playing on a youth team for a couple years, which I had to quit, tragically, because I realized I was really bad at it. But something about being called a "basketball legend" feels good as hell, even if it is deeply undeserved. And talking to someone you have a crush on is an insane personal experience and as long as I don't, like, ruin it entirely, I'm like: "Holy shit, is this what LeBron James feels like all the time?"
How would you describe your voice on Twitter to someone who's never read your writing before?
Here we have an absurd character who has a vague grasp of what's going on in the real world and spends most of the time analyzing things internally and alone. Now through the glory hole that is the internet, they are somehow able to share those thoughts on the World Wide Web with abandon. (I'm sorry I said glory hole.)
I like pretending that I'm a guy running unsolicited-advice tutorials, and I log on to Twitter to give people advice on dumb stuff like how to talk to white people, but also this character kinda thinks Twitter is YouTube or something and uses YouTube language, like "hmu in the comments!" and "tutorials coming at u daily!" I think it's just funny to me to have a guy who's so delightfully clueless offering you life advice. Also, of course, this is a slight roast of white people because they are the first people to accept that we all have anxiety, which I thank them for their service, and also blueberry muffins.
Do you have other recurring bits or voices you do on Twitter?
I think most of my jokes are through the same voice I use for stand-up, which is a heightened version of me. One time my friend said that I'm a "15-year-old stoner boy trapped in a hot woman's body," and I think that sums it up pretty well. It was also exciting that she said I was hot.
This is sadly true, as I'm highly aware of how much my own insecurities and low self-esteem issues hold me back in ways (hello, internet!). So it's fun to use a li'l preexisting joke structure and make it more sad by injecting the truth about my current state of self-actualization. Lol wassup.
Do you have any favorite topics to joke about? Or topics you avoid?
My true love is for the classic, evergreen stuff that's always funny — butt and poop jokes. I also like to joke about how I don't really follow politics (it's overwhelming), my personal self-help journey, being brown in America, and just being a chill guy.
I would never joke about my parents' accents, immigrants, minority groups, or punch down ever. But punching up? Baby, I'm pretty sure that's what they invented comedy for! Haha wassup.
Who are some people you enjoy following on Twitter?
My good bud, Eva Victor, is an actual genius and also my favorite kinda idiot (great mix). I love seeing the absurd songs and strange hot takes she posts because they are honest and encourage everyone to be themselves. Sarah Lazarus writes perfect jokes to the point where it's like … what's going on with you dude. It's upsetting how good they are. Jack Bensinger is my new friend who moved to town from Chicago and has an insane mind and his jokes are really stupid and funny. Carmen Christopher is also one of my favorite comics in the city, and he does this weird character on Twitter that is just nuts but hits real hard.
I like to doodle li'l things for fun, and I had this idea in my head for a while for some reason. I just thought it would be really funny if someone stumbled upon some random guy's bucket list on the ground and the first thing on it was "eat ass" (which, let's be honest, as a phrase or concept is perhaps the height of hilarity), and everything after that gets somehow more stupid, revealing how this young man has almost no ambitions at all. I guess this is another roast, this time of regular dudes who get by in life without really trying. Through this exercise, I have learned I love to roast.
These doodles are so funny. How do you decide if an idea is better as an illustration or solely as text?
Thank you! Usually, I'll get an idea in my head of a drawing, and then just make it. I guess it's just a gut thing, but also I kinda think everything could be aided by a fun drawing, so … do with that information what you will!
Karen Chee is a Brooklyn-based comedian who writes for The New Yorker, McSweeney's, and Shondaland, among other cool websites.