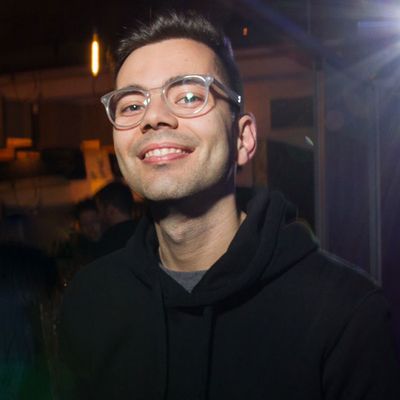 George Civeris.
Photo: Jenni Walkowiak
George Civeris (@georgeciveris) is a stand-up comedian and writer based in Brooklyn. He co-hosts a monthly comedy benefit show called Living for It at the Living Gallery in Bushwick. The next show is on Monday, November 19, and will benefit Lambda Legal.
This week, Civeris shared some of his favorite tweets with me and talked about writing jokes online.
The joke here is that under neoliberalism, people are expected to find self-actualization through their work. I think I tweeted it when A Dog's Purpose came out, which is a movie about a bunch of dogs dying. I have not seen it.
How have your tweets changed over time?
I used to mostly use Twitter to try out jokes before doing them onstage, but I realized over time that traditional setup-punchline stuff often looks clunky when written down. So now I think of Twitter as completely separate from stand-up. Another thing is that over the years I've made friends on Twitter who are much smarter and more successful than I am, and now I am absolutely desperate to impress them. Lastly, postelection Twitter has essentially broken my brain, and I have no concept of what is appropriate or normal to say or think anymore.
I recently broke up with my boyfriend of six years and had to find a new place to live. Apartment hunting is already so dehumanizing in New York, and having to do it while being emotionally unhinged is even more of a nightmare. Getting 15 likes on this tweet made it all worth it.
If you could change one thing about Twitter, what would it be?
I think people who don't read books should not be allowed to express political opinions. I think promoting your podcast should be illegal. And I think spreading "positive vibes" of any kind should be punishable by death.
I think the day I tweeted this someone was complaining about being disinvited from an "Ideas Festival" for not having any ideas, so I thought I would share my story of being denied by an ATM for not having any money.
Do you ever delete your tweets? Why?
I delete tweets all the time. I would delete all of them if I could, but I need the money.
This is referring to the Human Rights Campaign, which is a party-planning and apparel company run by gay men named Steve. Every year the HRC gives out awards to a series of photogenic straight millionaires who are then brought to tears by their own capacities for empathy. Last year they decided to give their Equality Award to a billionaire instead, which I thought was a really cool choice. In his speech (which I watched because I hate myself), Jeff Bezos revealed that the LGBTQ employee group at Amazon is called Glamazon, at which point I started developing a rash that is slowly killing me.
Are there any topics you particularly love writing jokes about?
There are a bunch of things I wish I could tweet more about. (What an absolutely devastating sentence.) I've had a few other lives outside of comedy: I used to work in tech, then I went to graduate school for media studies because I was interested in "tech criticism," and now I work as a researcher at the Tow Center for Digital Journalism at Columbia. I am also currently teaching an undergraduate class on comedy and journalism at the New School. I have jokes about tech and academia in my stand-up, but whenever I try to tweet about that stuff no one cares. So I usually stick to politics, pop culture, and gay stuff. About once a month I become unhinged and tweet something earnest about some political issue. Those are always my most popular tweets regardless of how intelligent or interesting they are, which gives you a little peak into how the worst people on the planet have been able to make careers out of being professional #resisters since the election.
Karen Chee is a Brooklyn-based comedian who writes for The New Yorker, McSweeney's, and Shondaland, among other cool websites.