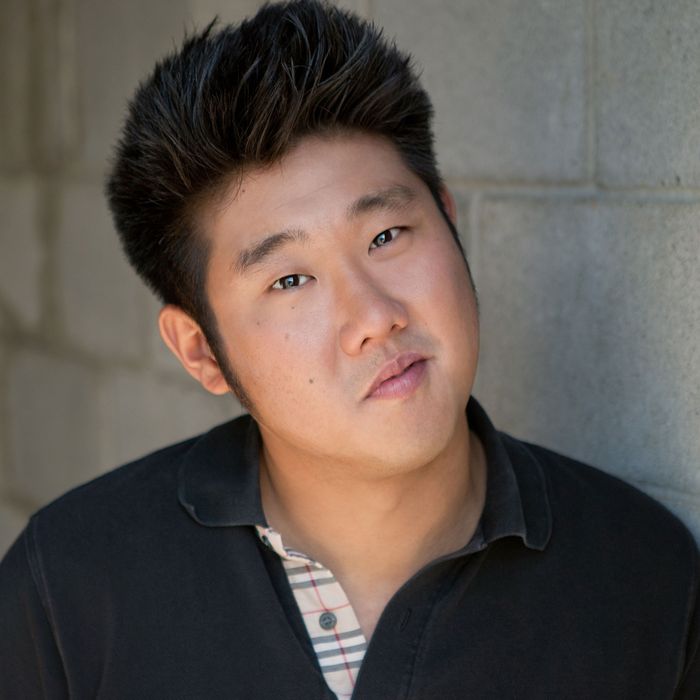 Peter Kim.
Photo: Sally Blood
Peter Kim (@peterkz) is a Los Angeles–based stand-up comedian, writer, and actor recently featured on NCIS and the IFC stage at Oddball Fest. His writing has been featured on Vox, PBS News Hour, and Cards Against Humanity, and he hosts a monthly stand-up showcase called Suddenly Stand Up at UCB Sunset as well as a Korean-American-focused podcast called The Ajumma Show.
This week, Kim spoke with me about how he started performing comedy and how his voice changes depending on the medium.
Like everyone else who's been blessed with a Korean mother, I've intensely struggled with my body image. My weight's fluctuated all my life: I've been super fit, I've been categorically obese, and now I'm just maintaining a constant state of bloat. Thank God I found comedy because no one seems to care what I look like, as long as I'm funny and not intimidating them with my abs. God, I miss having abs …
How did you first get started in comedy?
In 2007, I decided to uproot from NYC and move to San Francisco because I was working for Yahoo! and also desperately needed to come out of the closet. I figured, might as well do it in the safety of the gay mecca! Turns out, it wasn't that easy. One day I stumbled upon a stand-up show at a place that taught classes, so I took one, and during an open mic I uttered the words "I'm gay" for the first time in front of six other comics who were busy going over their notes. Literally no one cared. They were all staring at me like, "You're gay? So is everyone else in SF, what else you got?" It was liberating and completely embarrassing 'cause I had nothing else prepared.
I only had Asian friends growing up, and just began hanging out with white people when I started comedy. I've noticed that white people, especially white comedians, just don't face the same inherent struggles that immigrant or POC comics do. That's why they're always finding new ways to fabricate a sense of struggle like going camping, or doing escape rooms. The only reason my Asian friends want to hang out in a tiny room is to sing karaoke while getting drunk on cheap soju.
If you weren't pursuing comedy, what would you be doing?
I'd be a chef or restaurateur. Think David Chang, if he was a shady queen. Besides laughter, nothing makes me happier than feeding someone; it's the immigrant mother in me. Speaking of whom, I almost didn't go to college because I wanted to attend Le Cordon Bleu, but my mom freaked out and said I would never make a living being a cook. I ended up becoming a comedian, so I showed her!
I moved to L.A. last year and noticed the unsettling ubiquity of Scientology buildings around L.A., and now its own studios! Just to be clear, I don't have an issue with a religion that takes advantage of vulnerable people, I was raised an evangelical Christian — I get it. But I've already had a handful of people warning me not to speak out against Scientology or they will ruin my career, and I'm like, "Girl … what career?"
How does your voice online differ from your voices onstage and in real life?
They're pretty different. My online voice tends to be a little more crafted, one-liner-y, and take flights of fancy into the absurd. In real life and onstage, I'm loud, fun, and vivacious. I take more chances in front of a live audience because I get to feed off their energy. Plus, shutting down a heckler in person is way more satisfying than imagining a Twitter troll crying in his mother's basement.
Porn is inherently racist. The default sexualized human is WHITE MAN, and everything else ends up being a "category." Like any time a white guy and an Asian guy are fucking, which RARELY happens, it's labeled "INTERRACIAL" or just "ASIAN" — fetishized categories that exist alongside "ORGY" and "BONDAGE." I'm looking forward to a future where porn is simply categorized by types of narrative, like "FINANCIAL WOES" or "TRICKED BY A TRANSIENT."
Do you ever tweet earnestly or are you always joking online? How do you balance the two?
I try to keep my Twitter light and jokey. I noticed that I used to get way more likes and retweets when I made quippy statements about social justice, but I realized that I actually DID less because I felt a false sense of accomplishment. That being said, I can never stay away from dragging Elaine Chao, because HOW COULD YOU BITCH!? I WAS ROOTING FOR YOU!
Who's your dream target audience for your tweets?
Ooh, this one's tough … I would have loved for 16-year-old me to have been exposed to my tweets. I think he would've been a stronger, more confident, fierce young gay boy who wouldn't have wasted so much time trying to fit in with his homophobic Korean church boys who spent most of their time wrestling each other into submission. On second thought … that was a really fun time.
Karen Chee is a Brooklyn-based comedian who writes for The New Yorker, McSweeney's, and Shondaland, among other cool websites.