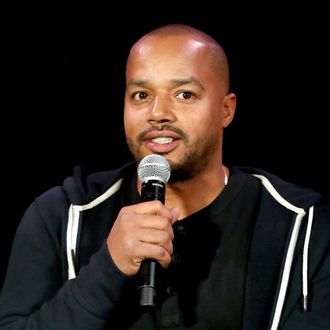 Donald Faison.
Photo: Joe Scarnici/Getty Images for New York Magazi
For the first time since the show wrapped in 2010, the cast of Scrubs came together for a reunion at Vulture Festival in Los Angeles. Inside jokes and rapid fire recollections of favorite fantasy scenes were bandied about across the stage as Zach Braff, Sarah Chalke, Christa Miller, Donald Faison, Neil Flynn, Ken Jenkins, Judy Reyes, John C. McGinley, and series creator Bill Lawrence played to a hollering crowd of passionate fans. They also confirmed what the Venn diagram of Fortnite junkies and Scrubs die-hards may have been suspecting: Yes! You can act out Faison's 'Poison' dance in the massively popular online game. The upshot of that? A whole new generation of potential Scrubs viewers are being groomed if they're curious enough to YouTube its origin. But the bummer? Faison will not be collecting any royalties.
Lawrence told the crowd that someone actually had to reach out on behalf of Fortnite to inquire about use of the "choreography," which Faison said was made up entirely on the spot after showing up late the day it was shot. (To jog your memory, the moment comes in season five's "My Half Acre," in which Faison's Turk has to audition for an air band.) As the crowd — and some of his fellow cast mates — shouted out for Faison to do the dance, he stood up and yelled, "If you want to see it, you can play Fortnite, because they jacked that shit!" So if you want to see a live reenactment of the impressively smooth dance from Faison in the future, you may have to do what Fortnite did not, and pay up.