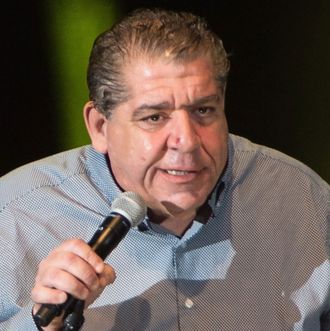 Joey Diaz.
Photo: Tara Ziemba/Getty Images
Fox has two new multi-cam comedies in development, and they're both of the semi-autobiographical variety. According to Deadline, the network has given a script commitment to two shows, the first of which is a series starring comedian Joey Diaz titled Uncle Joey. Written by former King of the Hill and Maron executive producers Sivert Glarum and Michael Jamin, the show follows Diaz as "a Cuban immigrant with a troubled past who's given a second chance at life when he moves his family to an upscale suburb. Intent on being the best family man possible, Joey works to raise his young daughter with old school values in today's rapidly changing world." In addition to his stand-up work, Diaz has appeared on Brooklyn Nine-Nine, Maron, Superior Donuts, and Showtime's recently canceled I'm Dying Up Here. Diaz, Glarum, and Jamin will executive produce the project with Michael Rotenberg, Jonathan Berry, and Josh Lieberman.
The second comedy in the works at Fox, titled Significant Brother, is written by former Difficult People showrunner Scott King and Moe Jelline. Based on King and Jelline's real-life friendship, the show centers on "a newlywed couple as their marriage is tested, but ultimately strengthened, when the husband's estranged gay brother moves in and becomes best friends with his wife." King and Jelline will serve as executive producers alongside Peter Principato, Maggie Haskins, Jonathan Berry, and Dave Becky.