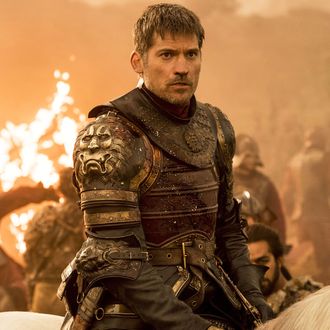 Winter is coming next spring.
Photo: HBO
Remember when HBO decided to reveal the Game of Thrones premiere date by melting a giant block of ice? Thankfully, it's decided to take a (slightly) less embarrassing route for the premiere of the second half of the show's final season and (sort of) cut to the chase by announcing that Game of Thrones will return in April 2019. On what specific day in April 2019? Your guess is as good as mine, since HBO isn't getting any more specific, but the available Sundays are April 7, 14, 21, and 28, so game of thrones will probably return on one of those dates, get 25 percent excited about each of them. Meanwhile, HBO will be tweeting #FortheThrone constantly, which is as good a way to spend time online as any.
Previously, we knew that Game of Thrones would return in early 2019, though really April is about the limit of what can be considered the "early" part of a year. The show will resume with Daenerys's "tense" arrival in Winterfell, as everyone prepares for a big confrontation with the Army of the Dead that's been teased as being more epic than any Thrones battle that came before it. Meanwhile, HBO has started to gear up on one of its many prequel series pitches, casting Naomi Watts as "a charismatic socialite hiding a dark secret" and that dude from Poldark in a pilot set during the Age of Heroes. Shudder at the thought of whatever stunts HBO will pull to promote that show.