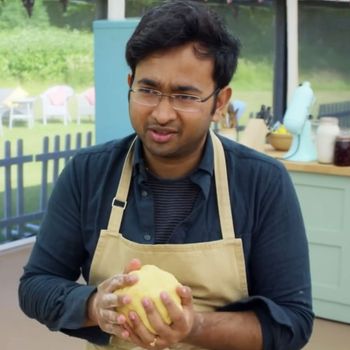 The scandal-maker himself!
Photo: Netflix
Spoilers ahead for The Great British Baking Show's latest season.
You had your time, Bingate. But it's 2018, and we're finally going to trade in that contentious baked Alaska for an even more controversa torta setteveli.
If you've already marathoned the latest installment of The Great British Baking Show on Netflix, there's a chance — albeit a small one, like nailing a perfect blancmange on the first try — you noticed something fishy at the end of the penultimate episode's technical challenge. To jog your memory: Rahul, Ruby, Kim-Joy, and Briony are each whipping up a ridiculously complex Sicilian dessert ahead of the final, garnishing their tortas with hazelnut nibbles for maximum bellezza. The clock stops, the women walk forward with their tortas, and yet … Rahul remains at his station, putting some finishing touches on his dish. And not only that, but he also sneaks in a few more chocolate shavings on the walk up to the judging table.
Excuse us, Rahul! You heard Sandi Toksvig say, "Bakers, your time is up!"
When the season aired in the UK earlier this fall, the British tabloids pounced at these seemingly uncouth confectionary actions, birthing such enjoyable headlines like "Why Great British Bake Off Fans Are Branding Last Night's Episode A FIX!!!" Social media went nuts. Pro and anti-Rahul trending topics escalated further when — again, spoilers — he was ultimately crowned the winner of the season. Toksvig even wound up commenting on the matter, reassuring viewers that Rahul is, in fact, "a really charming man with very little self-confidence and an astonishing talent."
"I'm sorry if there is a backlash," Toksvig added, perhaps sensing her British pleasantries weren't a good enough salve for the tasty scandal at hand. "Everybody is doing their best. These are not telly people. These are people who have decided to put themselves forward to do something that they are passionate about. I would hate for there to be a backlash against anybody."
Whether you think Rahul broke one of the tent's cardinal sin is up to you, mostly because he and the season's remaining core players haven't mentioned it during the post-finale media blitz. But for what it's worth, his torta was deemed to have "serious issues" by the judges and came in last place. Comeuppance, best served with a rubbery mirror glaze?