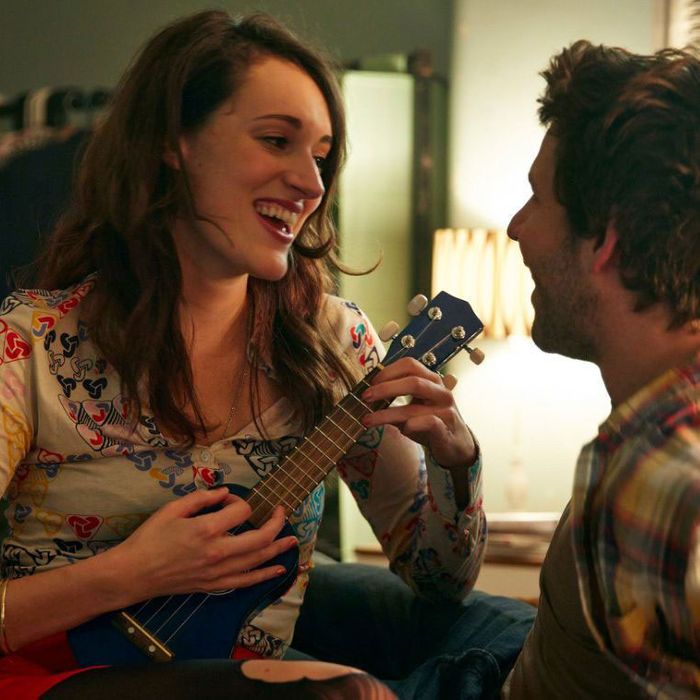 It's a long holiday weekend, which for many means time with the family, which for many also means time avoiding the family. And that's where your old friend TV steps in.
But what happens when you run out of Friends Thanksgiving episodes and decide you want to start a new show, but not something that'll necessarily be a huge, months-long, time-swallowing thing? Vulture has your back: We've come up with a list of great shows with seasons that consist of ten or fewer episodes, all ready for your streaming pleasure this weekend.
Forever
Maya Rudolph is June; Fred Armisen is Oscar; marriage is boring; life is very long (… or is it???). It's been said that the less said about Forever, the better, so I'll just say that I watched Forever in one sitting and then read every single article on the internet about Forever for a full week thereafter. It's funny and sad and weird and genuinely surprising — somehow, creators Alan Yang and Matt Hubbard have figured out a fresh angle on concepts that angsty artists have been overanalyzing since the beginning of time. Available on Amazon.
River
It's the rare show that can turn a disco song into a tearjerker. In River's case, the song in question is Tina Charles's "I Love to Love," which recurs as a motif as Detective Inspector River (Stellan Skarsgård) struggles to piece together the events that led to the murder of his partner, Detective Sergeant Stevenson (Nicola Walker). But the series (which clocks in with six episodes) is less to do with the investigation of a murder as it is the investigation of River's mind, of grief. That human connection is the key to the series, and particularly Skarsgård's stunning leading performance. Sherlock has his mind palace, Columbo has his final question — River has his "manifests," hallucinations he experiences of the victim whose case he's investigating. Available on Netflix.
Slings & Arrows
It makes sense that theater nerds are an easy comedy target for television and movies (see Glee, Waiting for Guffman) — after all, a vast quantity of people working in the entertainment industry can trace their origins back to high-school plays. But, this beloved Canadian cult-favorite from the mid-aughts not only makes fun of the divas, insecure actors, and weirdo artistic "geniuses" who are drawn to the stage, but also rewards the theater-loving geeks watching at home. The show takes place at a fictional struggling, previously well-respected Shakespeare festival, with each six-episode season taking on a different tragedy from the bard's repertoire (the show's title is a reference to the first season's play, Hamlet). Themes from the show-within-the-show seem to keep coming up in the personal lives of the actors, which might sound a bit too on the nose, but then again Shakespeare wasn't always all that subtle. Also, the first season features a pre–Mean Girls fame Rachel McAdams. What more could you want? Available on Daily Motion.
Les Revenants
Les Revenants (also known as The Returned, but please do not mistake it for its American remake that's also called The Returned, which we not recognize in this house) has everything: French people, French people coming back from the dead, dead French people who don't know they're dead, freaky rivalrous twins, bone-deep existential malaise, profound and painful insights into the human experience, gorgeous cinematography, staggering writing, some of the best performances you'll ever see on a television, and a completely singular plot that will have you gasping mon dieu!! and weeping in equal measure. Additionally, it contains some of the best onscreen hair I've ever seen; Google "Lena Hair The Returned" if the initial part of this paragraph didn't sell you. Available on Netflix.
Utopia
Where is Jessica Hyde? The question that drives Channel 4's Utopia will likely be ringing in your eyes long after you've finished the show. Though it may seem like exaggeration, Utopia is the network's masterpiece — and strangely even more timely now than when it aired, given its focus on the impending extinction of humanity. Created by Dennis Kelly, Utopia is best watched with as little spoiled as possible, but for the sake of a compelling pitch, know that it's a thriller that lives up to its genre designation. It's also a polar opposite to the dark and moody visuals of most of its peers; Utopia is a candy-colored nightmare. The issues that Utopia tackles — overpopulation, genetic manipulation, finding a way into the future — have never been so starkly addressed as they are in this series, which launches a handful of exceedingly normal people (including an IT worker, a postgrad student, and a young boy) into a conspiracy that stretches further and further as the series progresses. Just don't look anything else up before diving in. Available on Amazon.
Toast of London
Former big-shot TV star Steven Toast has never heard of Benedict Cumberbatch or any royals who aren't the queen, but he desperately needs a job. Toast of London follows the washed-up star's exploits through various gigs, and his rivalry with his nemesis Ray Purchase, as he all too often finds himself becoming one the most hated men in London. Come for the surrealism, mini-Champagne, hearing Clem Fandango, and Doon Mackichan as Toast's agent Jane Plough (pronounced "pluff"), but stay for the actual musical numbers that only a genius like Matt Berry could pull off. Available on Netflix.
Veep
Maybe you've already seen every episode of HBO's magnificent Julia Louis-Dreyfus–starring Emmy magnet. Or, maybe you never got around to it but have been meaning to check it out. Either way, now is the perfect time to watch (or rewatch!) the whole show, starting at the very top. Why? Well, there are at least two reasons: (1) The show was on hiatus for all of 2018, which means that even if you're a fan, it's been a while since you've witnessed Selina Meyer & Co.'s deplorable high jinks; and (2) the final season of Veep is slated to air in the spring of 2019, which means now is the time to get caught up. Available on Amazon.
The Leftovers
You couldn't fault show runner Damon Lindelof for being risk-averse. He followed up the universally disdained muddle of the Lost finale with a show about another inscrutable existential mystery, the instant disappearance of 2 percent of the population, including the entire cast of Perfect Strangers. After a gloomy, shaky start, The Leftovers succeeded — epically, vividly, hilariously — by turning out three short seasons about what the Ultimate Mystery ("what and where they all came from," as Iris DeMent sings in season two) does to us. "The Departure" makes the jury-rigged family at the heart of the show (including Justin Theroux at his best and Carrie Coon reaching the stratosphere) alternately bereft, joyful, lunatic, and just plain ridiculous. Available on Amazon.
Crashing
Sometimes it can seem like Phoebe Waller-Bridge is responsible for more or less everything good in the culture right now, from this year's Killing Eve to Solo's L3-37, possibly the only thing worth remembering from that movie. Her best work might actually be the dark comedy Fleabag, which you should definitely also watch — but before that, there was Crashing, which is also excellent! Think of it as a very odd, very Waller-Bridge-y romantic comedy about a group of offbeat 20-somethings who live, party, and do other things together in an old hospital that serves as their apartment building. Sound weird? You bet! Available on Netflix.
Contributors: Anne V. Clark, Karen Han, Rachel Handler, Boris Kachka, Ray Rahman, and Tolly Wright.