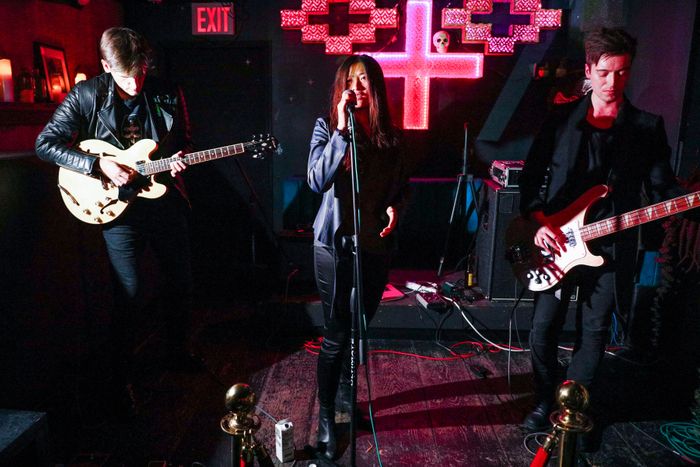 The band PAAR plays the Perrotin gallery after-party at Casa Mezcal.
Photo: Matteo Prandoni/BFA.com
Sorry you weren't invited to the Perrotin Gallery opening for Gregor Hildebrandt, that super-cool artist from Germany who paints and collages using pressed vinyl records and unspooled audio tape. PAAR, the poppy, kinder-punky art-student band — fronted by an actual student of Hildebrandt's — played the private after-party. The scene, the free drinks, everything was wild. You probably saw it all on Instagram, if you follow the right people.
That's how it can feel to miss an art "happening" in our social media age, when lived experience is commodified, served, and consumed online — with that little chaser of jealousy that no matter where you were last night, you couldn't be everywhere.
Nobody conducts this spectacle better than Emmanuel Perrotin, the peripatetic contemporary gallerist and social ringmaster known as much for his ability to create buzz as for his unerring eye for a certain kind of often Instagram-ready art talent. His formula is the old FOMO standby — mix art, fashion, and music celebrities, add in a few people with money who actually buy this stuff, and shake well at the after-party. He travels constantly between his galleries in Paris, his home base, as well as New York, Seoul, Hong Kong, Tokyo, and Shanghai — and is lauded by the artists he represents for his personal commitment to their work.
The sculptor Daniel Arsham, a hype-beast icon whose September show included a decaying, full-sized DeLorean replica at the gallery (yes, that's the car from Back to the Future; its $350,000 companion, modeled on the car from Ferris Bueller, also hit notes of Gen X nostalgia) thanked Perrotin for his success in a long post on — where else? — Instagram.
Perrotin inspires similar loyalty both from art world stars with whom he has worked for decades, like Takashi Murakami and Maurizio Cattelan, as well as newer phenomena, like KAWS.
All of these elements came together Saturday night for the opening of shows by Hildebrandt, on the multi-level gallery's ground floor, as well as of paintings and sculpture by Genesis Belanger and Emily Mae-Smith on the second level, and of paintings by Park Seo-Bo on the third.
The 44-year-old Hildebrandt, who is tall and thin, shuffled around the opening in an expensively rumpled white shirt by either Issey Miyake or Yohji Yamamoto — he couldn't remember which — and was candid about his desire for a beer. A teacher at the Academy of Fine Arts in Munich, he created the show in collaboration with his student, Ly Nguyen.
"She was studying painting in my class, but she was not so many times there," he said of his talented but truant pupil. So, when the time came for her end-of-year presentation, she lacked enough work and needed to bargain. "She said, 'But I also make music with some friends and I want to play also one song.' So I listened and I was so flipped out by it — it was so great."
Not only did Nguyen get herself off the hook for her presentation, Hildebrandt created an art-project record label, just for her band — named PAAR, after a local river. Hildebrandt's show, "In meiner Wohnung gibt es viele Zimmer" ("There are many rooms in my apartment"), is all about that collaboration. Hundreds of yards of audiotape of PAAR's music are incorporated into the works, both as objects and also as an application method of paint onto canvas. And thousands of black vinyl records, pressed into clam-shell shapes by a vendor at a Berlin flea market, have been assembled into walls.
Hildebrandt finally got his beer at Casa Mezcal, a nearby restaurant taken over for the after-party. Upstairs, guests raided passing trays of tacos and taquitos; downstairs, Nguyen and her bandmates, Rico Sperl and Matthias Zimmermann, took the stage.
They were really very good, with a laid-back post-punk vibe — they describe it as "minimal wave;" you could imagine designers wanting them to play during their fashion shows. It was a humid night and, bathed in red and purple light, the three young Germans were luminously attractive, adding a frisson of rock-god sex appeal to the evening of free-flowing culture and booze.
Hildebrandt stood right at the front in his Miyaki-or-maybe-Yamamoto shirt, cheering loudly. Gallery employees liberally distributed drink tickets to select guests, who waved their phones to disseminate their VIP experience all over the internet. And sitting at a banquette in one corner, watching it all with a broad grin on his face, was Emmanuel Perrotin. It was another successful opening night spectacular, and everyone who was there was happy.