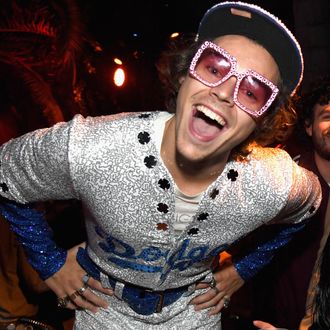 Photo: Kevin Mazur/Getty Images for Casamigos
With Halloween nestled in the middle of the week this year, you know what that means — six whole days for "the stars" to dress up and make you feel bad that you'll never be as creative as them, baby! (Having tons of money can also help with this.) Because Vulture loves a good costume just as much as the next pop culture website, we'll be keeping tabs of the best and sparkliest celebrity looks that we believe are worthy of some attention. Whether you prefer film nostalgia or clever wordplay, chances are this round-up has your interests covered.
Harry Styles went as Elton John circa his 1975 Dodgers Stadium lewk…
…while Zoë Kravitz was a vampire who needed some beauty sleep.
Rita Ora channeled all her energy into Post Malone…
…while Camila Mendes and Lili Reinhart went for 2004 nostalgia.
Olivia Munn went as your favorite Crazy Rich Asians character…
…while Kendall Jenner went as your favorite Austin Powers villain.
The Black-ish cast went full Black Panther…
…while George Clooney really didn't want to show his face.
Joe Jonas dressed as his fiancée's Game of Thrones character…
…while Ryan Seacrest went as his '80s character of choice.
Paris Hilton proved you can make anything sexy…
…while Lauren Jauregui and Ty Dolla $ign pulled off a classic couple's costume.
Halsey went as another iconic Batman villain…
…while Nina Dobrev has us asking "Why Did You Do That?"
Peter Hermann and Mariska Hargitay paired up as an Avengers duo…
…and Mindy Kaling donned a mustard-bottle costume and gave us a glimpse of her "little lion."
Beyoncé and Jay-Z dressed as track stars of yesteryear…
…and Nathalie Emmanuel went as Rochelle.
Reese Witherspoon and her brood dressed in classic Halloween garb…
…and Anne Hathaway made a perfect red-lipped mummy.
Diddy was absolutely terrifying as Pennywise the clown…
…while Joe Jonas and Sophie Turner did a second look as Gomez and Morticia Addams.
Chrissy Teigen and John Legend went as royal monarchs…
…and Gwyneth Paltrow couldn't resist being Ally from A Star Is Born.
Jessica Simpson and her husband Eric Johnson were barely recognizable as Danny DeVito and Arnold Shwarzenegger from Twins…
…and Kevin Hart leaned into his vertically challenged stature by dressing as a minion.
Lupita Nyong'o was the perfect Dionne from Clueless…
…and Janelle Monáe was an eerily spot-on Willy Wonka.
Solange and her husband Alan Ferguson wore black tie:
Insecure's Yvonne Orji posed as Sanaa Lathan's character from Love and Basketball …. (surprised this costume was allowed, frankly!)
While Beyoncé and Jay-Z channeled their inner Olympians, Miss Tina was Foxy Brown…