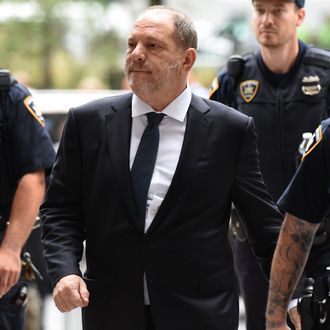 Photo: Timothy A. Clary/AFP/Getty Images
Harvey Weinstein allegedly forced a 16-year-old model to touch his genitals nearly two decades ago, civil court papers filed Wednesday claim.
The new allegation against Weinstein — who has been accused by Manhattan prosecutors of sexually assaulting three women — comes in a civil lawsuit against the disgraced movie producer.
According to an amended complaint filed in Manhattan Federal Court, this accuser met Weinstein in 2002, at a New York City event for her then–modeling agency.
The woman, identified only as "Jane Doe" in court papers, says she found out at the event that Weinstein was a movie producer. After Weinstein learned that "Jane Doe" was interested in acting, he allegedly "gave her his card and directed her to give him her phone number," saying "they would have lunch to discuss her future," she claims. Weinstein then called Jane Doe three days later, saying he and his driver would pick her up for lunch, which she thought was for "business purposes."
Rather than drop them off at a restaurant, Weinstein's driver left them at his residence in Soho, the suit claims.
"As Jane Doe rode the elevator with Weinstein, she became nervous," the suit says. "When the elevator door opened directly into Weinstein's apartment, Jane Doe realized that they were completely alone."
Weinstein, she claims, "wasted no time in aggressively and threateningly demanding sex."
"He told her that if she wanted to be an actress, she would have to be comfortable doing whatever the director told her to do — including losing her inhibitions and getting naked," the suit alleges.
Weinstein allegedly demanded that she take off her clothes.
"Terrified and struggling to hold back tears, Jane Doe said she would not and resisted his demands," according to the papers, which were filed by lawyers Elizabeth Fegan and Emily Brown. "Jane Doe was a virgin, and had no intention or understanding when she agreed to a business lunch that she would be put in this alarming position."
Weinstein then allegedly bullied Jane Doe, claiming he "made" the careers of actresses Penelope Cruz and Gwyneth Paltrow, and that "neither would be working without him."
"He intimated that Jane Doe would never work as an actress unless she acquiesced to his demands," the papers claim. "He then took off his pants and forcibly held Jane Doe while taking her hand and making her touch and massage his penis."
Worried that Weinstein would try to do more, she allegedly screamed and he ultimately let her leave.
The woman claims that Weinstein sexually harassed year for nearly ten years after the alleged incident, court papers state.
Weinstein's lawyer, Ben Brafman, denied the latest allegation.
"This claim is preposterous. Like so many other women in this case who have already been exposed as liars, this latest completely uncorroborated allegation that is almost 20 years old will also be shown to be patently false," Brafman said in a statement.