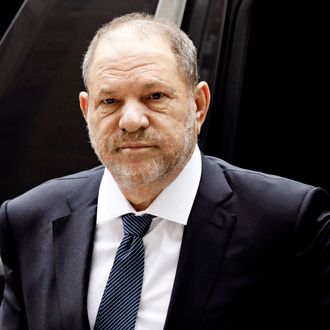 Harvey Weinstein.
Photo: Peter Foley/Bloomberg via Getty Images
The New York Police Department detective who investigated Harvey Weinstein for alleged sexual assault committed so much "misconduct" that "it infected this case," Weinstein's lawyers said in their renewed push to dismiss charges against the disgraced movie producer. In court papers filed Monday, Weinstein's lawyers yet again slammed NYPD detective Nicholas DiGaudio, who has repeatedly been accused of withholding information from prosecutors. Weinstein has been accused by Manhattan prosecutors of allegedly non-consensual encounters with three women.
Since Weinstein was first indicted in May, his lawyers have lobbed accusations against prosecutors and cops — claiming they withheld information that could potentially clear him charges involving two accusers, actress Lucia Evans and an unidentified alleged victim, from the grand jury. Now, Weinstein's lawyers are saying DiGaudio did the same thing with the third accuser, Mimi Haleyi. "The District Attorney has to date acknowledged at least two instances where Det. DiGaudio's misconduct has infected this case, one with Lucia Evans and one with [unnamed accuser]," Weinstein's lawyers wrote. "Counsel has reason to believe that Detective DiGaudio committed misconduct with Mimi Haleyi as well."
"Critically, the lead investigator's disclosed misconduct goes to the core of this case — suppression of evidence which revealed that a complaining witness had falsified her allegations of sexual assault," Weinstein's lawyers also said, reiterating their belief that purported problems with Evans's allegation legally derails the entire case.
Justice James Burke on October 11 agreed to dismiss one count against Weinstein following the disclosure that a witness had information conflicting with Evans's claims of non-consensual sexual misconduct.
Weinstein's lawyers also argued in August that prosecutors didn't show the grand jury correspondence that he had a "long-term, consensual, intimate relationship" with the still unnamed accuser.
Just like the unnamed accuser, Haleyi "continued to communicate with Mr. Weinstein after the alleged July 2006 assault," his lawyers maintain. "For example, on February 12 2007 — more than seven months after the alleged incident — Mimi Haleyi texted Mr. Weinstein's phone with the following message: 'Hi! Just wondering if u have any news on whether Harvey will have time to see me before he leaves? X Miriam.'"
"This message makes clear that Mimi Haleyi wished to continue seeing Mr. Weinstein even after the alleged sexual assault," his lawyers argue. "Counsel has reason to believe, however, that the Grand Jury was never shown this exchange that would have given the Grand Jury reason to doubt Ms Haleyi's account.
Weinstein's legal team, led by lawyer Ben Brafman, said in the filing that they don't know whether the Manhattan District Attorney's Office knew about Haleyi's "continued communications with Mr. Weinstein" and withheld the info from the jury — or whether NYPD detective Nicholas DiGaudio, who's repeatedly been accused of withholding information, is responsible.
"Given Detective DiGaudio's penchant for withholding exculpatory evidence that would support Mr. Weinstein's innocence, it's likely that Detective DiGuadio purposefully hid the fact from the District  Attorney that Mimi Haleyi continued to communicate with Mr. Weinstein after the alleged assault," Weinstein's lawyers wrote of the detective, who had led the now-embattled investigation.
Gloria Allred, who represents Haleyi, slammed Weinstein's new arguments as more "speculation."
"Their defense of Mr. Weinstein as to my client, appears to be built on quicksand rather than on a strong factual foundation," Allred said in an email. "My client is very courageous and she will not be deterred by unjustified attacks."
NYPD officials have stood by the department's handling of Weinstein's case.
"The evidence shows that the criminal case against him is strong. The NYPD will continue to assist the prosecution any way it can to ensure justice is achieved for these brave survivors," the department said in a prior statement.
Weinstein, who still faces five sexual misconduct counts, insists he's not guilty.