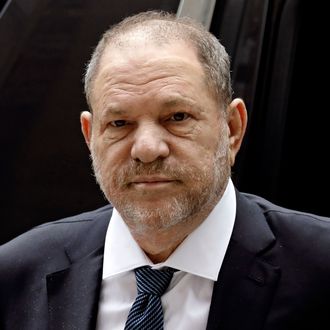 Harvey Weinstein.
Photo: Peter Foley/Bloomberg via Getty Images
Harvey Weinstein was the target of a "media assault" that goaded prosecutors into pursuing an unfair sex-assault case against him, his lawyer claimed Thursday.
Weinstein had been accused by the Manhattan District Attorney's Office of allegedly nonconsensual sexual conduct toward three women.
Since Weinstein was first indicted in May, his legal team has cried foul over alleged police and prosecutorial conduct in an attempt to kill the case.
They have repeatedly claimed that exculpatory information was withheld from the grand jury — and that NYPD investigators didn't tell prosecutors about witness statements that undermined alleged victims' accounts.
In October, one of the six counts against Weinstein related to accuser Lucia Evans was thrown out — without opposition from prosecutors — after it was revealed that a witness undermined her story.
In his latest push for dismissal, Weinstein lawyer Benjamin Brafman attributed much of the disgraced producer's ongoing legal woes on snowballing coverage.
"We submit, that Harvey Weinstein, a man vilified by a vicious media assault[,] caused a case that was never critically examined or investigated, the falsity of the serious allegations being made as more fully discussed below were forced on the District Attorney by, a collective media that unfortunately placed unprecedented pressure on the District Attorney's Office and the Police Department to prosecute Mr. Weinstein," Brafman wrote.
Brafman claimed that the NYPD fanned the flames of these reports, writing that "one of the first steps in this illicit and offensive drumbeat to criminally prosecute Mr. Weinstein, was the outrageous media campaign and pressure employed by the Police Department in an effort to force the District Attorney's Office to arrest Mr. Weinstein."
Brafman railed against "what can only be described as unprecedented and offensive behavior" on the part of former NYPD Chief of Detectives Robert Boyce, who he insists "literally and figuratively campaigned, often on the front page of the New York Post, publicly demanding the arrest and indictment of Mr. Weinstein for what he claimed to be a strong case involving Paz de la Huerta."
Charges weren't brought against Weinstein relating to de la Huerta's allegations of rape but Boyce's subsequent "outrageous and unprecedented behavior publicly condemning the District Attorney's Office" led state officials to slam its handling of prosecutors' investigation.
"This public, humiliating and highly political action, counsel submits, was intended to further and unfairly push the District Attorney's Office into prosecuting Mr. Weinstein without first appropriately and fully investigating the credibility of the claims being made by the alleged victims," Brafman claims.
Brafman concedes that Weinstein has his faults, writing, "It is not our objective in this motion to seek to endorse the lifestyle of Mr. Weinstein who by his own admission has acknowledged several extramarital consensual sexual relationships."
Whether Weinstein's behavior with women "was good or bad," Brafman maintains, isn't the point: "[I]t was NOT criminal and as a consequence this prosecution is doomed to fail."
"Unfortunately, the terrible media onslaught we have endured forced the filing of this deeply flawed case," Brafman wrote. "We respectfully argue that it is in the cases of those most publicly vilified that the integrity of the legal process must be carefully safeguarded."
Asked for clarification on whether Brafman posited that Weinstein was a victim of the media, a spokesperson said, "For many reasons Harvey Weinstein became the villainous symbol of a worldwide movement, and members of the media were eager to quickly publicize every salacious detail without adequately verifying their alleged sources."
"As the public read more, law enforcement was put under intense pressure and, as a result sought to hastily 'do something' to satisfy the public demand for a pound of flesh," the spokesperson said. "The facts in this case do not support the charges and the deeper we delve into it, we are finding what journalists and law enforcement should have found before the rush to indict."
Brafman also claimed in his filing that the still-unnamed accuser "attempted to fabricate a 'prompt outcry' witness" years after the alleged incident. He also claims that still more emails from accusers could clear him.
The filing comes shortly after Manhattan prosecutors defended their handling of the case — and insisted that Weinstein's legal team was trying to drum up a "public circus" with its many filings.