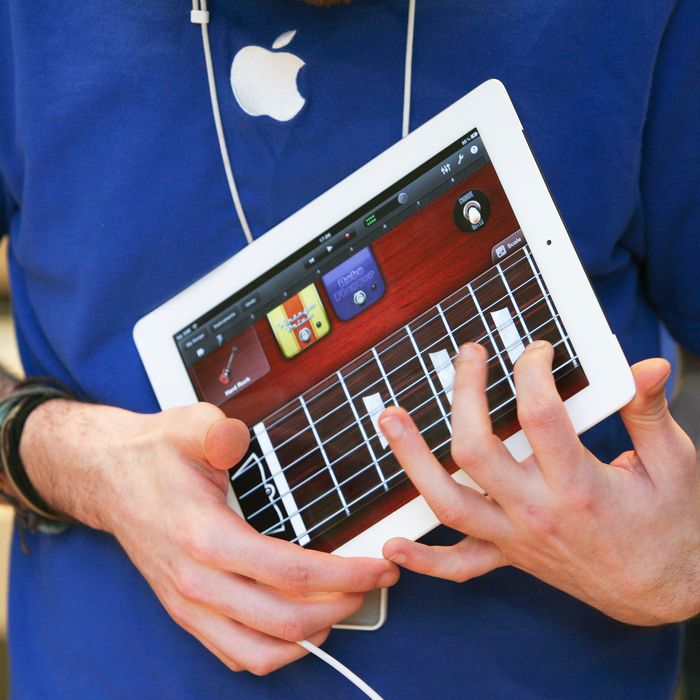 Photo: Bloomberg/Bloomberg via Getty Images
Since their introduction more than a decade ago, smartphones have reduced barriers to entry for multiple artistic fields (assuming, of course, you can afford the phone itself). That's particularly evident when it comes to music-making and recording: Something that once required costly equipment and software can now be achieved with a couple cheap cords and an inexpensive, or even free, mobile app.
Older generations might still quibble over the concept of making music on your phone — de facto rock spokesperson Dave Grohl bragged in a 2012 Grammys acceptance speech that "rather than use all the fanciest computers that you can buy, we made this one in my garage with some microphones and a tape machine" — but it's undeniable that, art or not, mobile music-making apps have become essential to amateur and professional musicians alike.
Take Steve Lacy, member of the Internet and producer to marquee hip-hop artists, including Kendrick Lamar and J. Cole. "Lacy's smartphone has been his personal studio since he first started making music," WIRED wrote in a 2017 article about the musician. "Even now, with all the equipment and access he could want, he still feels indelibly connected to something about making songs piece by piece on his phone."
Like any genre of apps, there's a seemingly endless supply of digital audio workstations. Below, Vulture details some of the essentials.
Platform: iOS
Cost: Free
Apple's digital audio workstation has been an industry favorite since it debuted on Mac computers in early 2004. But it became ubiquitous after Apple introduced an iOS version in 2011. In 2015, Pitchfork declared the program "the Starbucks of digital recording studios," and last year Apple further incentivized downloading the app by making it free. As with many Apple programs, some complain about the limitations of GarageBand's intuitive, simple interface — but that's also why the app has proven so dominant.
Platform: iOS, Android
Cost: $13.99 (iOS), $14.99 (Android)
Fifteen years removed from its name change to the bland FL Studio, fans and artists continue to know the seismically influential software by its original moniker: Fruity Loops. If you've listened to any hip-hop or EDM in the last decade, you've probably listened to things made using the platform. "What differentiates Fruity Loops from similar programs is its simplicity, allowing for the prioritization of actually making music over fine-tuning every little thing about its construction," The FADER wrote in 2014. Like GarageBand, FL Studio graduated gracefully into the mobile age, debuting an app with multitrack capabilities for iOS in 2011 and Android in 2013.
Platform: iOS
Cost: $9.99
Native Instruments produces powerful desktop software, but its mobile offering is vibrant and uncluttered. By limiting initial sound and beat options, the app caters to casual tinkerers; features like Smart Play, which ensures chords and melodies are in key, also increase usability. But paid expansions and easy exporting to Maschine and other platforms make it a worthy option for more advanced users.
Platform: iOS, Android
Cost: Free
Free, intuitive, and available on both iOS and Android, the mobile version of the long-running Magix Music Maker is an app for the masses. Simple controls allow users with little experience to manipulate sounds from a diverse library of loops that encompasses styles from dubstep to jazz, and the app also supports uploading original vocal recordings. And, for the unafraid, Music Maker Jam allows easy sharing to SoundCloud, Facebook, WhatsApp, and more. It may be slight, but these features help the app compensate for its technical limitations — although many of its cool bells and whistles are only available as in-app purchases.
Platform: iOS
Cost: Free
Swedish software company Propellerhead became known in the '90s for creating software to emulate classic synthesizer sounds, and in the aughts for Reason, which added virtual cables, samplers, drum machines, and other tools to the mix. Naturally, Propellerhead wanted to offer its services to mobile users, although that expansion has been rocky. The company created Allihoopa, a social network for music sharing, and when the subsidiary became a stand-alone entity, it took Propellerhead's mobile app Figure with it. "As a social network geared towards the general consumer market it made sense to focus our efforts by spinning out from Propellerhead and creating a distinct business," Allihoopa CEO Timothy Self said in 2017. Therein lies the problem for some advanced musicians: Figure eschews certain capabilities — users can't compose in 3/4 or 6/8 time signatures, for instance — to appeal to a broader audience. After Propellerhead invited people to join a "mobile app test pilot group" last year, Reason lovers began to speculate that the company might finally introduce a mobile version of the software.
Platform: iOS
Cost: $39.99
The Japanese tech giant has produced cutting-edge musical instruments, equipment, and software for decades, and it made a splash when it released a paid app concurrently with the first iPad in April 2010. Gorillaz even used the software in making their 2010 album The Fall, which they billed as the world's first record made on an iPad. Critics greeted Korg's initial foray into smartphones, the 2015 app iElectribe for iPhone, with lukewarm reviews, but the company hit its stride with its Gadget app, which debuted on iPad in 2014 and now runs on all iOS devices. True to its name, Gadget offers a slew of synthesizers, drum machines, and interfaces, and is highly compatible with other software, like the popular, desktop-only Ableton Live. Earlier this year, Gadget even teamed with Propellerhead to offer Stockholm by Reason, a "gadgetized version" of that company's Dr. Octo Rex Loop Player. Get over the sticker shock, and the app's one of the best in the game.
Platform: iOS, Android
Cost: $9.99
A cheaper, but still powerful, alternative to tricked-out apps like Gadget, Caustic 3 makes its no-frills nature a selling point. Less colorful and aesthetically streamlined than its competitors, the app's primary feature is a virtual rack of 14 different virtual synthesizers. Users can also layer various effects, customize mixes, and feed in their own inputs and audio files. But the app's synth focus is something of a double-edged sword: Though Caustic 3 runs on iOS and Android and has a straightforward interface, it inevitably appeals primarily to the electronic music makers.
Platform: iOS
Cost: $3.99
Produced by Yatatoy, the program introduces kids to music composition and recording by linking sounds, rhythms, and tracks to vibrant animal animations. "For a kid, the linear, sequencing thinking is a new thing," Yatatoy founder Lucas Zanotto told Fast Company when discussing Bandimal's still-available, beat-making-focused precursor Loopimal. "I wanted to make something that gives them a little experience of: 'If I put THIS thing into THIS position and the cursor passes, THIS happens.'" And parents can exhale: Austrian composer Ulrich Troyer designed and composed all of Bandimal's sounds in the key of C and around the pentatonic scale, imbuing all its outputs with a pleasant quality.