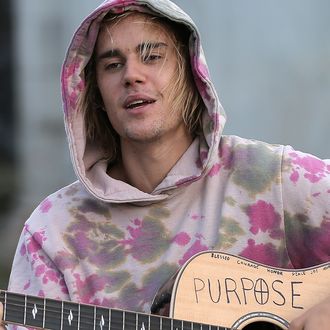 Photo: Ricky Vigil Moran/GC Images
Here's a little bit of old school for ya: Justin Bieber took to Twitter on the night before Thanksgiving to pay homage to one of his greatest musical influences. Of course, we mean none other than Aaron Carter, brother of Nick, beater of Shaq, second of his name. In the tweet, Bieber reminisces about owning Carter's album, and especially enjoying the song 'Aaron's Party', which, for those of you who are truly far too young (or aged) is the ballad of a boy who can't possibly be over the age of 12 hosting an epic party after luring his parents out of the house with a ruse about their aunt Joan. The tale ends as one might expect: the party gets out of hand, the parents come home, tragedy strikes: grounded.
Bieber was apparently so influenced by Carter's work, he's offering to serve completely unironically as the younger Carter's hype man. And he's already doing a great job.