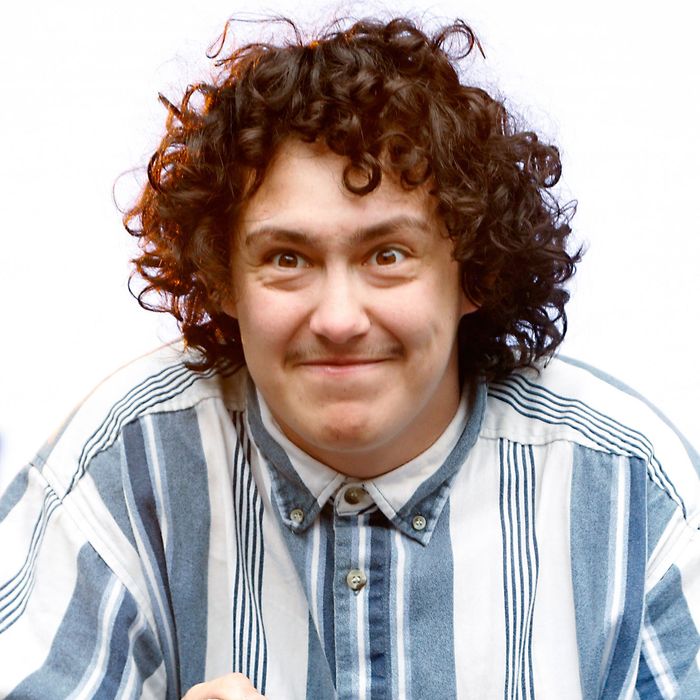 Photo: FilmMagic/FilmMagic
Similar to the auspicious beginnings of Odd Future, Lana Del Rey, PC Music, and countless other buzz-building artists in the 2010s, Loomis, California-based musician Frank Lopes Jr., who records as Hobo Johnson, elicits strong feelings in people. Far beyond negativity and derision, too: After two solo records — the currently out-of-print 2015 debut Hobo Johnsons 94 Corolla and the Reprise-released The Rise of … — Lopes and his band the Lovemakers became viral sensations through their audition video for NPR's Tiny Desk Concert web series earlier this year.
A performance of their latest single "Peach Scone," in a messy, urbane backyard setting, has logged a whopping 11 million YouTube views and counting; for comparison's sake, Hobo Johnson and the Lovemakers's eventual Tiny Desk appearance has logged 2 million views, and the audition tape's metrics even eclipses the tally of Tiny Desk appearances by more established artists like late rapper Mac Miller (9 million) and Chance the Rapper (5.7 million). The clip's viral prominence marked a boiling-over career point for the half-Portuguese, quarter-Mexican, and quarter–Native American Lopes, who was living out of his car just five years ago; since its circulation, The Rise of Hobo Johnson has popped up in the upper tier of Billboard's Heatseekers chart, and he's found himself embroiled in cultural-appropriation accusations from the Sacramento chapter of Black Lives Matter.
More so than any of Hobo Johnson's recorded output — which resembles a slightly woozy and less aggressive take on Tyler, the Creator's early confessional material — the "Peach Scone" video is representative of the Hobo Johnson experience, for better and worse. There's Lopes's strident spoken-word vocals, a spare and airy groove not unlike what fellow Californian Toro y Moi has been known to cook up, and the occasional shout-along from the rest of the band at key points. The lyrical content is mostly about women, peppered with non sequiturs and brief personal divergences; above all, Lopes's physicality acts as the conductor's baton to this potentially irritating symphony, his shoulders jerking to and fro with expressive hand gestures reflected by the wavering cadence in his voice.
As with so much postmillennial popular music these days, it's hard to define what type of music Hobo Johnson and the Lovemakers actually make. The music itself straddles a few genre lines, from vibey concoctions to the shaggy West Coast beach bum–isms of Sublime and the Internet's subtly funky, full-band R&B. Despite the raplike cadence that Lopes frequently adopts, the jury's out as to whether he considers himself a rapper; although he riffed "My mom's pretty sure I'm going to be a somewhat successful rapper" on The Rise of Hobo Johnson's "Demarcus Cousins and Ashley," on "Peach Scone" he states plainly, "People like to say I'm a rapper/ I'm actually not."
The perpetually "uncool" genre of spoken word seems like a better home for Hobo Johnson and the Lovemakers's music, as well as a slightly more surprising and largely dormant subgenre: anti-folk, the irreverent and straightforwardly simplistic style of music popularized by artists like the Moldy Peaches and Regina Spektor at a time when Lopes was barely a baby Hobo. To wit: Anti-folk mainstay Jeffrey Lewis served as the opening act for Hobo Johnson and the Lovemakers's show at Brooklyn Steel last night — a relatively huge venue in size for an act that has only just begun to worm its way into the greater public consciousness. Due to the surprise snowstorm that knocked out much of NYC's transportation system yesterday afternoon, the venue was only half-full but still marked a sizable showing, a gaggle of young people (and the occasional bored parent in tow) crowding the stage setup consisting of a busted-looking couch and a huge banner blaring "HOBO + THE BOIS."
If it seems inevitable that the internet will continue to have a field day with Hobo Johnson's whole thing (sample YouTube comment on the Tiny Desk audition video: "Post Malone for kids who didn't get invited to parties"), his growing success is equally guaranteed. Last night's crowd more than made up for its size by shouting along to every idiosyncratic word that came out of his mouth, gamely cheering on an impromptu (and terrible) cover of Kelly Clarkson's "Since U Been Gone" and throwing everything from condoms to baseball hats onstage as the group performed. Regardless of how you feel about Hobo Johnson and the Lovemakers's music, the appeal is practically self-evident, especially when witnessing his very young audience rapturously consume his diaristic musings.
And it's that impressionability that gives me some pause, too, when considering the nitty-gritty of what Hobo Johnson and the Lovemakers are putting out there. As briefly mentioned before, a lot of Lopes's lyrics are about women — pining for their affection, pantingly praising their looks, hoping against hope they'll give him the time of day. "I'm not a baby-maker-looker / But maybe I am / To a woman who really loves me for who I am," he confesses on "Sex and the City," before following up: "Or maybe who I'm not"; he wonders if sharing a twin-size bed resulted in the end of a relationship on "Romeo & Juliet" before stating, "If she falls off again / She'll find another guy to like." "The official theme song for the friend zone," writes a commenter on the Tiny Desk audition video, utilizing a self-pitying term that typically designates a nonsexual relationship between a man and woman. "Love this song by the way."
This nearly singular preoccupation with unrequited female attraction is not dissimilar to the complicated misogyny that plagued early-mid-2000s emo, and its revival through Hobo Johnson and the Lovemakers's music is all the more ironic considering that emo's newest-wave bands have largely steered their ships away from chauvinism and toward issues like identity and mental health. And it's a preoccupation that crept into last night's show in strange ways, too; before Hobo Johnson and the Lovemakers's set, a backpack-wearing friend of the band came out to do some well-received crowd work that entailed a brief juggling act and riffing about getting nervous around pretty girls and how his wearing Crocs are an acceptable form of birth control. When I was approaching the venue last night, a teenager was crying to one of her friends in front of the entrance; during the preshow crowd work, the friend of the band ID'd her and invited her for a cup of hot cocoa after the show.
Perhaps he was just trying to be nice, but the implication — a grown man who's friends with an increasingly popular band, inviting an underage woman for a postshow hang with a band she'd paid to see — was more than a little unsettling, and the most charitable thing I could say about his entreaty is that it lacked self-awareness. Perhaps Lopes hasn't given a ton of thought to some of his own more unsavory lyrical messaging either, but as Hobo Johnson and the Lovemakers continue to inevitably grow in popular stature, he certainly better start.