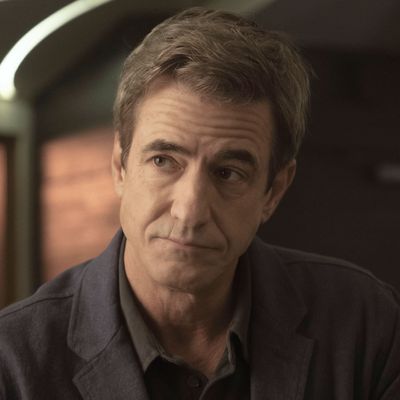 Photo: Jessica Brooks/Amazon Prime Video
One of the chief pleasures of the Homecoming podcast is its sound design. Without images to supplement the story or a narrator to set the scene, the creators had to think about specific sounds that might bring the world of the show to life. Yet the sound work is minimal: a moody score overlaying the dialogue, of course, but usually just one piece of background noise to underscore the scene.
That aesthetic has been carried over beautifully in Amazon's Homecoming, which lets fly with the visual pyrotechnics — more on those in a bit — but also homes in on single, sharp, associative sounds. As Thomas ponders whether or not to dismiss the complaint against Geist and the Homecoming Initiative, we mainly hear the incessant clicking of his pen. In Heidi's office, there's the burbling of the fish tank. In the file archives, the flicker and clink of those motion-sensitive florescent lights.
The sound design, along with the crisp, graphically balanced images it supports, signals a clarity of vision that pervades the show, right down to its episodes' flab-free 30-minute run time. It remains to be seen whether Homecoming adds up to anything more substantive than an impeccable exercise in style, but there's satisfaction alone in how intentional the audiovisual elements are. Amid the gray-black soup of hour-long-plus prestige TV, especially on streaming and cable networks that don't enforce run times that strictly, it's gotten rarer to see a show that takes a less-is-more approach to storytelling. And the fact that the story is about to get knottier makes that commitment to the fundamentals that much more reassuring.
"Optics" kicks the intrigue into high gear on both timelines, and finds at least one clever way to rhyme them, too. The main incident is Shrier and Walter's adventures off campus to determine, once and for all, whether they're really in Florida getting treatment or acting as unwitting and involuntary participants in some as-yet-unclear nefarious scheme. The question Walter wants to resolve first is whether they're free to leave at any time, but his earnest efforts to get a beer off campus are circumvented by Shrier stealing the keys to a company van and peeling away without permission. Shrier seems to believe that the "form" they're about to fill out is a ruse to keep them confined to the building, but they'll never know. They're screaming out of the parking lot onto an empty road and into the darkness, which hides everything but another car that passes them on the left. Florida plates: Point Geist.
But when they finally come to a stop on a cobblestone street with empty storefronts, it looks like they're on an abandoned movie set or an unauthorized back lot tour at Universal Studios. (A malt "shoppe," really? What year is this?) One attempt to open the door of a local business prompts the entire block to light up and a security guard to approach them. The mix-up that follows seems to undermine Shrier's case — tackling the unarmed security guard at a retirement home is not his most hinged moment — but nothing on their road trip necessarily defies Shrier's original conviction that the Florida story is a fiction. As he reminds Walter in the car, the military "built a functioning North African village outside of fucking Tucson." Palm trees and license plates are not an issue.
The carjacking leaves Walter in a more tenuous spot than he expects, however. Heidi explains to Colin that he was acting to help his friend, but Colin has to be talked down from expelling him from the program. Shrier and Walter both seem satisfied for now that they're getting treatment in Florida, but there's no talking Colin out of dumping Shrier immediately. If Heidi wasn't already getting an inkling that patient care wasn't top priority, then Colin's willingness to send heavily medicated ex-soldiers back to whoever and whatever awaits them back home is a serious red flag. (Just as serious a red flag: the fact that they're medicating the food without the patients' knowledge, like the thyroid medicine I tuck into my ancient cat's wet food.)
The back-and-forth between Heidi and Colin over the incident is an impressive coup de cinema, with two unbroken Steadicam shots connected in a split screen that should be familiar to fans of Brian De Palma's Sisters (and Phantom of the Paradise and Carrie and Passion and, well, most of his movies). So far, the backdrops of Colin's walk-and-talks have all been significant: The first through an ominous work space of steel tables and sludge, the second through a path en route to an "accidental" meeting with a high roller on the golf course, and this last one at a birthday party for his daughter. Colin is constantly doing business — the birthday "couldn't be pushed" — and director Sam Esmail and the actor, Bobby Cannavale, keep him and the camera in nonstop motion, as he's jet-setting from one time zone to another, doing anything but taking care of veterans.
Until "Optics," the two timelines haven't been in close dialogue, but they unify around Heidi's boyfriend Anthony, played by a very dump-able Dermot Mulroney. Heidi's nonchalance in showing Anthony the door after Walter's "road trip" speech is bracingly funny ("We're done. Get your shit out of my bathroom. And your fucking forks."), and their reunion in the future undermines his hoped-for reconciliation. Heidi still has no interest in him romantically, but she remembers nothing about her period in Tampa at all, even the name of the boss who harangued her on the phone all the time. This means she was telling the truth to Thomas: She's not lying about not having heard the name Walter Cruz. Her memory has been erased.
Session notes:
• In addition to the De Palma split screen, Esmail also uses a staircase at the Department of Defense to pay homage to Alfred Hitchcock's Vertigo, specifically the bell tower at the end of the film:
• The "road trip" conversation continues to increase the intimacy between Heidi and Walter, who believes that a long road trip will eventually exhaust the jokes and chitchat and time-wasting between two people and reveal them as they really are. Heidi hasn't known that feeling and she's persuaded that Anthony isn't the man who's going to give it to her. Thomas's discovery that Heidi and Walter's termination dates coincide suggest a deeper involvement to come.
• "We don't need those kinds of results," says Colin of Shrier's Week 5 "burnout." A real commitment to the scientific method there.