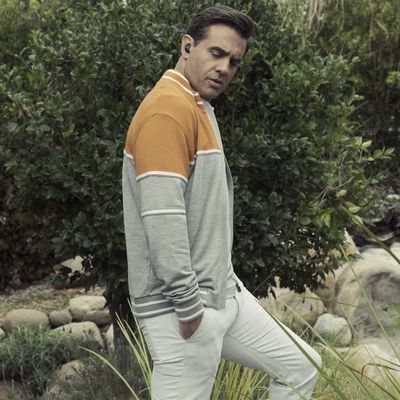 Photo: Jessica Brooks/Amazon Prime Video
The casting in the TV version of Homecoming has been largely unimpeachable, but given the choice between the TV cast (Julia Roberts as Heidi, Bobby Cannavale as Colin, Stephan James as Walter, Aaron Serotsky as Thomas, and Dermot Mulroney as Anthony) and that of the podcast (Catherine Keener as Heidi, David Schwimmer as Colin, Oscar Isaac as Walter, Shea Whigham as Thomas, and David Cross as Anthony), I'd give a slight edge to the podcast, with Schwimmer tipping the balance. The qualities that once made Schwimmer the country's least favorite friend — whininess, entitlement, and a tendency to shame and castigate when he doesn't get his way — made him an excellent villain on the podcast, on which his contempt for Heidi practically oozes through her cell phone receiver.
In the Amazon version, Cannavale has interpreted Colin as a WASP-y company man whose anger is coated in flop sweat, which is a creditable rendering of the character, but I find myself missing Schwimmer's pissy mega-jerk. The conversation in which Colin confronts Heidi about her visiting Walter's private room after hours and giving him Shrier's harmonica is one of the most crucial and powerful scenes in the podcast. Part of that has to do with staging: Rather than being ratted out, Heidi's actions are picked up by a recording device in the room and played back to her, which is her first indication of how throughly Geist is breaching the clients' privacy. But part of it is in Schwimmer's performance as Colin, which in this moment drips with condescension and malice that makes it clear to Heidi that they're not partners in this process. He's scolding her the way a father might scold his wayward daughter, threatening to kick her out of the house. It's belittling and cold.
Cannavale doesn't have quite the same edge, and the more TV-friendly device of making Craig the snitch isn't as effective. But his Colin does have a more direct motivation for lashing out as he does, following a scene where his own boss casts doubt on the project and Colin's future in the company. (Fran Kranz is a delight in everything he does, but to see him back in a dystopic sci-fi show as the boss brings back warm memories of Dollhouse.) The scene does offer the biggest clarification yet on what the Homecoming initiative actually does, because Colin needs Heidi to repeat it: "We are treating PTSD like a cancer, something to be eradicated, not just managed. To those ends, we're using medication to delete the harmful responses to the traumatic memories."
That sheds more light on Heidi's job, because helping these men is more of a ruse than a mission. She's there to observe and to collect data in the guise of a trauma counselor, but she's behaving like a therapist and a friend. What concerns Colin more than anything is the harmonica, which has associative powers that might upend Walter's "progress" and trigger memories that the program wants buried. She's not thinking of Homecoming as a laboratory environment and, to Colin, it's like she's compromising the samples.
His concerns are amplified by the casual relationship that's developed between Heidi and Walter. They have inside jokes now. They flirt. They prank each other. Heidi checks out the "plumpers" in the make-up counter in a mall department store, and doesn't think better of it until she's in the facility parking lot. Walter glues Heidi's office supplies to her desk; Heidi retaliates by gluing his butt to a workshop chair. Walter brings a few guys in on to make a homemade trap to snare the bird that's always bugging Heidi outside her office. Tit for tat for tit for tat. It feels a little bit like the unit's elaborate Titanic Rising prank, something silly to do to pass the time. And by the end, it seems likely that even Heidi will have to concede that it's gone too far.
In the iPhone-framed world of the future, Thomas has a disturbing encounter with Shrier, who now works as a campus custodian and appears half-catatonic, with reduced motor function in one arm and a paranoia that nearly silences him. The guy who once stood up on a cafeteria table to declare Homecoming a sham is now reduced to a dazed shell of his former self, summoning what courage he has left to leave some breadcrumbs for Thomas to follow. Two things stand out about their exchange: The words, "She knew everything anyway," in reference to Heidi, and a mysterious leaf that he palms over to Thomas for further investigation.
Meanwhile, Colin himself works up the moxie to pay Heidi a visit at the restaurant following the shock of her cell phone call to him. He's initially relieved that she doesn't appear to recognize him at all, but he spots Thomas's business card in a jar by the cashier's table and has second thoughts. Maybe Thomas has gotten to her and she's playing ignorant, working on a way to snare him. But his reemergence in her life puts the Colin threat on two timelines simultaneously: In one, Heidi's job is at stake. In the other, it may be her life that's on the line.
Session Notes:
• "What's your daily beauty regimen?" is a disconcerting question to hear asked of Julia Roberts.
• Craig is once again proving utterly worthless as anything but a snitch. His backwards-cap, drink-with-the-guys workshop is laughed off until Heidi plausibly plays the role of Walter's best buddy, asking him the tough questions about his future and challenging him with the likelihood that his friends have found other friends while he's been gone. It ends in a well-orchestrated gag, but Craig could never hope to have that kind of connection with the clients. On the other hand, maybe being the eyes of the company is his primary function.
• Nice wink-wink moment from the rental-car clerk: "My grandma dies a lot. I do competitive dance. Sometimes we go really late. That's when my grandma usually dies."
• The newcomer, Angle, mentions that the government is spending $100,000 on each of the Homecoming patients, which supports the idea that it wants a bigger return on its investment than their mental well-being.
• $18.50 for chowder and coffee? Colin is within his rights to post a scathing Yelp review.