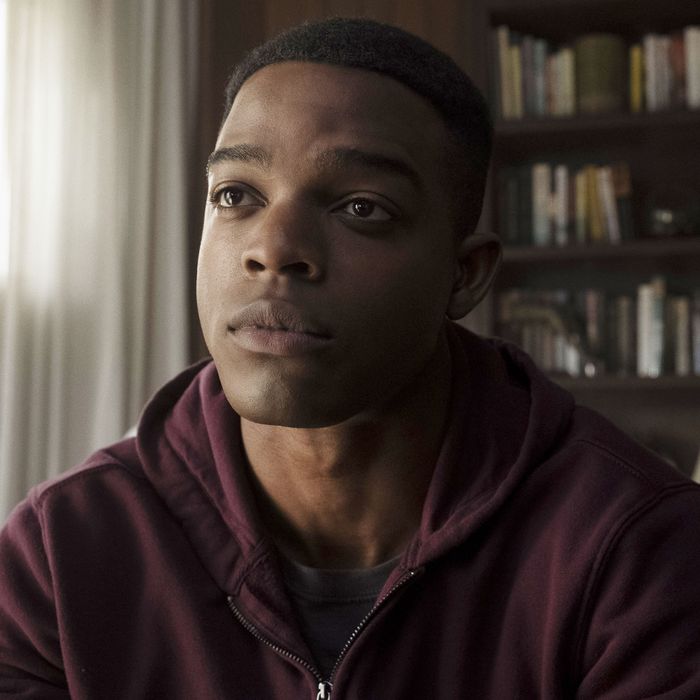 Photo: Jessica Brooks/Amazon Prime Video
In the last episode, everything was out on the table: Heidi knows what happened. Colin knows that Heidi knows what happened. And Thomas knows enough of what happened to bring the complaint to the inspector general, who will then surely find out what happened. Except when Colin peeled away from the former parking lot of the now-abandoned Homecoming building, there was an air of uncertainty about what might come next. Thomas isn't in a position to mete out justice. Heidi wonders how culpable she might be for her actions. Colin heads home, embarrassed and maybe a little ashamed, but not in any immediate trouble.
All of this makes "Work" a downshift of a penultimate episode, where the characters' interior lives — and continued revelations about the past — take precedence over the action it would take to resolve this story. For Heidi especially, it's a painful reckoning with sins she committed — sins that were blocked from her memory until the sound of a bird opened up the floodgates. Unlike during her time at Homecoming, when she was truly passionate about doing well by her charges, she cannot now excuse any of the aspects of her job that morally discomfited her. She knows what happened to guys like Shrier, who failed the program before his six weeks were up, and guys like Walter, who made it all the way to the end, only to get cleared for redeployment. (Guys like Walter, mind. We know he didn't make it to redeployment, we just don't yet know why not.) There's no good scenario coming out of Homecoming: Stop the medication early and you're a mess. Finish the program and you're a perfect tool of the state, subject to infinite redeployment.
So where does that leave Heidi? Not remembering has allowed her to live guilt-free for years, albeit in the semipermanent purgatory of a dead-end serving job and a room in her mother's house. She theoretically had the experience to keep moving forward in her field, but she seems to have known enough about herself and her time at Homecoming that she didn't allow that to happen. (Has she gone out on dates? Had friends? Done anything in the interim? All signs point to no.) In "Work," she sleeps her first night back from Tampa in her clothes and gets forced into a heart-to-heart with her mother, who's always more aware of her predicament than she recognizes. Sissy Spacek plays the scenes with a nuanced bit of tough love, sympathetic and productive, but clear-eyed about what Heidi did and what she should have known about Homecoming from the beginning: "You'd just gotten your degree," she says. "You had, what, three years' experience? And they wanted you to run that whole company like that? Pay you that salary? It was fishy." When Heidi starts to castigate herself, saying it was her job to help them, her mom suggests the likely truth: "Maybe it wasn't."
"Work" is about jobs, of course, but it's about something more specific than that: It's about doing a compromising job and making the best of it. Heidi may be guilty of suppressing her misgivings about working on the Homecoming program, but she didn't know its ultimate purpose was to prepare veterans for redeployment. She thought she was helping them recover, albeit in a medically extreme and ethically dubious way. And so she worked extremely hard to help these men feel better, accepting imperfect circumstances. The same holds true for Thomas, who doesn't have the faith or respect of his boss, and who generally gets treated like the Stephen Root character in Office Space. He follows his instincts, investigates the complaint thoroughly, and sends it up the line. And even in her fragile state, Heidi goes right back to the restaurant, and starts the process of finding her footing again.
To reinforce the theme, the episode is bookended by Heidi's original job interview with Colin at Geist, where she's not only a long-shot candidate, but an actively terrible interview — inarticulate, lacking in confidence, almost with the posture of someone who knows they're not going to get the job. The first indication that this might not be a conventional interview is Colin's asking, "What is experience?", as if it's an existential question and not a practical one. Then he follows it up with a flag redder than Akira Kurosawa's Ran, saying they're looking for "passion, focus, relentless commitment to something that might not be clear in the moment because it doesn't yet exist." Heidi gets the message. They don't want a qualified candidate. They want someone who will work hard and be flexible. They need a compromiser.
But she's a compromiser no more. Getting back to her serving job is not going to salve this reopened wound. And so Heidi looks at the stolen envelope, sees Walter's mother's name and address on it, and quietly resolves to take a road trip. She's not going to Yosemite, as she and Walter had fantasized, but to a place where she can perhaps take responsibility for what she's done. She can't control the justice that's being perverted by the Department of Defense, but she can work through her own trauma. And without the help of exotic Vietnamese serums.
Session Notes:
• Thomas's supervisor pulling out a cell phone from her desk to give Geist a heads-up about the investigation does not bode well for the case. Homecoming isn't the most fiercely political show, but it does feel naturally ill at ease about the relationship between the Department of Defense and private corporations. A scandal of this magnitude would unravel a no doubt lucrative arrangement between the DoD and Geist, and make them both vulnerable to lawsuits from the families of soldiers in the program.
• Heidi carries her box of personal belongings from Geist and throws it in the trash. Destruction of evidence or leaving the past behind? Seems like the latter.
• The scene with Heidi dining with Walter at the cafeteria is a stunner. I'm surely not alone in speculating that the company erased Heidi's memory as part of a cover-up, but for her to eat the Week Six gnocchi underlines her mental state. She wants to forget what's happened, yes, but she also wants to get closer to Walter and his frame of mind. It's a gesture motivated equally by guilt and by desire.
• "Once you get to know people, they start to become like family. Or you don't and you pretend." Nice line from Walter about the nature of memory. When we forget something, we're often motivated to act like we don't. This could be as anodyne as a forgotten anniversary, but it also applies to Walter, who doesn't want to square up with the gaps in what he remembers.
• Mrs. Trotter's dying in her booth unnoticed seems to be the spark that gets Heidi on the road. It's an unnecessary device.
• It's not quite right to refer to Handel's "Sarabande" as the score for Stanley Kubrick's Barry Lyndon, but it's strongly associated with that film and used here to give extra weight to the closing scenes. Any deeper connection between the Kubrick and this episode of Homecoming is unclear.