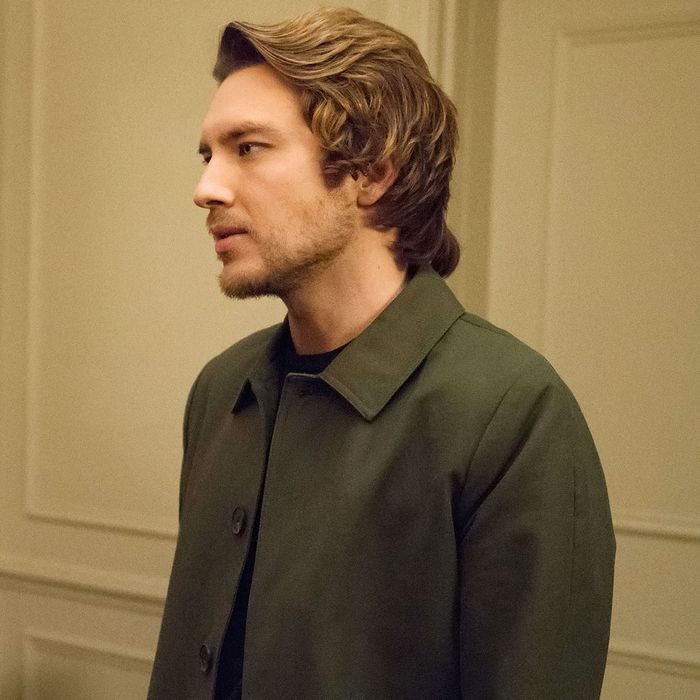 Photo: David Giesbrecht/Netflix/David Giesbrecht
Claire Underwood goes FULL Amazing Amy Dunne in this episode. She is making crazy eyes and streaking her cheeks with mascara-tears like Taylor Swift in the "Blank Space" video. She performs, to all the world, that she is helpless and near-catatonic, but reveals to us that she has a plan. I mean… duh, she has a plan. Claire always has a plan. How anyone who has ever met Claire Hale Underwood could possibly think that she, a paragon of control and fortitude, would be flopping on a fainting couch after the death of Cathy Durant (but not in the wake of her husband's death, okay!) is beyond me.
Claire spins her deviance as some ultimate feminist victory—her successful scheming resulted in an all-female Cabinet—but I'm not sure that relying on the trope of "women are too emotional to hold positions of power" for weeks on end, and then snapping back to attention (which only furthers that misconception re: bitches be crazy) is great for the cause.
But we do see that in the HoC world, men and women who stick to rigid ideas about gender norms and power wind up trapped in the former with none of the latter. This is evident even in smaller moments, like when Bill Shepherd bats away a makeup artist who is powdering his face before he goes on television. HE IS TOO MANLY FOR POWDER. He is … incorrect. Because under the harsh lights, everyone can see him sweat. Or when Melody Cruz, this show's answer to Tamtam Limeade, accuses Claire of being a "paralyzed pussy" on Beltway Television. (For the millionth time: Pussies are unbelievably tough and balls are so weak that if you tap them, their owners are incapacitated! Can we please adapt our slang accordingly?)
So Claire is making like Melania and just ghosting from her job for almost a month. She hasn't left the residence. The biggest tell that all is not right here is that she is barefoot. Claire Underwood wears high heels even when she's alone in her house! She is motivated by thinking about "all the ways in which men have tried to manage me my whole life." She is performatively whimpering for Mark, who is taking meeting with the Shepherds and learning about how "vague and accommodating" the language of the 25th Amendment is. (Okay, but … is it?)
Who is in this cabin drinking Hennessy? Why, it's Doug's shrink! And who is just sitting there waiting for him in the dark like the tortured cliché he is inside? Doug Stamper, that's who. Because, of course he is. Because Doug knows this "therapist" has seen the will in which Frank left everything to his once and future henchmen. Doug gives a little speech about violence and fear and then — because, show don't tell — he punches this dude in the head. The therapist is left to drown in a sea of his own tears, but not before he tells Doug that the will said, "Remember the last thing I gave you." (It was that letter opener from his desk, as far as we know.) Why are wills in fictional universes so confusing? Is this The Westing Game?
Back at the residence, I see a pair of fabulous red shoes and I think, It must be Jane. Which it is. Jane is slinking around in this metallic off-shoulder gown with Alexandria Ocasio-Cortez red lips to match her impeccable footwear. Claire doesn't do her damsel routine for Jane, who congratulates the president on having "become a problem for everybody." Then Jane shatters a White House plate, for symbolism.
Mark implores Claire to resign. I feel like she is just really screwing things up for any future female presidents! Claire tells us, her only confidants, that Mark "can't help being decent." Uh, Claire, he let you murder a man in his house and then he kept the corpse on ice for four months.
Doug meets Claire in Frank's old room at the residence, where he doesn't want to be. "I don't feel comfortable here," he says, and I wonder: Will I ever be able to hear that phrase again without hearing Lady Gaga as Ally? He tells Claire he thinks Cathy is still alive. Claire reveals to Doug — or I should say, she tells Doug, since maybe she's lying — that Frank died in this room and not in her bed. "Whoever killed him will get what she or he deserves," Doug says, since this is an episode about feminism.
There's some stereotypical backroom poker game where the men are literally chomping on cigars and talking about taking over the world. No new ground is covered, plus it's boring so, don't worry about it.
Can we talk about Duncan's hair for a second? It is too much. It has Chalamet aspirations I don't think it can ever reach. He's meeting with Claire, behind his parents' backs, because he believes he's a boy wonder who can do anything he wants with all the money he never earned and all the life experience he doesn't have. This scene fails my Bechdel-Frank test over and over again. Duncan knows about what Frank told his parents (that Claire had abortions, including one while she was married) and he just helps himself to her bourbon like an entitled little brat. Claire asks him, "Does your mother know you're here?" and then she asks him what his first memory is of his mother, and I'm like, Ooooooh shit, IS HE BILL'S KID? Or just some random person's? Hope Gardner Analytics wants to invest in Ancestry.com.
Predictably, Bill yells at Duncan for being an idiot and starts shouting about how all the inanimate objects in the room are smarter than him. Even Seth is smarter than Duncan! "I can't stand the sound of male arguing anymore," Annette says. Amen, Annie. Annette learns that Duncan got a hot tip re: her not being his mom, so she decides it's time to blow up Claire's life by leaking her abortion. She just leaves her son in the hallway while he has an existential crisis, with zero answers to any of his very pressing questions.
Meanwhile, Jane is hooking up with Nasser, one of the two hot guys (haven't forgotten you, Congressman Cole!) we were #blessed with this season, but their bliss is short-lived because two women show up to disappear her. They kidnap Jane and take her to Saudi Arabia; Claire will set Jane free if she tells her the exact timing of this 25th Amendment situation. In other Claire-coercion news, she has photos of Kelsey and Tom having sex — I think in the office where this conversation takes place? — and blackmails her into lying to the FBI, all so Tom's death can be pinned on the Russians. "You and I, as women, we have to fight back." Hmm.
As soon as the entire Cabinet has signed the letter calling Claire unfit, Claire swoops in to fire everyone. How … Trumpian? She says Mark is welcome to resign as well.
Claire closes out this long day/week/month at the office by meeting with her old friend Annie, who shows up in very Olivia Pope-type attire. "For the first time ever, the American people will hear the story of the childless president who had an abortion at 16 weeks when she was married," Annette says. Claire berates her for her "convenient" morals, when "you don't even believe half of what you say," and then gleefully watches Annette's stunned reaction to the visual of an all-female Cabinet.
Anyway, Cathy made this vlog about how history deserves to punish Claire. Cathy's husband has disappeared, and Claire doesn't know who else, if anyone, has seen the video. In the slowest-developing story of our time, Herald Tom finally has a lead on Rachel, connecting her death to Doug. And Janine is doing dull things with that factory source and the Shepherds, because what this show needed was just one more subplot to distract us from everything we've already been invested in since 2013.